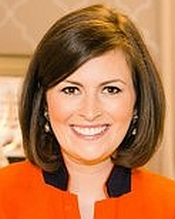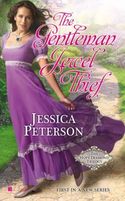 As any writer will tell you, the ideas are the (kind of) easy part – it's the writing that's difficult, the (sometimes magical, other times not so much!) slog that can make you lose your mind.
This is (kind of) true of my debut Regency-set romp, The Hope Diamond Trilogy. I've wanted to write historical fiction for as long as I remember; I've been a fan of all things sparkly and bejeweled for almost long. (Ask my mom: when I was little – we're talking bald baby here – I'd raid my grandmother's jewelry drawer for her clip-on dangly earrings.)
I don't remember, exactly, when these two interests – history and jewels – crossed paths. I'm pretty sure I was researching potential ideas for my novel and came across a tantalizing morsel. Turns out the stone we would later know as the Hope Diamond materializes, mysteriously, in 1812 London after disappearing some two decades before during the tumult of the French Revolution. No one knows how the diamond – known as the French Blue, a part of the French Crown Jewels – got to London, or why, or who bought it; the next time it presence was recorded was much later, in 1839, as part of the Hope family's extensive jewel collection.
What happened to the diamond between 1812 and 1839 – well, that was far too intriguing a mystery not to explore! I adored the glamorous setting of 1812 London. England was in the midst of a war; spies, rogues, and rakes roamed candlelit ballrooms; the possibilities for a juicy romance were endless.
It was my agent who came up with the genius "gentleman jewel thief" twist over lunch. Basically: The Thomas Crown Affair (I heart Pierce and his hairy chest) meets Regency England. While we meant for the twist to be a revision of the original manuscript I'd written, I was so enamored of the idea – so inspired by it, and the original gentleman thief, Steve McQueen – I ended up rewriting the whole thing.
THE GENTLEMAN JEWEL THIEF, book one of the Hope Diamond Trilogy, debuted this past July. It's the story of a rakish Earl who, bored by the endless tedium of another Season, decides to pilfer King Louis's infamous jewel from a London ballroom. One problem: he falls for the alluring lady from around whose neck he steals the diamond. Adventure (and plenty of kissing) ensues.
Book 2, THE MILLIONAIRE ROGUE – out in a few weeks, on January 6! – follows the historical figure Thomas Hope as he scrambles to find the jewel stolen from his ballroom – while trying, without much success, not to fall in love with a debutante who harbors a big secret.
If you wish to read up on more Hope Diamond history, check out Richard Kurin's excellent THE HOPE DIAMOND: THE LEGENDARY HISTORY OF A CURSED GEM and Marian Fowler's HOPE: ADVENTURES OF A DIAMOND.
If you prefer your history with some romance and adventure thrown in, be sure to check out my Hope Diamond Trilogy!
Happy reading.