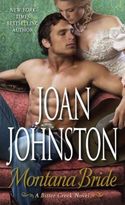 You might think that writing books in a series is easier than writing a book that stands on its own, but each type of novel has its challenges.  Thirty-eight of my fifty-six novels are connected in some way, part of several different series, including Bitter Creek, Hawk's Way, Captive Hearts, and Sisters of the Lone Star.  I also have a couple of "two-fers"—two connected books.
I just finished writing three connected historical Mail-Order Brides books, TEXAS BRIDE, WYOMING BRIDE, and MONTANA BRIDE, which are part of my long-running Bitter Creek series, and I'm currently working on a brand-new contemporary Bitter Creek spin-off called "King's Brats," which includes SINFUL (in stores December 30), SHAMEFUL, and SURRENDER.  So you can see this is a format I love.
With a continuing series I don't have to come up with a brand-new set of characters for every book.  On the other hand, I have to figure out how to weave every book together with the others using  both an underlying theme for the series and an individual plot for each book.  I need to give you, the reader, conflict, climax, and resolution in each book, while leaving the lives of other characters in chaos until they get their own book.
The hardest part?  Three books in, I can't remember what I wrote in the previous novels!  I don't keep a "bible" containing all the information about each character, so I'm constantly asking:   What color were his eyes?  What color was her hair?  How old was he?  When was it he broke his leg?  What did I name him/her?  Omigod.  How old are they now?  My Hawk's Way series runs through both children and grandchildren.  I had a couple of kids I thought were six-year-olds playing around the hero's ankles, only to realize (thank goodness before the book got published!) that they were actually sixteen.  So the hardest part is managing consistency between books and ensuring that details connect in a way that makes sense.  Apologies in advance for all the mistakes I have made (and will make) that you catch!  Because you do catch them and let me know where I've gone wrong.
In my upcoming King's Brats series, Taylor, Gray, and Victoria Grayhawk are mentioned in a sentence here or there in the first eight or nine Bitter Creek novels.  I always suspected those characters were two boys and a girl (I may have put that in a book somewhere in a single sentence) but I never wrote any details about them.  I've learned, from past mistakes, to leave details about characters undefined in early books, so I don't write myself into a corner.  For SINFUL I needed these characters all to be female, so I could match them up with brand-new characters, "those Wild Flynn Boys."   I also wanted their ages to be close, so Taylor and Victoria ended up being the elder sisters and fraternal twins, while Gray ended up being renamed Eve.  I worked out a complicated reason for why Gray ends up being named Eve, so readers would understand the change, but my editor, who didn't realize the problem I'd created for myself, cut it out as extraneous.  I will expect a few letters from discerning readers and apologize profusely and explain as best I can.
After 56 books, how do I manage to keep it all straight and not make distracting mistakes? "It's a mystery," as they say in THE PRINCESS BRIDE.   That mystery is what keeps me, and hopefully you, intrigued and waiting for the next book!
Take care and happy reading!
To comment on Joan Johnston's blog please click here.
Bitter Creek