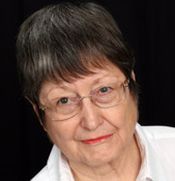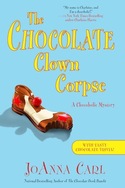 My mother used to say that when I was two or three I would come to her and ask for "choc." Choc was what I called chocolate milk.
Mother was a great reader, particularly of mysteries. So on one particular occasion, she replied, "Let me finish my chapter."
I sighed deeply, she recalled, and said, "Whenever I ask for choc, you say, 'Let me finish my chapter.'"
So mysteries and chocolate apparently were linked in my mind from my earliest days.
Just as I love mystery novels, I also love chocolate. I like milk chocolate, dark chocolate, and white chocolate. I like it in solid bars, in truffles, in bonbons. In brownies, in mole sauce, in exclusive chocolate shops, and in bags on the Halloween display at the grocery store. I like Hershey's, Nestle, and Ghirardelli. I adore Cadbury's Caramellos.
I like anything but jelly centers. Or chewy caramels, even chocolate covered. And chocolate cake mixes. I do draw the line somewhere.
It's no wonder that when my editor asked for a series of cozy books, I came up with chocolate as a theme. So in my new book, THE CHOCOLATE CLOWN CORPSE, my heroine/detective, Lee Woodyard, finds herself handing sample chocolates out to sledders at a winter festival, and the new paperback, THE CHOCOLATE BOOK BANDIT, has chocolate books on the cover.
But despite being an expert on eating chocolate, I know only the rudest rudiments of making it. For most details I rely on Elizabeth Garber, who operates The Best Chocolate in Town in Indianapolis. She's an expert, and she is always kind and helpful.
I also rely on some books. The True History of Chocolate, by Sophie D. Coe and Michael D. Coe has an unbelievable amount of information. They explain everything from the origin of chocolate in Central and South America to which chocolate companies were established when and where and why.
Another of my favorite references is Chocolate: A Bittersweet Saga and Dark and Light, by Mort Rosenblum. Rosenblum is a sensuous writer; read his book with a napkin in hand because you'll be drooling. He looks deeply at the gourmet side of chocolate. No Hershey's Kisses and Halloween candy for him.
It was Rosenblum who taught me how to judge chocolate as an expert should. Ask for a plain tablet of dark chocolate. That's his standard. He describes such a square of chocolate the way a wine expert would talk about wine.
I opened the book to find an example of that trait to quote for this blog, and I discovered myself, twenty minutes later, seduced away from my research, and reading a detailed description of the Valrhona plant. The book is esoteric, but fascinating.
Another fascinating but completely different book about chocolate is The Emperors of Chocolate: Inside the Secret World of Hershey and Mars, by Joel Glenn Brenner. This book enthralled me, perhaps because about the only things I find more interesting than chocolate are people.
Brenner's book looks at the businesses established by Milton Hershey and Forrest Mars, contrasting the management styles and personalities of the two famed industrialists.
Their stories are unbelievable. The most brilliant novelist couldn't make this stuff up. Yet I'll bet a nickel Hershey bar that it's all true.
I'll conclude with the story of "How Mr. Grocer Discovered Why the Twins Didn't Get Chocolate."
Our first two children arrived on the same day – a beautiful set of twins, one boy and one girl. By the time they were able to stand up – at around eleven months – my husband and I had developed a ritual. On Friday afternoon I would feed the twins at five o'clock. Then when my husband arrived home, we would all four go to the grocery store. (We had only one car, of course.) After we shopped, he and I would stop at McDonald's for a hamburger. We were hard up in those days; that "dinner" at McDonalds with the twins in the back seat was our weekly treat.
There was another part of the weekly treat. When we got to the grocery store, my husband and I would each get a chocolate bar. I don't even remember what kind.
And the owner of the grocery store began to scold us. We were, he felt, being mean to eat chocolate in front of our two beautiful babies and not let them have any. I explained that they had already had their dinner and would receive a share of our French fries at McDonald's, but he remained unconvinced.
Finally, one Friday, without asking us, he presented each twin with a piece of candy. There was nothing to do but let them have it. So we wandered the aisles of his store with twins in a grocery cart, each holding a piece of chocolate.
Over the next twenty minutes, the twins rubbed chocolate on that basket. They rubbed it on each other. They rubbed it in their hair, all over their clothes, on his goods for sale, on the groceries we were buying. Finally, they threw the chocolate into the floor.
Silently, Mr. Grocer brought us two wet towels. And he never again tried to convince us that we were being cruel because we didn't give babies chocolate. At least without first restraining them in high chairs and large bibs.