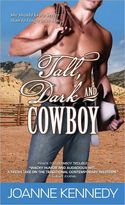 If I dropped you in the middle of nowhere with nothing but fifty dollars, a beat-up muscle car, and an ugly stray dog, would you able to build yourself a new life?
That's what happens to former trophy wife Lacey Bradford in TALL, DARK AND COWBOY. Lacey's been raised to riches, but her privileged life is whipped out from under her when she discovers her ex-husband is a con man. She's left with few survival skills and fewer resources when she swears off his ill-gotten gains and hits the road. Hundreds of miles and one hunky cowboy later, she has to  rebuild her life in a world that's as foreign to her as another planet.
My romances are almost always fish-out-of-water stories, where a hero or heroine finds herself in an unfamiliar world and has to make the best of it. And since I started writing that kind of story, I can't pass through a small town in the West without looking around and wondering what I'd do if I had to live there. Could I get a job at that little café? How tough would it be to tend bar at that tough-looking whiskey joint on the edge of town?
If I'm on a deadline and can't get away, I play the game with real estate ads. What would it be like to live in that cabin in the woods, or that suburban townhouse? What if I bought a bar in Meteetse, Wyoming? Or a filling station in Lewistown, Montana?
But the house and the job would only be a small part of my life. What really makes a place home is the people, and the biggest challenge in any hew home is becoming a part of the community. So it's fun to stop at a diner or coffee shop and see who stops by, eavesdrop on conversations, and see where you might fit in.
Of course, it would help to have just one friend—just one person you know who would help you get started. That's why Lacey chooses Grady, Wyoming for her fresh start. She figures her old friend Chase Caldwell will act as a kind of safety net—but Chase is anything but safe. The gangling farm boy Lacey remembers has changed into a smokin' hot cowboy who's not about to let the woman who broke his heart back into his life.
Depending on a man never worked out that well for her anyway, so Lacey goes to work building her own life in Grady. Everything's going fine until her past catches up to her, and then she really does need Chase's help. But can she really trust a man who pushed her away when she needed him most?
Lacey learns a lot in her effort to build a new life—and so does Chase, whether he wants to or not! I hope readers will enjoy these two characters as they work toward their hard-won happy ending.
Have you ever had to start over in an unknown place? Where would you go if you had to make a fresh start today, and how would you do it?
TALL, DARK AND COWBOY by Joanne Kennedy—In Stores November 2011
She's looking for an old friend…
In the wake of a nasty divorce, Lacey Bradford heads for Wyoming where she's sure her old friend will take her in. But her high school pal Chase Caldwell is no longer the gangly boy who would follow her anywhere. For one thing, he's now incredibly buff and handsome, but that's not all that's changed…
What she finds is one hot cowboy…
Chase has been through tough times and is less than thrilled to see the girl who once broke his heart. But try as he might to resist her, while Lacey's putting her life back together, he's finding new ways to be part of it.
About the Author
Joanne Kennedy is the author of three previous contemporary Western romances for Sourcebooks. She brings a wide variety of experience, ranging from chicken farming to horse training, to her sexy, spicy cowboy stories. She is a 2011 finalist in the prestigious Romance Writers of American RITA© Awards, for ONE FINE COWBOY. Joanne lives in Cheyenne, Wyoming, where she is working on her next book, Cowboy Crazy (June 2012). For more information, please visit http://joannekennedybooks.com/.
Tell us about starting over and we'll pick TWO commenters for a copy of TALL, DARK AND COWBOY US and Canada only.
To comment on Joanne Kennedy's blog please click here.