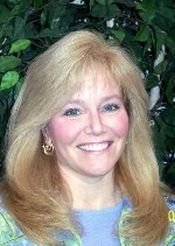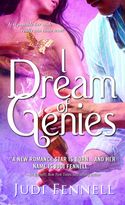 One of the hardest things about writing a story about magic is to have a story. See, when you have magic, it can do anything. Magic can make all your problems literally disappear. So how do you have something threaten your characters when one blink of her eyes (or flick of her wrists) can make it all go away?
That was what I was faced with when I sold my genie series to my editor. I pretty much sold the idea on, "I have this idea of a story along the lines of I Dream of Jeannie meets Indiana Jones." That was it; that was all I had. I knew the genie, Eden, had been sentenced to her bottle for 3,000 years, got out early, and then I heard the Indiana Jones' theme music. That was it.
So, yay! I sold a trilogy. Now I had to write it. And I quickly found out that like genie wishes, magic is not all it's cracked up to be. Sure, it sounds good, but if the bad guy is after you, poof! make yourself invisible or take a long vacation to the other side of the world. If the guy you're in love with is tied to a chair, facing a bolt of magic from the jealous vizier, just zap him somewhere else.
I had to come up with a way for magic not to solve everything, and that gave me some sleepless nights until I realized that when Eden is accidentally freed from her bottle, she cracks her head on the stopper of her bottle—a canary diamond. Diamonds are some of the hardest things on earth, and certainly more so than her head. Voila! Head injury equals screwy magic, and the only thing worse than not having magic is having magic you can't control. So not only did I come up with a way to not have magic solve everything, but now it was the cause of some troubles.
One problem solved.
But then came the fact that djinn mythology, as fun as it is in TV shows, is, at its heart, part of a belief system. I was very sensitive to that fact as I was writing the story, trying to steer clear of offending anyone.
Then there was the language barrier. I knew I wanted to incorporate Arabic Egyptian, Persian and other languages into the story since Eden is over 2000 years old and she would have spoken them. But the alphabet is totally different from English, and I was a language major in college. While I don't speak Arabic, I know enough about languages to know that direct translations might mean word-for-word what you want, but the meaning can be a whole other thing. I needed a native Arabic speaker.
That, actually, was the easiest part of my writing problems because my best friend married an Egyptian guy who is a native speaker. Huge shout-out of thanks to Tarek for his help with the language and for answering all my questions. I might not have made a trip to the Sahara desert for research, but the trip to a local Moroccan restaurant was a fabulous time!
Google and Wikipedia are great for anecdotal type info I use, and then there's always books. I have a copy of Sir Richard Burton's translation of the one thousand and one Arabian nights' stories, and the footnotes were just as illuminating at the stories. I lived on Google Earth when laying out the magical city of Al-Jannah, and pulled on my time spent in the south of Spain for architecture.
I had as much fun creating this world as I did with my Mer world, but I wouldn't have minded a genie who could have whipped it all up for me.
But then where would the story have been for this post?
Here's a flavor of the world I created:
"This way!" She grabbed Matt's hand and ran through the back door of a salon.
A cloud of silvery-pink Glimmer hit her in the face so thickly as she entered that she choked on it.
"What the hell's this stuff?" Matt coughed.
"Glimmer," Eden answered.
"I thought you said no one was allowed to use magic?"
Matt waved his arms and the pink particles drifted onto him. Only real men could wear pink and still look sexy—not that now was the time to be thinking about things like that.
"The Mawla of Magic is always permitted to use magic," answered a woman shelving supplies in a cabinet by the back door. She turned around, smoothing her aquamarine sari in a controlled motion that had nothing to do with wrinkles and everything to do with sizing Matt up. And not in any way that made Eden jealous. More in a way that made her nervous.
The woman had pegged him for a tourist—the mortal kind. Attention they didn't need.
They also didn't need Matt asking any more questions, so Eden plastered a smile to her face and reached for his hand. "Place looks great. Aisha did a wonderful job."
She backed out of the room, dragging him with her, the woman's eyes on them all the way.
"The Mawla of Magic?" Matt asked in the corridor.
Eden peered around the corner. No one was watching for them. Yet.
"The Mawla—Aisha—reports to the High Master along with Faruq and a few others. She's the Master of Necessary Magic. Things like droppings-free birds, flying-carpet taxis, self-flaming street lanterns, that sort of thing. For the common good."
The front of the store had Aisha's Glimmer all over it. Fuchsia chiffon ribbons spiraled and twirled above patrons who sat on fluffy cloud cushions and bathed their feet in frothing mineral water baths scented with lemon blossoms. Not quite sure how this constituted common good, but then it wasn't Eden's place to question Aisha. She just wanted to get out of here without drawing any more attention.
Then Matt cursed, and, sadly, that wasn't going to happen.
Eden spun around as he was trying to prevent a metal basket of therapy stones from swiveling off a brazier. He couldn't, and the basket crashed onto the parquet floor, charred wood quickly adding its own scent to the Glimmer and lemon mixture. A fire would certainly get them more attention.
"This place is designed for pixies," he muttered, bending down to gather the stones.
"Not for. By." Eden kicked a stone that had burnt a tiny hole in her slipper, then nodded at a trio of the beings above the front window. Gossamer gold wings fluttered as the pixies serenaded the clientele with sweet, high-pitched melodies.
"Pixies? Real, live pixies?" Matt stood up, the basket forgotten at his feet.
"They're certainly not dead ones." Thank the cosmos she hadn't brought Humphrey; pixies were a dragon treat. She just hoped he found the dragon colony all right.
She picked up the basket and returned it to the brazier. "Come on. Let's go."
She avoided crashing into a salver of mint tea and scones that served itself to the clients, and dodged a broom dancing among the alabaster workstations as if auditioning for Fantasia but couldn't prevent the stupid curl of her slipper from catching a curtain of lavender silk and tugging it from the ceiling. It billowed behind her onto Matt. Poor guy didn't have luck with that fabric today.
The naked woman on the massage table behind the curtain, however, probably wouldn't complain that he got a face full of silk. After she stopped cursing, that was.
Then Matt joined in with the cursing, and so did the henna artist he accidentally tossed the fabric onto when he fought his way free.
A couple more mishaps had Eden wishing they had time to make amends, but their time was just about up. Someone was going to call the authorities about the disturbance, and in Al-Jannah, all Service Officers reported to Faruq.
Once Faruq learned she'd escaped, she could kiss any hope of freedom goodbye. She'd been ready to say to hell with the consequences of using her magic and wish herself free earlier in his courtyard, but then Matt's truck had plowed through the silk walls. For a moment, she'd thought he'd been a mirage brought on by lack of sleep and fear of what Faruq had planned for her. The lack of sleep she hadn't minded, given how that had come about, but the fear… She had Faruq to thank for the fear.
She had to outwit him. Had to get away. The only thing worse than being in The Service was being in The Service to him.
Matt caught up to her and dragged her out of the way of a pot of yucca plants that were laughing so hard the planter was in danger of toppling over, then out the door and into the street, just in time to almost be run over by a carriage that was being pulled by a—
"Is that what I think it is?" Matt leapt back and Eden went with him, ending up in his arms.
The day wasn't a total loss.
© Judi Fennell, Sourcebooks Casablanca, 2011
I DREAM OF GENIES BY JUDI FENNELL – IN STORES JANUARY 2011
"The nonstop cinematic gee-whiz results will keep the reader enraptured. Fennell also tosses in sultry sex scenes, a bubble-gum-sweet but passionate romance, quick-moving action, and a variety of puns and riddle-making beasts."
—Publishers Weekly STARRED REVIEW
He needs to change his luck, and fast!
Matt Ewing would gladly hunt down a fortune in lucky pennies if he thought it would help save his business. But for all his hoping, Matt's clueless when his long-awaited lucky charm falls in his lap in the form of a beguiling genie. He just can't believe that this beautiful woman could be the answer to his prayers…
She's been bottled up for far too long!
Spending 2,000 years in a bottle would make any woman a little stir-crazy. So when Matt releases Eden from her luxurious captivity, she's thrilled to repay him by giving him the magical boost he needs…
But for all her good intentions, Eden's magical prowess is a little rusty and her magical mistakes become more than embarrassing. And though Eden knows falling in love will end her magic and immortality, she can't help but be drawn to the one man who wants her just for herself…
About the Author
Judi Fennell is an award-winning author and writes what she calls "fairy tales with a twist." Her romance novels have been finalists in Gather.com's First Chapters and First Chapters Romance contests, and have won numerous RWA Chapter Awards, including the FF&P Prism Award, and the New Jersey Golden Leaf Award. Judi lives with her family in suburban Philadelphia, PA, where she is working on the next book in the Genie Trilogy, Genie Knows Best, set for release in November 2011. For more information, please visit http://www.judifennell.com/.
To comment on Judi Fennell's blog please click here.