The main characters in my new young adult romance, ANY BOY BUT YOU, hate each other in real life, but fall in love accidentally and anonymously while playing an augmented reality game on their phones.
Some of my favorite scenes to work on in ABbY were the ones were either Elena or Oliver was being a brat to the other one. There is a thin line between love and hate, and the two of them skate it for much of the book.
I tend to gravitate toward enemies to lovers stories all the time, especially on TV. Insta-love doesn't do it for me. I want insta-hate, followed by insta-attraction, which then might grow into something real.
Some of my favorite enemies to lovers pairings on TV:
Natalie and Trevor Dillon on All My Children: This was where my obsession with this trope began. My mom and aunt were big ABC soap fans when I was growing up, and therefore so was I. Natalie and Dillon, who hated each other so, so much, ended up (at least this is how I remember it from a million years ago) stranded on an island, where they realized they were in love. AS FOLKS DO.
Veronica and Logan on Veronica Mars: I think the show wanted us to buy into Duncan being the one for V from the start, but it became obvious pretty early on that Logan was a much better match for her. And their first kiss, which comes out of nowhere? Hot. Scorching.
Brienne and Jaime on Game of Thrones: This is one pairing that hasn't yet panned out, but I have hope! (Assuming George R.R. Martin ever gives us The Winds of Winter.) Jaime and Brienne end up traveling together from Riverrun to King's Landing. He's her prisoner, and his lack of loyalty to his king disgusts her to no end. She's a tall, homely, sometimes humorless girl who wants to be a knight. They develop a begrudging respect for each other, which I'm banking on turning into love one day. Jaime's current squeeze (uh, his sister) isn't good enough for him, and Brienne, who'd previously been in love with her king, Renly, who was NEVER going to be interested in her, deserves nice things for once.
Elena Chestnut has been chatting with an anonymous boy late into the night. It's a very You've Got Mail situation, and she has no idea who he is. Hecan't be Oliver Prince, hot-and-bashful son of the family running the rival sporting goods store. Their fancy sales strategies are driving Elena's family out of business. Elena's mystery boy has teamed up with her in their latest sales strategy, an augmented reality game, to help her win the grand-prize plane tickets. Money's so tight Elena's going to miss senior year spring break with her friends if she can't win this game.
The girl Oliver's fallen head-over-heels for online had better not be Elena Chestnut. She's his angry, vindictive Latin tutor, the daughter of his dad's business rival, and the one girl he'd never even think of kissing. She's definitely not his online crush, because that girl is funny, sweet, and perfect.
When Oliver asks to reveal their names at the Valentine's Day dance, their IRL relationship will either ruin what they have online, or they'll discover just how thin the line between love and hate really is.
Disclaimer: This Entangled Teen Crush book contains swearing, snowball fights, and sexual tension that could melt the North Pole. Read at your own risk.
Young Adult [Entangled Crush, On Sale: February 13, 2017, Paperback / e-Book, ISBN: 9781682814246 / eISBN: 9781633758728]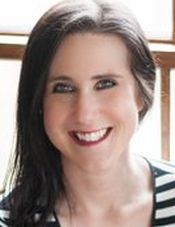 Julie Hammerle is the author of THE SOUND OF US (Entangled TEEN, 2016). Before settling down to write "for real," she studied opera, taught Latin, and held her real estate license for one hot minute. Currently, she writes about TV on her blog Hammervision, ropes people into conversations about Game of Thrones, and makes excuses to avoid the gym. Her favorite YA-centric TV shows include 90210 (original spice), Felicity, and Freaks and Geeks. Her music playlist reads like a 1997 Lilith Fair set list.
She lives in Chicago with her husband, two kids, and a dog. They named the dog Indiana.