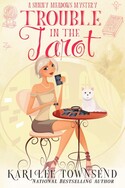 I write mysteries and I write romance and I write romantic women's fiction. Pretty much everything I write has some degree of humor in it. That's what I love to read, and I can't seem to write without including some element of those things in everything I do. There are those who think that mysteries and romance don't go together and should remain separate. While there are others who love a bit of mystery within their romance and vice versa.
I think you can do anything so long as you don't lose focus of what genre you're writing in at the time. When I write a mystery, solving the mystery has to be the main focus of the book. If the book spends equal time on developing the romance, then the lines become blurred as to which genre to classify the book in when it comes out. Same goes for writing romance. The romance has to be the main focus of the book, with the mystery taking second stage in the background. Readers want to know what they are getting when they buy a book, and the whole point as an author is to please our readers.
I love fun quirky characters so my books tend to lend themselves to humorous situations. And I love physical humor, so sometimes I go off on a scene that is hilarious (to me), but then have to pull back and cut most of it if it doesn't have anything to do with moving the story forward. Not an easy thing to do when you adore something 🙂 All in all I personally think a bit of romance and a touch of humor make a mystery…especially a cozy mystery…that much more charming. Throw in an immortal cat and you add in a whole other layer of fun.
So tell me…how do you like your cozies? Inquiring minds want to know. Good luck with the giveaway, and happy reading. Be sure to drop me a line or go review the book. I'd love to hear what you all think.
Fortune Teller Mysteries
To comment on Kari Lee Townsend's blog please click here.