Danielle: Welcome to Fresh Fiction, Kerry! Congrats on the release of your debut novel, THE WEDDING RINGER! I'd love to know more about your publishing journey.  
Kerry: Thanks so much, Danielle! THE WEDDING RINGER is actually the third novel I've written. I wrote my first manuscript in 2015, and it lives in a desk drawer that shall never see the light of day. In 2017, I wrote a women's fiction manuscript and entered the mentorship program Pitch Wars, where I was selected as a mentee and spent a few months working with romance author Melissa West. After Pitch Wars, I queried that manuscript but didn't land an agent. I did, however, learn a great deal about plotting, story structure, and pacing. In 2019, I wrote the manuscript that would become THE WEDDING RINGER and entered Pitch Wars again. This time, I was mentored by women's fiction author Susan Bishop Crispell, who helped me expand on the book's emotional depth by adding more of the protagonist Willa's internal reactions and using characters' physical actions to convey emotion. 
After the Pitch Wars agent round, I found myself with multiple offers of agent representation. I'd dreamed for years of an agent requesting a phone call with me, and the fact that my dream was coming true was amazing—and surreal. The agents I talked to were wonderful, but I felt the strongest connection with Jessica Watterson of Sandra Dijkstra Literary Agency, and I signed with her two weeks later. 
A few short weeks after that, I was on my honeymoon when Jess called to see if we could schedule a phone call with Angela Kim, an editor from Berkley who'd read THE WEDDING RINGER. My husband and I were on a dolphin-watching boat tour in Clearwater Beach at the time, so my reception wasn't great, but I heard enough to make me jump out of my seat and almost fall sideways when the boat caught a wave. That afternoon, Jess, Angela, and I had a conference call, and by the end of the day, we had a book deal. I'm pretty sure I didn't stop smiling for weeks. 
So, November 9th just so happens to be my wedding anniversary, so your book is releasing on the best possible day (LOL). What inspired you to write a book set in the wild world of weddings? 
Happy anniversary! I hope you have a great time celebrating. When I started drafting the manuscript in my head, I didn't know I was going to set it against the backdrop of a wedding. I just knew I wanted to write a story that honored female friendship, and I was drawn to the idea of a character whose whole world has been turned upside down, like Willa's is at the start of the book. 
I was around 30 then, at a period in my life when it felt like everyone I knew was getting married. At a friend's wedding reception, a tablemate was commenting on the bridesmaids' dresses (she had strong opinions about the neckline) and remarked that if she got married, she'd have trouble picking bridesmaids because she would inevitably offend the people she didn't select. That sparked a question in my mind: what if someone had the opposite problem and lacked the close friends or family to form the bridal party she envisioned? Would she hire someone? This led me to research the idea of a professional bridesmaid, and I realized it would make a fun concept for a novel.
Plus, the timeline leading up to a wedding—the bridal shower, the bachelorette party, the highs and lows of reception planning and sampling delicious cake, and finally the big day itself—made the process of planning and pacing my plot beats pretty simple. And finally, weddings are just fun! They feature lots of love and a little bit of drama and chaos, and those are all elements that make a book fun to write.
Your main character, Willa, is having a rough go of it—she finds her fiancé in bed with her best friend six weeks before their wedding. She's also in need of funds and desperately takes a job to be paid to be a bridesmaid after a chance meeting with bride-to-be Maisie, who also has her own reasons for needing a new friend. What do you think compels these two to work together, and then also become "real" friends?  
They start working together purely out of necessity. Like you said, Willa needs money, and Maisie needs a bridesmaid, and they view teaming up as the way to solve their respective problems. But as they get to know each other, Willa starts to appreciate Maisie's earnestness and sunshine-y demeanor, and Maisie grows fond of Willa's sarcastic sense of humor and take-no-prisoners attitude. They both have parts of themselves they don't normally let other people see, but because their relationship starts out as a professional one, they don't put up the boundaries with each other that they otherwise might—after all, they only plan on being in each other's lives temporarily.
That allows them to be vulnerable with each other, and that vulnerability lets them get to know each other on a deeper level and realize that true friendship—not just a stand-in bridesmaid or enough money to leave town—is what's actually missing from both their lives. 
The week this interview goes up is the same week that Pitch Wars mentees are announced! As a former PW mentee, what advice do you have for the aspiring authors participating this year?  
Be open to feedback! It's an essential skill in improving as a writer and one you'll always need. After all, the feedback loop never ends. When you sign with an agent, they'll likely advise you to make certain changes to your manuscript before you go on submission. And once you sign a book deal, your editor will send an edit letter and suggest revisions. The ability to step back from your work and evaluate and incorporate feedback from a trusted source like your mentor is crucial to building a career as an author, and Pitch Wars is an amazing opportunity to practice that.
Also, keep going! If you didn't get selected for Pitch Wars, write another manuscript and try again. If you're chosen as a mentee but don't sign with an agent, write another manuscript and try again! It took me years of writing and three completed manuscripts before I was able to turn writing into a career, and I'm so happy I never gave up—even though there were a lot of days when my dream of publication seemed like a longshot. 
What's a recent read you highly recommend? 
I tore through Jesse Q. Sutanto's DIAL A FOR AUNTIES in a day and a half. It's hilarious and warm-hearted, and I passed my copy to my mom to read as soon as I finished it. She's loving it, too. 
I noticed on your Instagram that you have quite a few adorable pets! Would you tell us a little bit about them (and share a few pics if you'd like)?  
Talking about my dogs "a little bit" is tough for me; I could go on for a painfully long time. I'm the proud mom of Nash, Maya, Raiden, and Bree. Raiden and Bree are sweet-tempered, squirrel-obsessed Irish setters who never run out of energy. Nash is a Jack Russell-boxer mix who never met a blanket he didn't want to cuddle underneath, and Maya is a cattle dog mix who serves an unpaid role as my personal bodyguard. Like anyone who loves a dog knows, they're just the greatest. Watching them enjoy simple pleasures like a treat or a walk around the neighborhood reminds me to do the same. 
Bree:
Raiden:
Nash:
Maya: 
What can readers expect from you next?
My second book is a romantic comedy. I can't wait to share more about it with readers when the time comes, so stay tuned!
Rapid Fire Random Questions
Favorite Romance Trope: Enemies to lovers gets me every time! 
Go to mani/pedi nail polish colors: Rich burgundy
Do you dog-ear or use a bookmark in your books?: Both! I'm a type-A booklover's nightmare. 
Pancakes or waffles?:  Waffles topped with whipped cream
Favorite book from childhood:  The American Girl books, especially the Molly and Addy series
Morning person or night owl: Night owl. But I have a newborn at home, so I'm quickly learning to be both. 
First thing you'd splurge on if you won the lottery: A whale-watching cruise in Alaska
A song that will always cheer you up: Robyn's "Dancing on My Own"
Favorite season:  Autumn
You have a totally free afternoon – no deadlines, no obligations, no Twitter notifications!  What do you do?: I'd take a nap with the windows open to catch a nice breeze, then go for a walk in the park with my family. And of course, we'd stop for ice cream afterward.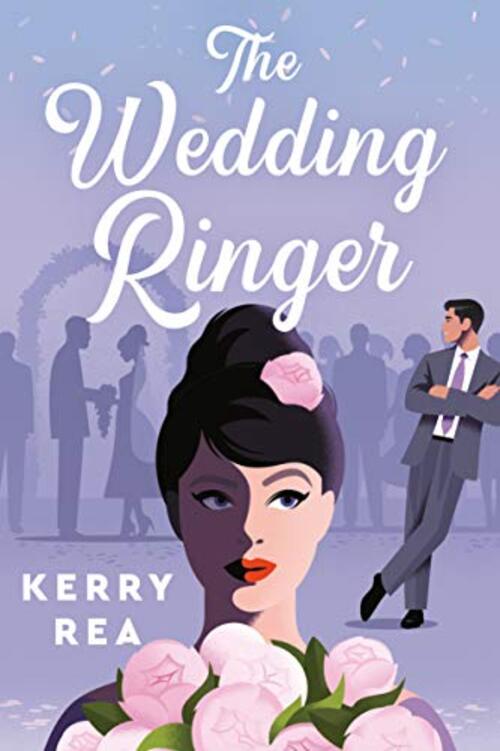 A woman who wants nothing to do with love or friendship finds both in the unlikeliest ways in this hilarious and heartwarming debut by Kerry Rea.
Once upon a time, Willa Callister was a successful blogger with a good credit score, actual hobbies, and legs that she shaved more than once a month. But after finding her fiancé in bed with her best friend, she now spends her days performing at children's birthday parties in a ball gown that makes her look like a walking bottle of Pepto Bismol. Willa dreams of starting fresh, where no one knows who she used to be, but first she needs to save up enough money to make it happen.
Maisie Mitchell needs something too: another bridesmaid for her wedding. After a chance encounter at a coffee shop, Maisie offers to pay Willa to be in her bridal party. Willa wants nothing to do with weddings—or Maisie—but the money will give her the freedom to start the new life she so badly desires.
Willa's bridesmaid duties thrust her into Maisie's high-energy world and into the path of hotshot doctor Liam Rafferty. But as Willa and Maisie form a real friendship, and Liam's annoyingly irresistible smile makes her reconsider her mantra that all men are trash, Willa's exit strategy becomes way more complicated. And when a secret from Maisie's past threatens to derail the wedding, Willa must consider whether friendship—and romance—are worth sticking around for.
Romance Comedy [Berkley, On Sale: October 26, 2021, Paperback / e-Book, ISBN: 9780593201848 / eISBN: 9780593201855]