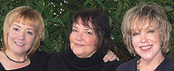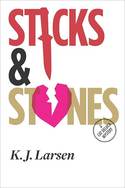 One day three sisters – with no better sense – became accidental writers.  It happened on a whim at a seaside café with a staggering view of the Olympic Mountains.  We were hunched over a bucket of clams, crusty sour dough bread, and a bottle of wine.  A guy played jazz on the saxophone and a hunky waiter got hotter as the night went on.  (OK.  It was Happy Hour.)  Our sister Kristen was visiting from Chicago.  We talked about the books we're reading, the men we're seeing, and Uncle Hal's god-awful toupee.  We wanted to find something that would help us stay connected when we got home.  That's when we decided to write a book.
Growing up, we created our own Nancy Drew dramas.  We sisters have always been passionate about mysteries.  Regretfully, we knew nothing about writing them.  But we figured if you write as a team, you only have to be 1/3 as smart as a real writer.  Do the math.
Julianne called the hunky waiter over and ordered a round of mojitos.  We scribbled notes on a napkin.  Soon we had Cat DeLuca and her Pants On Fire Detective Agency.  Cat's a lot like us but more-so.  She has more leg, more money, and more sex.  Cat is an unlikely heroine.  Her partner, a beagle named Inga, is likely to eat the evidence.  We threw in an outrageous, interfering Italian family, a couple smokin' hot guys, and Mama who serves equal portions of pasta and guilt.
For a little time each day we get to be in that place we lose as kids. We never take ourselves too seriously.  We write for the joy of being together.  And if we laugh, we think there's a good chance you will too.  Shared-writing is a process that has its ups and downs.  There's a lot of give and take and a little bloodshed along the way.  We've learned a lot about each other and about ourselves.  But in the end, we remain fast friends.  For us, writing is a journey best shared.
Here's a few things I've learned about team writing.
1)  Your teammates will almost certainly hate some of your ideas.  Screaming is childish and may not change their minds.  You won't know until you try.
2)  Before committing to a team, imagine you're stranded in an elevator for twelve god-awful hours.  If you can't possibly do this without killing someone or slitting your own throat, run for the hills.
3) Get over yourself.  Learn to trust each other's muse.  Know that what you create together is larger than what any one of you can create alone.
And always make it fun.
What about you?  Who would you write a book with?  Why?  One commenter will win a copy of STICKS AND STONES
Kari, Julianne, and Kristen Larsen are guilty of creating Cat DeLuca and her Pants On Fire Detective Agency.  Their debut novel, LIAR LIAR, was awarded a Library Journal Best Mystery 2010.  Cat's second great adventure, STICKS AND STONES, was released February 2012.
Website: kjlarsenauthor.com
Twitter: KJLarsenauthor
Facebook: KJ Larsen
To comment on KJ Larsen's blog please click here.