Kym: I have the distinct pleasure of welcoming back one of my favorite mystery writers. Darcie Wilde has written under several names and several genres, but her Rosalind Thorne Mysteries are as delightful as they are intriguing. Welcome back to the Cozy Corner, Darcie!
Darcie: So nice to be back with you and your readers!
I was thrilled to see your Rosalind Thorne Mysteries continue! Congratulations on your continued success with this lovely series. Has the experience of changing publishing houses effected Rosalind's direction for the future?
 Actually, there's been very little change in direction.  Since I changed publishers, I am once again working with the series's original editor, the fabulous Wendy McCurdy.  Wendy was the one who had the idea to create a mystery series for Rosalind rather than just a straight set of romances.
Go Wendy! In your latest Rosalind Thorne Mystery, And Dangerous to Know, you open each chapter with a small clip of written correspondences that tell a large part of the story all by themselves. Did you write the clips first, last, or did they develop with each chapter?
I keep a running list of possibilities as I research, and I'm generally researching and rewriting throughout the process. 
Many authors are inspired by current events, or crimes in history and you've actually chosen to instill a few real-life historical figures in the mystery, Lady Caroline Lamb and Lord Byron, two famous authors who had a scandalous affair. If you were asked to cast those two characters, who would play the parts? (I will save who you cast Rosalind, Devon, and Adam for another interview!)
Oh, the casting game!  I think for Byron I'd want Aiden Turner (Poldark), because I think he could play the charming narcissist well.  Lady Caroline's a little harder, because she was such a complex person and struggled so hard with personal tragedy and mental illness, so to portray that would take skill.  Anne Hathaway would work there, I think. 
OMG, he would be a dreamy Lord Byron! And of course Anne could play anyone she set her mind to—I love your choices 😉
Rosalind is hired to find some missing letters and doesn't learn about the murder of an unknown woman until her friend and bow street runner, Adam Harkness, asks her to look for clues that were not readily available to the police during that time period. What is it about the Regency period that inspires you?
It's a time full of contradictions.  There was this insistence on public propriety, especially for women, but just under the surface there was so much going on, not just in terms of social scandal.  It was a period of profound technological and political change as well.
What is the hardest part about writing a Regency mystery?
The fact that there's _so much_ material out there now.  It seems like everybody back then wrote a diary, and had it published, and with digitization, it's all available with a click.  It's a great problem to have, but sometimes the amount of available source material can feel overwhelming.
When you first published A Useful Woman, your first Rosalind Thorne Mystery, I asked you which female authors influenced your writing. You responded with: "…Ursula LeGuin, Andre Norton, Anne McCaffery, Agatha Christie, Dorothy Sayers, Josephine Tey, all the Brontes, Daphane DuMaurier, Angela Carter, Jane Austen, Georgette Heyer…the list goes on." Readers can see Jane Austen's influence in your stories and characters, but, if Rosalind was asked the question, which heroine (provided she had access to all of the wonderful works by these authors) influenced her in her pursuit of the truth and love, what would her response be?
I think there's a whole lot of Elinor Dashwood (Sense & Sensibility) in Rosalind, in that both of them had to figure out how to negotiate difficult family circumstances and the world's constraining expectations while maintaining their own concepts of right and self-respect.  She'd also be able to commiserate a great deal with Anne Elliot (Persuasion), because like Anne she was persuaded to take a life course that may have seemed right but maybe was not the best thing for her.
You've molded Rosalind perfectly as a young woman who had been inspired by those two wonderful characters. You have a classic love triangle going between Rosalind, Devon, and Adam. One man represents her past and the future she always saw for herself and the other represents the woman that life has forced her to grow into—I really don't want her to choose! I know so many readers insist that a character make up her mind, but for me, I don't want to be disappointed in the character's choice. (I always choose the underdog who is left behind) Will Rosalind choose in the foreseeable future?
That is very much the subject of the next book, A Lady Compromised.
Now there's a teaser if I ever read one:) What is next for you and Rosalind?
I'm just starting book #6.  I can't say much yet, but I will say that this time, Rosalind is going to have to deal with her very, um, thorny, family issues.
LOL, time to sheer those thorns! Can you tell our readers where they can find you on social media?
Absolutely!  They can find me on Facebook, and Instagram by searching Darcie Wilde Author.  I'm also on Twitter as @Darcie_Wilde, or they can go to my website: www.darciewildeauthor.com and sign up for my very, very occasional newsletter.
Thank you for joining us on the Cozy Corner with another fabulous mystery!
Thanks so much for inviting me!
Until next month when Gayle Trent sits down and tells us all about her new series with Lorraine Bartlett, get cozy and read on!
Rosalind Thorne Mystery #3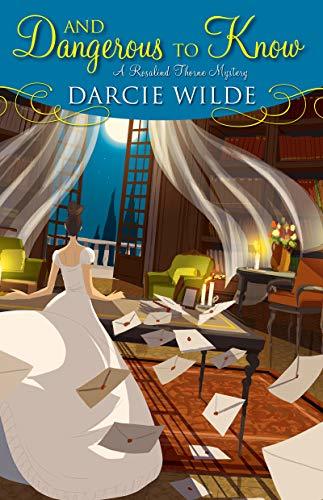 When the ladies of the ton of Regency London need discreet assistance, they turn to Rosalind Thorne—in these mysteries inspired by the novels of Jane Austen . . .
Trust is a delicate thing, and no one knows that better than Rosalind Thorne. Lady Melbourne has entrusted her with recovering a packet of highly sensitive private letters stolen from her desk. The contents of these letters hold great interest for the famous poet Lord Byron, who had carried on a notorious public affair with Lady Melbourne's daughter-in-law, the inconveniently unstable Lady Caroline Lamb. Rosalind is to take up residence in Melbourne House, posing as Lady Melbourne's confidential secretary. There, she must discover the thief and regain possession of the letters before any further scandal erupts.
However, Lady Melbourne omits a crucial detail. Rosalind learns from the Bow Street runner, Adam Harkness, that an unidentified woman was found dead in the courtyard of Melbourne House. The coroner has determined she was poisoned. Adam urges Rosalind to use her new position in the household to help solve the murder. As she begins to untangle a web of secrets and blackmail, Rosalind finds she must risk her own life to bring the desperate business to an end . . .
Mystery Historical | Mystery Woman Sleuth [Kensington, On Sale: December 31, 2019, Hardcover / e-Book, ISBN: 9781496720863 / eISBN: 9781496720924]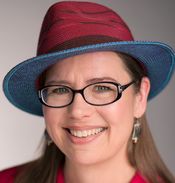 Darcie Wilde writes her classically styled (not to mention stylish) mysteries as well as adventurous romances from a university town in a certain northern-midwestern state that has been known to bear some passing resemblance to a mitten. When not writing, she's reading, cooking, hiking, swimming, climbing things, raising her rapidly growing son and trying to convince her cat — Buffy the Vermin Slayer — not to do any further damage to the furniture.
***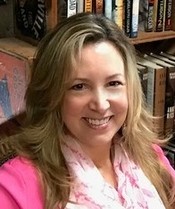 Passion. Mystery. Suspense. Catch the Wave! Because a little PMS can change your world!
Kym Roberts is a retired detective sergeant who looks for passion, mystery, and suspense in every book she reads and writes. She can be found on the web at kymroberts.com, on Facebook @KymRobertsAuthor911, and on Twitter @kymroberts911. You can also listen to her new podcast Romance Book Chat with Kym and Misty on iTunes & Stitcher. Her Amazon bestselling Book Barn Mystery #5, Killer Classics was a finalist for the Fresh Fiction Awards for Best Cozy Mystery & Best Book! Kym's Men of Rock collection, Holiday Vice is available for a short time on Kindle Unlimited for just .99¢!