No matter the season, there's alway a perfect hat, especially if it's designed Sandra Bretting's Missy DuBois. This super sleuth knows how to solve a mystery in style and her latest caper definitely takes a bite out of crime down South in Louisiana. This is Ms. Bretting's fifth mystery in the series and it's one of my favorites. (Although I'm not a fan of alligators–yikes!)
A Missy DuBois Mystery #5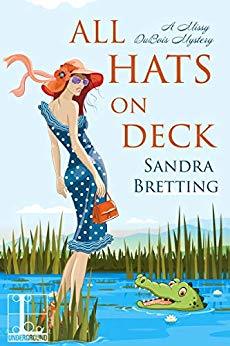 No Southern wedding is complete without a special veil designed by Louisiana hat maker Missy DuBois. But it's hats off to Missy DuBois when she tries to save her town from a bayou killer . . . 
 
When Ruby Oubre asks Missy to advise her grandson on a business idea, the successful owner of Crowning Glory is happy to oblige. After a quick jaunt down the river, Missy meets with eighteen-year-old Hollis about the viability of opening an alligator farm for tourists. But it isn't an alligator Missy finds floating at the mossy bottom of the Atchafalaya River. It's Ruby, and her death wasn't caused by accidental drowning. It seems everyone from local tour boat operators to the chief of police and the mayor of Bleu Bayou had an eye on snatching up Ruby's riverbank property. If Missy doesn't unveil a greedy killer soon, her hat-making career could be bogged down for good . . .
Mystery Historical | Mystery Cozy | Mystery Woman Sleuth [Lyrical Press, On Sale: September 10, 2019, e-Book, ISBN: 9781516105786 / eISBN: 9781516105786]
For readers gearing up for Halloween I have two special holiday treats that focus on community building and the great relationships between their characters.
Alexis Morgan's second Abby McCree Mystery may not deliver a shock, but it has a thoroughly enjoyable journey through the corn maze, the police department, and the quilter's guild as town gossip helps Abby solve her second murder in Snowberry Creek in true new sleuth fashion. Death by Jack-O'-Lantern is full of great chemistry.
An Abby McCree Mystery #2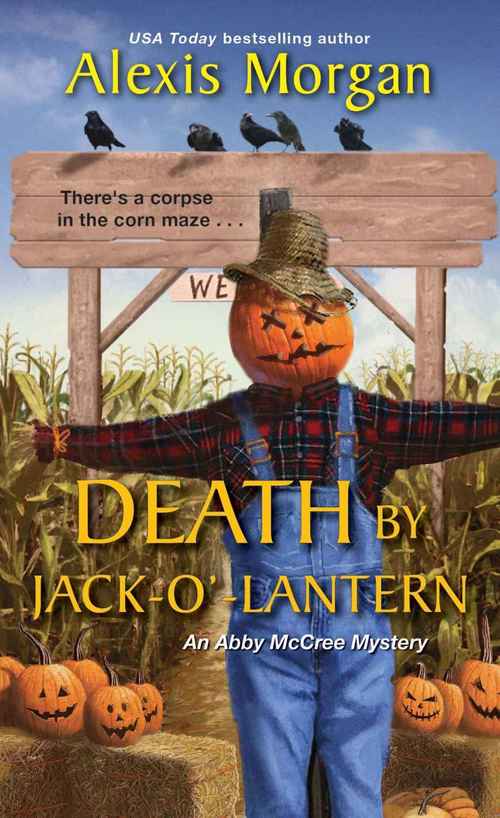 Overcommitted committee member Abby McCree gets in a patch of trouble trying to solve the murder of a pumpkin farmer. . . The small town of Snowberry Creek, Washington, is gearing up for the Halloween Festival, and naturally Abby is on the planning committee. As part of her duties, she's picking up a pumpkin order from ornery farmer Ronald Minter. But what she finds instead is the farmer in the middle of his corn maze with a knife in his back. The police suspect a homeless veteran named Kevin Montgomery, who was seen arguing with Minter when the farmer accused him of trespassing and stealing pumpkins. Abby's tenant Tripp Blackston, a veteran himself who's been helping Kevin, is sure he's innocent. Together, Abby and Tripp follow the twists and turns of the case to corner the corn maze killer–before someone else meets a dead end. . .
Holiday | Mystery Cozy [Kensington, On Sale: August 27, 2019, Mass Market Paperback / e-Book, ISBN: 9781496719546 / eISBN: 9781496719577]

Nobody liked the pumpkin farmer… but who hated him enough to kill him?
Tried and true, Bailey Cates released her eighth Magical Bakery Mystery in August with this charming tale of murder and witchcraft gone awry in Cookies and Clairvoyance. When everything she's counted on in the past is missing, it takes a special kind of Coven to help this good witch back on track to catch a killer.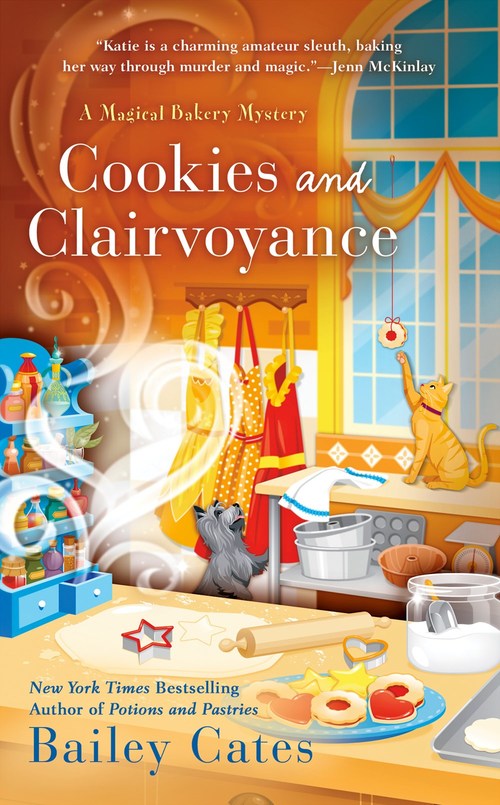 Baker Katie Lightfoot serves up enchanted delicacies and tracks down a malicious murderer in the newest installment of this New York Times bestselling series. . .
Hedgewitch Katie Lightfoot is juggling wedding preparations, a visit from her father, and home renovations on top of her long hours at the Honeybee Bakery, where she and her aunt Lucy imbue their yummy cookies and pastries with beneficial magic. But when firefighter Randy Post is accused of murdering a collector of rarities, and his prints are on the statue that was used to kill the man, Katie steps in.
Randy is not only Katie's fiancé's coworker, but also the boyfriend of fellow spellbook club member and witch Bianca Devereaux. Bianca and Declan are both sure Randy is innocent, and so is Katie. However, to prove it she'll have to work with ornery detective Peter Quinn again–and this time around he knows she's more than your everyday baker.
Mystery Cozy | Mystery Paranormal [Berkley Prime Crime, On Sale: August 27, 2019, Mass Market Paperback / e-Book, ISBN: 9780399587016 / eISBN: 9780399587023]
Recently I've found myself enjoying the simplicity of crime-fighting in historical mysteries. They allow me to experience a new time period as well as the methodical unraveling of a true whodunit. A.M. Stuart released a witty and gripping tale with her first Harriet Gordon Mystery, Singapore Sapphire and I'm looking forward to many more.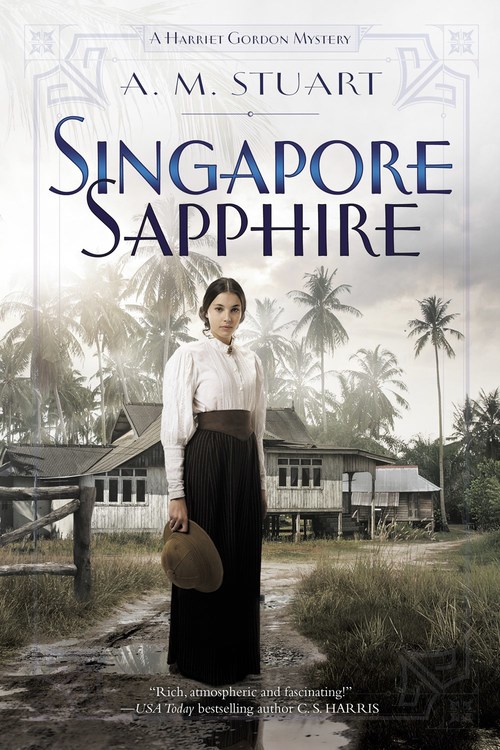 Early twentieth-century Singapore is a place where a person can disappear, and Harriet Gordon hopes to make a new life for herself there, leaving her tragic memories behind her–but murder gets in the way.
Singapore, 1910–Desperate for a fresh start, Harriet Gordon finds herself living with her brother, a reverend and headmaster of a school for boys, in Singapore at the height of colonial rule. Hoping to gain some financial independence, she advertises her services as a personal secretary. It is unfortunate that she should discover her first client, Sir Oswald Newbold–explorer, mine magnate and president of the exclusive Explorers and Geographers Club–dead with a knife in his throat.
When Inspector Robert Curran is put on the case, he realizes that he has an unusual witness in Harriet. Harriet's keen eye for detail and strong sense of duty interests him, as does her distrust of the police and her traumatic past, which she is at pains to keep secret from the gossips of Singapore society.
When another body is dragged from the canal, Harriet feels compelled to help with the case. She and Curran are soon drawn into a murderous web of treachery and deceit and find themselves face-to-face with a ruthless cabal that has no qualms about killing again to protect its secrets.
Mystery Historical [Berkley, On Sale: August 6, 2019, Trade Size / e-Book, ISBN: 9781984802644 / eISBN: 9781984802651]
Until next month, get cozy and read on!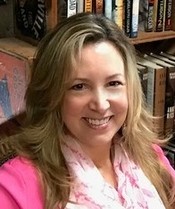 Passion. Mystery. Suspense. Catch the Wave! Because a little PMS can change your world!
Kym Roberts is a retired detective sergeant who looks for passion, mystery and suspense in every book she reads and writes. She can be found on the web at kymroberts.com, on Facebook @KymRobertsAuthor911 and on Twitter @kymroberts911. You can also listen to her new podcast Romance Book Chat with Kym and Misty on iTunes & Stitcher. Amazon bestseller & Book Barn Mystery #5, Killer Classics was finalist for the Fresh Fiction Awards for Best Cozy Mystery & Best Book! Kym's 3rd Men of Rock, Sinfully Wicked is coming this fall!