Welcome to Mayhem, Minnesota where the cats wear sweaters, the local priest dispenses love advice and you can find your fortune in the bottom of a pie plate. Sounds like a pretty strange place, right? Yeah, well that's what I was going for when I created the backdrop for my series of sweet, small town romances called The Whiskey Sisters. Said sisters have inherited their father's pub and are each named after a different liquor—Hennessy, Jameson, Walker and Bailey. I wanted these young women to be strong and independent but also fun and funny. And I needed to give them a hometown so unique that they'd never want to leave.
And so was established Mayhem, Minnesota—a tiny hamlet in the region known as the Iron Range—where it gets mighty snowy, and mighty cold. When the town folk collectively adopt a group of cats rescued from a storm-ravaged region in the south, the find out pretty fast that the poor kitties are freezing their furry little butts off. Enter The Knitty Kitty. This business, owned by a very talented knitter by the name of Julie Freddino, caters to the feline population of Mayhem by outfitting them with stylish and functional apparel. Walk around town and you're likely to find Barrack, Michelle and Donald—the cats who live at the Mayhem Gazette, or perhaps Edgar, Alan and Poe from Miss Kelly's Bookstore or even Catty Perry, the four-legged resident of the sporting goods store—all outfitted in the hippest apparel for today's cool cat. And where, by the way, Taylor Swift's cats have been known to appear! But that's not the only quirky corporation within town limits!
The Little Slice of Heaven Pie Shop, while offering up a mouth-watering assortment of yummy pies, is a popular spot for quite another reason. The proprietor, Janet Lahti, is known to be something of a mystic and a medium. She delivers messages and helps people to sort through their problems with the pies she bakes. From the sweet potato pie that brings Bryan back to his roots, to the butterfly pie that brings comfort to a TSA officer at the Duluth airport, the Little Slice of Heaven serves up past, present and future while delivering messages from the great beyond. Oh, yeah, and they make one helluva peach pie, by the way!
As for the local houses of worship, by far the most popular is the Basilica of St. Mary of the Assumption of the Blessed Virgin Mary of Mayhem, delivering messages of hope and faith to the community under the guidance of Grigory Romanski. Father Romanski—or, "Father Romance" as he's better known—has a knack for seeing what isn't always obvious and helping his parishioners to navigate the ways of the world—including, well, romance! He's got a wicked sense of humor and maybe spends a little more time on a bar stool at O'Halloran's Pub than he should. But he's a beloved and revered member of the community.
These are just a few of the whacky, wonderful characters you'll encounter when you visit Mayhem, Minnesota. But by far, the biggest draw are the Whiskey Sisters and O'Halloran's. So grab a table, order up a pint and hunker down for a long winter with the crazy cats of Mayhem in BLAME IT ON THE BET, and the latest installment, MISCHIEF AND MAYHEM.
We'll leave the light on for ya!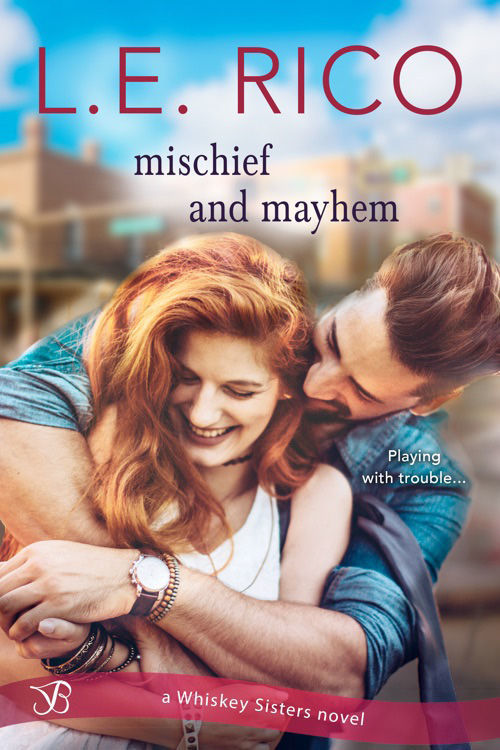 Welcome to Mayhem, Minnesota, home of the Knitty Kitty, The Little Slice of Heaven Pie Shop, and O'Halloran's Pub—owned by the four young women known as The Whiskey Sisters.
In the wake of her divorce, Jameson O'Halloran has gone man-vegan. And this is one diet she's determined to stick with. Even when her long-lost ex-brother-in-law shows up looking like two scoops of double dutch dipped in chocolate… She's not giving in. Been there and still wearing the messy T-shirt.
It's been a decade since Scott Clarke left his family and his hometown, never to return. But when tragedy strikes, he finds himself dragged back to the land of gossip, judgment, and the one woman he absolutely, positively, without a doubt can never have. His brother's ex is off-limits. He just needs to keep repeating that to himself until it sinks in.
Romance Contemporary [Entangled Bliss, On Sale: July 9, 2018, e-Book, ISBN: 9781640635906 / eISBN: 9781640635906]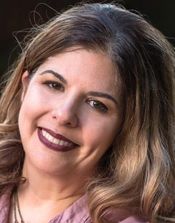 Gracie Award-Winning radio host Lauren Rico is one of the top classical music broadcasters in the country. Her voice is heard nationally on SiriusXM's Symphony Hall channel, as well as on radio stations in New York City, Charlotte, and Tampa. She's even been known to accompany travelers as they fly the skies over Thailand, Oman, and China as part of the in-flight entertainment on several airlines. Her love and passion for classical music have allowed her to breathe new life into the stories of the great composers.
And now Lauren is telling some stories of her own…
Beginning with her erotic thriller, Reverie (Harmony House Productions, 2016), she set out to "put the sexy back in Bach," creating a riveting tale of passion, deception and redemption set against the backdrop of an international music competition. She rounded out the trilogy with Rhapsody (Harmony House Productions, 2016) and Requiem (Harmony House Productions, 2017).
From there, Lauren partnered with Entangled Publishing, LLC, to create the first in her Symphony Hall series of romance novels, Solo (Entangled Publishing 2017). Her most recent release, Blame it on the Bet, is the first in the five-book Whiskey Sisters series (Entangled 2017). Upcoming projects include four more Whiskey Sisters romances, a follow-up to Solo and a super-secret, as-of-yet-unnamed thriller.
Lauren hopes to bring classical music to a new audience by showcasing it in twisty, steamy stories that grab the reader and keep them turning pages — and YouTubing the music — into the wee hours.
When she's not on talking on the radio or typing on her laptop, Lauren enjoys time with her husband and spectacularly spoiled mini-schnauzer.