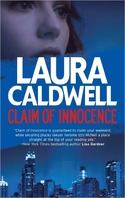 For me, it's one of the tougher parts of the publishing game—the time, usually a month or two before the publishing date—when I receive a forwarded email from my editor, with a vague subject line, usually something like, FW: Kirkus Review.
Or maybe it's not Kirkus. Maybe it's Publisher's Weekly or Library Journal, but it's the first review of the book.
I can feel my finger itching toward the mouse, excited. But some cautionary voice says, Get ready. Just in case.
The range of emotions upon receiving and finally opening this bland appearing email can range from abject sobbing to happy-dancing around the computer.
Some are zen about it. "Reviews are the one thing I have no control over," says thriller author, Jamie Freveletti, whose been tapped to continue Robert Ludlum's Covert One series. "Since they usually start to flow in about a month before launch there is truly nothing an author can do."
Some authors say they've gotten used to it. "I'm always resigned when I get those e-mails," says Stacey Ballis, author of GOOD ENOUGH TO EAT and THE SPINSTER SISTERS. "I try to remember that once the book is published, it doesn't belong to me anymore. All I can do is try to write stories that speak to me and hope they speak to others. I always want the reviews to be great. I'm thrilled when they are. But when they aren't, I just hope that they're smart and indicate where perceived failures lie."
Is she really so open about bad reviews? Absolutely, she tells me. "I never mind a well written criticism." But she also notes that "at the end of the day, it is e-mails from regular readers that both exhilarate and sting the most. A letter from a fan telling me they were moved, that makes my whole day. And the note scolding me for wasting their $15…that is the one that really hurts."
Jeffrey Koterba, author of the memoir, INKLINGS, agrees that it's the email he receives from readers, particularly about his syndicated political cartoons that are most important to him. "Unfortunately, I read every one."
Author Michael Harvey tells me he recalls something he heard Paul Newman say about reviews—the good ones give you a fat head, while the bad ones make you not want to leave your room for a month.
"I guess I'm from that school," Harvey says. "I try not to read any of them. My wife reads them and will let me know if I need to look at one."
Is that the answer to the dreaded email, the shudder-producing words, FW: Review? Should authors find a trusted friend—sister? mom? agent? officer manager?—and ask them to screen for you?
For this book, I think I'll try a suggestion from Jamie Freveletti, who, essentially, suggests going black-comedy with it. "Every author worth their salt has gotten a mixed review at one time or another," she says. "One of the best ways I've seen of dealing with bad reviews is Brad Meltzer's very, very funny video. It made me laugh and made me want to buy every one of his books."  Watch Brad's video
What email do you fear the most? Let us know, we've got FIVE copies of CHAIN OF INNOCENCE to give away today!
To comment on Laura Caldwell's blog please click here.