The final month of summer is finally upon us, and while school bells will soon begin to ring, there is still time to grab a handful of charming cozy mysteries to enjoy! And there is a great batch to choose from this month, and there are a number of debut series that promise to be really exciting!
Here are a few that caught my attention:
Hardbacks: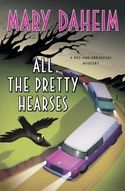 ALL THE PRETTY HEARSES: A Bed and Breakfast Mystery
By Mary Daheim
William Morrow; $23.99
There's no "fun" in "fund-raiser" for Judith McMonigle Flynn when she donates an overnight stay at Hillside Manor for the parish school's annual auction and the winning bid goes to the persnickety Paine family. Then her husband Joe's latest surveillance job ends abruptly when an insurance fraud suspect is blown away. Unfortunately the gun belongs to Joe, who finds himself in a jail cell while Judith tries to find what's left of her mind—and the real killer.
But Joe's dilemma and the unbearable Paines aren't Judith's only problems. Her cantankerous mother, Gertrude, has agreed to let a wealthy parishioner stable a horse in her tool-shed apartment; Cousin Renie is trying to force-feed her loathsome Shrimp Dump recipe to the parish cookbook fund-raising committee; and neighbor Arlene Rankers wants to know why some parish school kids, including her grandson, are sick after the weekly hamburger lunch. What else could possibly go wrong? On the other hand, at Hillside Manor, what can possibly go right?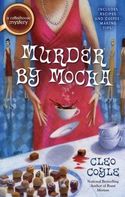 MURDER BY MOCHA: A Coffeehouse Mystery #10
By Cleo Coyle
Berkley Prime Crime; $25.95
Clare's Village Blend coffee beans are being used to create a new java love potion: a "Mocha Magic Coffee," billed as an aphrodisiac. The product, expected to rake in millions, will be sold exclusively on Aphrodite's Village, one of the most popular online communities for women.
But at its launch, one of the website's editors is murdered. Clare is convinced a bitter killer wants the secret formula. Can she catch who's gone loco for mocha?
(I love Cleo's writing style, and the Coffeehouse Mystery series is one of my favorites!)
Trade Paperbacks: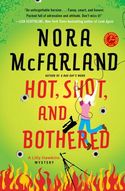 HOT, SHOT, AND BOTHERED: A Lilly Hawkins Mystery #2
By Nora McFarland
Touchstone Paperbacks; $14.99
TV news photographer Lilly Hawkins is on the biggest assignment of her career. A deadly wildfire is racing through the California mountains toward the town of Elizabeth Lake. After barely slipping in ahead of road closures, Lilly has her hands full photographing the massive evacuation and approaching inferno. She has no time to cover the accidental drowning of a reckless party girl in the lake . . . until she learns the victim's name.
When Lilly knew her thirteen years ago, Jessica Egan was a principled environmental activist and not a bit reckless or wild. Could she have changed that much, or is a killer exploiting the chaos surrounding the fire to disguise a murder?
Soon Lilly's juggling the story she should be covering with the story she can't let go. What could have been the motive for Jessica's death? Was it sexual jealousy, long-held grudges, or just plain old-fashioned greed that got Jessica killed? Meanwhile, Lily has to contend with her station's low-budget technology, the antics of her dodgy uncle Bud, and the alarming job offers her boyfriend is fielding from big-city competitors. Lilly is racing against the clock to get answers. If only the murderer—or the fire—doesn't get her first . . .
Mass Market Paperbacks: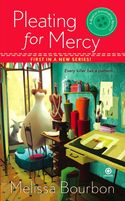 PLEATING FOR MERCY: A Magical Dressmaking Mystery (debut series)
By Melissa Bourbon
Obsidian; $6.99
When her great-grandmother passes away, Harlow Jean Cassidy leaves her job as a Manhattan fashion designer and moves back to Bliss, Texas. But when she opens a dressmaking boutique in the turn-of-the-century farmhouse she inherited, Harlow senses an inexplicable "presence". Her old friend Josie orders a gown for her upcoming wedding, but when Josie's boss turns up dead, Harlow has to find the killer—with a little help from beyond.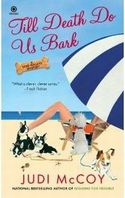 TILL DEATH DO US BARK: A Dogwalker Mystery #5
By Judi McCoy
Obsidian; $7.99
Professional dog walker Ellie Engleman may have a psychic connection with dogs, but she was hoping she would not get roped into dealing with the wet-nosed guests at the Hamptons wedding she's been invited to. But soon she's chasing her tail over trouble of the two-legged variety. Before the bride can say, "I do," someone is murdered. And Ellie and her yorkiepoo Rudy must put their noses to the ground to sniff out the killer.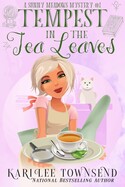 TEMPEST IN THE TEA LEAVES: A Fortune Teller Mystery (debut series)
By Kari Lee Townsend
Berkley Prime Crime; $7.99
In the fortune telling business there are a lot of pretenders, but Sunshine Meadows is the real deal—and her predictions can be lethally accurate.
Sunny is a big city psychic who moves to the quaint town of Divinity, NY to open her fortune telling business in an ancient victorian house, inheriting the strange cat residing within. Sunny gives her first reading to the frazzled town librarian and discovers the woman is going to die. When the woman flees in terror, Sunny calls the police, only she's too late. The ruggedly handsome, hard-nosed detective is a "non-believer." He finds the librarian dead, and Sunny becomes his number one suspect, forcing her to prove her innocence before the real killer can put an end to the psychic's future.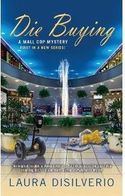 DIE BUYING: A Mall Copy Mystery (debut series)
By Laura Disilverio
Berkley Prime Crime; $7.99
Emma-Joy "EJ" Ferris, a security officer with the Fernglen Galleria, likes mall cop work, although it's usually more humdrum than the military policing she did until an IED left her with a bum knee and a medical retirement at thirty-one. Relocated to Vernonville, Virginia, 50 miles from Washington D.C., EJ deals with shoplifting teens, vandals spray-painting Christian graffiti on cars, and a boss who acts like the halls of Fernglen are the mean streets of Newark. She also copes with her 83-year-old Grandpa Atherton, a long-retired CIA operative who likes to "keep his hand in" by purchasing all the latest techno-gadgets and spying on mall customers and shopkeepers.
EJ's boredom vanishes the week someone "liberates" all the reptiles, including a 15-ft python, from The Herpetology Hut (known to mall denizens as Herpes Hut) and a body turns up, posed as a mannequin, in the window of Diamanté, an upscale boutique. With the help of her mall "family"—her friend Kyra who runs the magic store; Joel, her fellow mall cop who hero worships her; and the attractive and mysterious Jay Callahan who recently bought the cookie franchise—and her Grandpa Atherton, EJ must quickly catch the killer since fear of another murder is emptying the mall faster than you can say, "All sales final."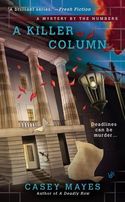 A KILLER COLUMN: A Mystery By The Numbers #2
By Casey Mayes
Berkley Prime Crime; $7.99
When puzzle columnist Savannah Stone's editor is found stabbed to death, the police look at her as the prime suspect. But Savannah knows she wasn't the only puzzle-maker to cross words with him.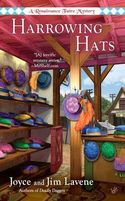 HARROWING HATS: A Renaissance Faire Mystery #4
By Joyce and Jim Lavene
Berkley Prime Crime; $7.99
Working as a hat-maker in the Renaissance Faire Village is pretty sweet for Jessie Morton—until one of the fair's chocolatiers is found drowned in a vat of chocolate in his shop. Now Jessie must sort through a long list of knaves, knights, and wenches who might have wanted to see the chocolatier double-dipped and dead.
(I absolutely love this series — it is so much fun!)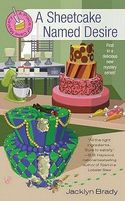 A SHEETCAKE NAMED DESIRE: A Piece of Cake Mystery (debut series)
By Jacklyn Brady
Berkley Prime Crime; $7.99
Sweet Success can be a motive for murder.
There aren't many things pastry chef Rita Lucero hates more than losing. But two years after her marriage to fellow baker Philippe Renier fell apart, she's still trying to get him to sign the divorce papers. Exasperated, Rita visits Philippe's high-end New Orleans shop, Zydeco Cakes, to get his signature—and discovers that her marriage is already over when she finds Philippe dead with a chef's knife in his chest.
Rita is shocked to discover the body, and overwhelmed to learn that since the divorce wasn't final, she now inherits part ownership in Zydeco Cakes. But it's a mixed blessing: the gorgeous shop is actually in financial trouble, and Rita's windfall sets her up as a prime suspect in Philippe's murder. Her former mother-in-law demands that Rita find out who killed her son, and his former employees don't know whether to trust her. The feeling is mutual—especially since the real culprit is still out there, and Rita may be the next victim served.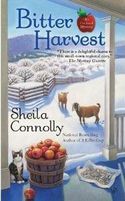 BITTER HARVEST: A Orchard Mystery #5
By Sheila Connolly
Berkley Prime Crime; $7.99
Now that Meg Corey's apples have been harvested and sold, she's enjoying some free time. But when the small but annoying mishaps plaguing her start turning sinister, Meg begins to worry that her first harvest may be her last
There ya go! Lots of great stories from lots of great writers! Hope everyone is having a fun, safe summer! See you next month, and until then — Happy Reading!