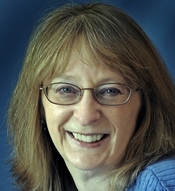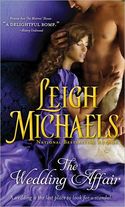 Thank you for inviting me back to Fresh Fiction!
I'm a sucker for houses – big houses, stately houses, old houses, and even miniature houses. When we decided to move, I looked at more than seventy old houses before settling (of course) on a new one. When I asked my husband if he'd build me a dollhouse, it turned out to be a miniature gem from the Georgian period – a one-inch-to-the-foot equivalent of a small gray stone manor house with hardwood floors and copper flashing in the roof gutters and brick fireplaces and hand-thrown chimney pots. (You can see pictures of it at my website)
But mostly I'm a sucker for fictional houses. The house in my new book, THE WEDDING AFFAIR, is called Halstead, and it's the country estate of the Duke of Somervale. Though I made up everything on the inside, I tacked up a photo of the exterior of a real house to inspire me as I wrote.
Here's what Olivia – one of the three heroines in this triple story – sees when she arrives at Halstead:
The central block of the house was a full four stories tall, built of red brick trimmed in pale cream stone. A row of ionic-style pillars framed the main entrance under a stone pediment. Off to the sides, a pair of nearly symmetrical two-story wings curved out from the main section. To Olivia's surprise, they looked like a pair of welcoming arms, arching out to gather her in.
Yeah, I'd love to live there!
Halstead is the setting for the wedding of the duke's sister, but the guests who gather for a house party leading up to the wedding are much more interested in their own private affairs – and I do mean affairs – than in the bride and groom.
The nice part of setting a spicy Regency-period story at a country house party is that with everyone under the same roof, it's easier to arrange trysts and romantic encounters.
Because travel in the period was so difficult and time-consuming, people who went visiting stayed long enough to make the trip worthwhile – house parties sometimes went on for weeks. Though the host and hostess arranged special activities now and then, nobody could actually keep such a group busy for an extended period, so after a while guests were left to occupy themselves or take part in the household's regular activities. That means nobody was watching too closely where visitors went or who they spent time with.
Not that there weren't still challenges for the amorous companions. When the Duke of Somervale tries to sneak into his lady love's bedroom, he realizes at the last moment that he has no idea which one it is – and if he guesses wrong, the entire house will know what he's up to. And leaving is no easier, with the servants astir…
The reason I prefer fictional houses to real ones is that real houses – even miniature ones – are hard to keep clean. Fictional houses can be big and stately and intimidating, with staircases that go on forever and carved-plaster ceilings and acres of marble floors and – oh, all the things that in real life would be purely exhausting to keep up, even if all I had to do was remember to tell the housekeeper what needed doing.
Which reminds me. Does anyone know where I can hire a one-twelfth-scale maid to run a teeny-tiny little Swiffer over all those hardwood floors in my dollhouse?
Comment today to be entered to win a copy of THE WEDDING AFFAIR. Two winners, US / Canada only
THE WEDDING AFFAIR BY LEIGH MICHAELS – IN STORES SEPTEMBER 2011
You're invited to the wedding of the year!
The Duke of Somervale, whose sister's wedding is the event of the ton, is fighting off debutantes and desperately needs help from beautiful, stubborn Olivia Reyne. But she is engrossed with problems engulfing her dearest friends and family. The last thing Olivia needs is to be embroiled with a duke whose dark gaze makes her forget herself entirely…
Discover a new side of a beloved author as Leigh Michaels draws you into the glittering, glitzy world of Regency England and an affair you'll never forget.
About the Author
Leigh Michaels is the author of nearly 100 books, including 80 contemporary novels, more than a dozen non-fiction books and three Regency romances from Sourcebooks Casablanca: THE MISTRESS' HOUSE, JUST ONE SEASON IN LONDON and THE WEDDING AFFAIR. More than 35 million copies of her romance novels have been published by Harlequin. A 6 time RITA finalist, she has also received two Reviewer's Choice awards from RT Book Reviews, and was the 2003 recipient of the Johnson Brigham Award. Leigh also teaches romance writing on the Internet at Gotham Writers' Workshop.  She lives in Ottumwa, Iowa.  For more information, please visit www.leighmichaels.com.
To comment on Leigh Michaels's blog please click here.