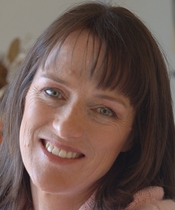 The River Bend books have been in my head for years, and I've been searching for a way to write them. I initially thought of them as a series for Harlequin Special Edition, but when I looked deeper at the ideas I realized they needed more space and more complexity in story-telling than is possible in a series romance novel of less than 60,000 words. When I was invited to write for The Tule Group and Montana Born Books, it was so exciting to know that at last I'd found a home for these stories.
Each of them centers around what happened on prom night in Marietta eighteen years ago,1996, and in the shorter novella that sets up the series we see that night from two more perspectives, those of high school teacher Kate and sheriff Harrison.
Prom night is such an impossibly huge event in the mind of so many American high school kids. They hang so many expectations on it – that it's going to be the best night of their lives, that it's going to be the start of wonderful love, the launch of real life. For a lot of eighteen-year-olds, I suspect that prom night fizzles a little bit after all the hopes and dreams. Prom is fun, but it doesn't change much. Life goes on, and the big changes happen later, in unexpected ways. Sometimes, though, it's different.
I wanted to explore what would happen if that big, all-important night went so sour and wrong that it really was life-changing, but not in a good way. In the River Bend novels, one character is still keeping a huge secret from that night – one that has shadowed her whole life since. Another is locked in unresolved feelings about the sister she lost to the river during the drunken after-prom party at River Bend Park . A third embarks on a relationship that leads to an unhappy marriage and eventual divorce. More than one key character in the series leaves town following what happens on prom night, so shaken up that they don't return to Marietta for eighteen years.
River Bend seemed like the right name for the series, not just because of the major events that play out at River Bend Park, but because of the symbolic meaning of a bend in the river, too. In life, for good or ill, we never know what's around the river bend…
Lilian Darcy is a five-time Rita™ Award nominee who has written over eighty romances for Harlequin, as well as several mainstream novels. She has also written for Australian theatre and television under another name, and has received two award nominations for Best Play from the Australian Writers Guild. In 1990 she was the co-recipient of an Australian Film Institute award for best TV mini-series.
What is the worst thing that happened to you on a big event? One commenter will win a Kindle copy of THE SWEETEST THING