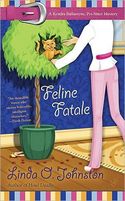 Anyone who has been reading my novels lately may see a theme there. I'm currently writing both cozy mysteries and paranormal romances–two fun but different genres. What's similar about them? They all involve animals!
My cozy mysteries consist of the Kendra Ballantyne, Pet-Sitter mystery series for Berkley Prime Crime. Kendra is a lawyer who temporarily lost her law license because of an alleged–and untrue, of course–ethics violation, and took up pet-sitting to support herself and her dog, Lexie, a Cavalier King Charles Spaniel. She enjoys pet-sitting so much that she continues to do it even after she gets her law license back. Among the pets that she sits for are dogs and cats, of course, plus ferrets, pot-bellied pigs, macaws, iguanas, and even a ball python. Because these are cozy mysteries, Kendra becomes what she calls a "murder magnet" and has to solve murders in each of the books.
I'm currently working on a spin-off from the Kendra series, the Pet Rescue mysteries, also for Berkley Prime Crime. The protagonist, Lauren Vancouver, runs a private no-kill animal shelter that is funded by a good friend of Kendra's. The first, BEAGLEMANIA, will be published in March 2011. They, too, involve murders that Lauren has to solve–of people. The animals in these stories will all be rescued.
Then there are my Harlequin Nocturnes, paranormal romances. The first, ALPHA WOLF, was published in January 2009, and its first sequel, ALASKAN WOLF will appear in December of this year. There will be at least two more sequels. A related Nocturne Bites (e-novella) was also made available in January 2009 and was published in the print anthology AWAKENING THE BEAST. These stories all involve Alpha Force, a super-secret U.S. military force… of shapeshifters. I've also written another Nocturne, BACK TO LIFE, about a woman with Valkyrie powers of bringing the dying back to life–and she happens also to be a canine cop. It was published in June 2009.
Why so many animals? Because I'm an animal aficionado! I suspect I was born an animal lover, nagging my family until I was finally allowed to get a dog. My grandfather bought me my first dog from a pet store–and it had distemper, as did all the others in that store. That was my first knowledge that there are people out there eager to make a buck by exploiting pets that they don't take care of. Little did I imagine, at age eight, that I might wind up writing about such things.
We took that poor pup back, and I wound up with an adorable Boston Terrier who was my companion for the rest of my childhood. Ever since then, I've had at least one dog in my life almost constantly. My husband even had to make friends with the Cavalier King Charles Spaniel who owned me when he and I met–a male, too, so that was an interesting battle at first to determine who was alpha in our pack.
Cavaliers have remained an important part of my life, especially now that we're empty nesters. They're like my kids these days. That's why Kendra's dog is a Cavalier, too–and I just happen to have one named Lexie.
But the research I've begun for my Pet Rescue books increased my sympathy for, and appreciation of, other pets who unfortunately have not wound up in situations with adoring owners who spoil them like I do with mine. I would love to help them all. I've begun volunteering at animal shelters to at least play a small part in improving things for dogs and cats who need loving homes.
That research plays a big role in my new series. Lauren will rescue abused animals. She will help shut down puppy mills and save animals who are being collected by hoarders. Her stories also involve appearances by fictional versions of the Small Animal Rescue Team of Los Angeles Animal Services.
Most of the shapeshifters in my Nocturnes are werewolves. If you get the impression that I'm partial to dogs–well, canines–that's true. But there are also shapeshifting lynxes and hawks so far, too.
Would I write stories that don't contain animals? Sure. Some of my earlier novels didn't. Plus, I've got an active imagination and lots of ideas I'd like to write about. But I'm very happy when I can feature a pup or kitty in the mix, too.
How about you–do you like to have animals appear in the books you read? Which are your favorites? Have you had any experiences with pet-sitters, pet rescue, or shapeshifters you'd like to see me write about?
Come visit me at my website. You can also friend me on Facebook. I recently joined! I additionally blog weekly. You can find my blog here. on Thursdays, where my Killer Hobby is supposed to be pets–but we all know that pets aren't hobbies. They're family!
By the way, I'll be giving a copy of HOWL DEADLY, the eighth Kendra Ballantyne, Pet-Sitter mystery to one lucky person who comments on this blog. It's the book in which Lauren Vancouver, Pet Rescuer, is introduced.
To comment for a chance to win on Linda's blog please click here.