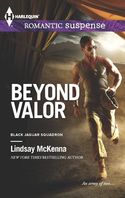 I'm thrilled to announce that I've created a new series called Operation Shadow Warriors. BEYOND VALOR is the first of this new series that will encompass many books military romances/suspense stories to come in HRS and HQN. And they will all be related to one another so you'll get ongoing updates on the characters that you've already read about. Operation Shadow Warriors is the brain child of U.S. Army General Maya Stevenson. Those who have followed the Black Jaguar Squadron since its inception, will recognize Maya from HEART OF STONE from the 1990's era when I created the BJS series. Maya has created Shadow Warriors. She knows certain types of women can handle combat just as well as any man. She's created this seven-year top secret operation and has garnered forty volunteer women from all the military branches who want to work in combat situations. It is designed to show how woman deal with combat. And from this experiment, all the military branches will either allow or disallow women into combat slots. These forty women have undergone a grueling one year of training with the Marine Corps to be ready for field duty.
In BEYOND VALOR, you are going to meet U.S. Navy Hospital Corpsman 2 Megan Trayhern, one of those women volunteers. She is the daughter of Noah and Kit Trayhern. Those who love the Morgan's Mercenaries will recognize Noah as the younger brother of Morgan. And I did promise my readers that I would create books on all the Trayhern children. Megan is a combat medic whose whole life is about service and helping others. She has already been deployed twice to Iraq and as her story opens, she's been deployed to Afghanistan, to a Marine Corps company near the Pakistan border, a real hot spot. All Megan wants to do is prove women can handle the stress of combat. She doesn't feel she's any better than a man, but wants the choice, if she feels she's physically qualified to do it, to help save lives on the battlefield. The Commanding Officer of the Marine company sees things differently and refuses to allow her into combat. Instead, he orders HM2 Luke Collier, also a combat medic, to take care of her and keep her out of combat situations. The captain refuses to have a woman killed on his watch and is worried the repercussions to his own career would be destroyed if Megan ends up dead due to combat.
The last thing Luke is prepared for is a woman in a Marine Corps combat company. Nor is Megan or he prepared for the powerful attraction they have for one another. This is their story. Enjoy. You can always get a hold of me at http://www.lindsaymckenna.com. For more updates on Operation Shadow Warriors and the books to come, drop over and check it out. I love to hear from my readers!
Comment to win BEYOND VALOR, just tell me your favorite military romances? Do you have one?
To comment on Lindsay McKenna's blog please click here.