1–What is the title of your latest release?
2–What is it about?
A duke and a "disreputable" young woman fall in love; familial opposition ensues. So, a bit like Romeo and Juliet, but with a much more cheerful outcome (YAY!).
3–What do you love about the setting of your book? 
It's fun writing stories that take place amidst the London haut ton, but it was equally fun setting this book primarily in the English countryside. People meet and interact under different circumstances than they would in London; their interests and occupations vary, too. My hero, for example, is a keen agriculturist, so for authenticity's sake (and, often, my own amusement) I liked bringing in non-glamorous, necessary things like drainage ditches, apple blights, pumpkin patches, and so on.
4–How did your heroine surprise you? 
My heroine, Jane, comes from a disadvantaged background and has endured a lot of hardship and insecurity; I knew she'd be a strong person, but as the writing went on I was surprised and pleased by the quiet fortitude and resilience she displays when, in her new life as a cherished member of the Penhallow family, the going gets tough. (It's funny, as an author, to be surprised by one's characters, but for me, it happens quite a bit!)
5–Why will readers love your hero? 
Because he's smart, sensitive, kind, and funny. (And to my mind he looks quite a lot like Daniel Day-Lewis.)
6–What was one of your biggest challenges while writing this book (spoiler-free, of course!)? 
Well, the world was dark, and rapidly getting darker–I think we all know what I mean here?–and I had committed myself to writing my lightest, funniest, fizziest book yet. The contrast between the real world and my fictional world could sometimes be challenging, even unnerving. On the other hand, it was almost a relief to 'escape' into my story, where love conquers all, a deserving pig wins the big contest at the harvest fair, and even the baddie gets a last-minute redemption and happily-ever-after.
7–Do you look forward to or do you dread the revision process? 
I can't say I look forward to the revision process as there's a certain fatigue that comes with finishing a manuscript, but I'm always happy once I have editorial feedback in hand and can get on with it. This is because I'm incredibly lucky to have both a brilliant, insightful agent and a brilliant, insightful editor, whose notes invariably guide me toward making my books better.
8–What's your favorite snack to have on hand while writing? 
Coffee's a snack, right?
9–Where would you go for an ideal writer's retreat? 
I want to say a Hawaiian beach or Paris, but I'd probably be better off in a tiny, poorly furnished cottage in the middle of nowhere, with little to do and nothing to see. 🙂
10–What's the best piece of writing advice you've received? 
I once heard a story–possibly apocryphal, but I hope not–about Paul Newman being asked about the secret of his success. Laconically he replied: "Persistence." Excellent advice not just for actors but for writers too!
11–Who is the fictional character you want to hand out with the most? (anyone in literature!)
A hideously difficult question to answer! Probably because I'm still in thrall to Hilary Mantel's superb Wolf Hall trilogy, I'd love to meet up with the brilliant, wily, deeply humanistic Thomas Cromwell of Mantel's rendering.
12–What's one of your earliest book memories? 
"Cracking the code" and starting to read by myself. MAGIC. It was the immortal classic Go Dog Go by P.D. Eastman.
13–If you had to write in a different genre, what would it be and why? 
I'd love to write non-grisly murder mysteries because I have a big literary crush on Agatha Christie's Miss Marple, whose deep understanding and placid acceptance of human nature is just so fiendishly charming.
14–What song will automatically put you in a good mood? 
Pharrell Williams' Happy. The video especially.
15–What is your favorite way to practice self-care?
Taking my dog for walks–it's good for both of us!
16–What can you eat and never get sick of? 
I'm a fool for a good muffin.
17–Will you share a favorite, recent-ish book you recommend? 
Lindy West's clever, irreverent Shit, Actually made me laugh my head off.
18–Do you have any hobbies? 
I sew a little, garden a little, bake a little, and read a lot. 
19–Are you an early bird or a night owl?
Absolute incontrovertible early bird.
20–What can readers expect from you next? 
The sixth book in my Penhallow Dynasty series! As yet untitled, its hero is a character who's been flitting in and out of the previous books, a devil-may-care rogue carelessly leaving loads of broken hearts in his wake. His name is Philip Thane, and he needs a smack upside the head redemption quite desperately. Luckily, my heroine, the formidable, clever Margaret Allen is more than up to the task . . .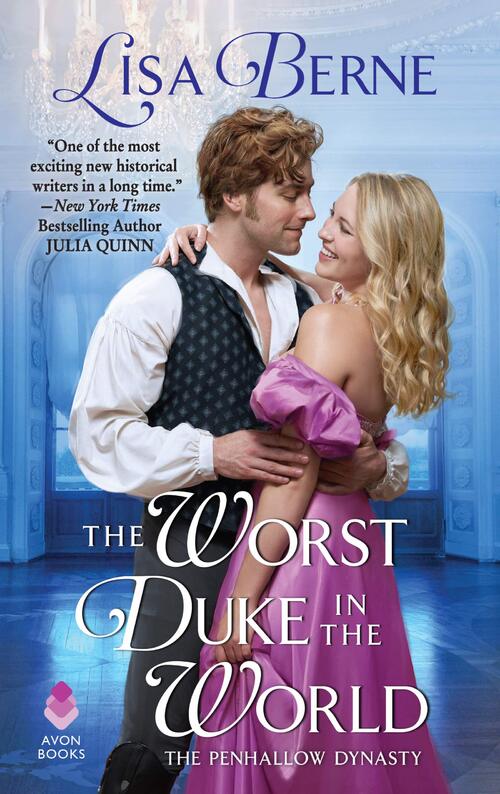 A wayward duke must choose: will he be the bad hero in a love story gone awry, or the brave and clever hero who risks everything for true love?
The acclaimed Penhallow Dynasty series continues in this fresh, fun, funny tale!
Life's no bowl of cherries for Anthony Farr, the Duke of Radcliffe. Duty demands he remarry to provide a spare to go along with the heir — and eligible ladies keep trying to finagle him into a proposal. All he wants is to be a good father to his 8-year-old son, see the Duchess (his truly terrific pig) win first prize at the harvest fête, and stay single. Even if that makes him a Bad Duke. Maybe the Worst Duke in the World.
Then Miss Jane Kent, a long-lost relation of the illustrious Penhallow family, arrives in the neighborhood and is promptly befriended by the Duke's son. Jane, Anthony comes to realize, is smart and fun and also very kissable and dazzlingly desirable. Still, that's not enough to melt his resistance to marrying again. He made a stern promise to himself and promises must, of course, be kept.
But what if that's just his head talking, and his heart . . . is saying something entirely different?
Romance Historical [Avon, On Sale: January 12, 2021, Paperback / e-Book, ISBN: 9780062852373 / eISBN: 9780062852380]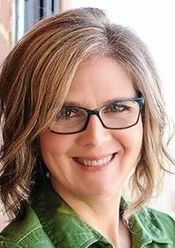 Lisa Berne is a bestselling author of historical romance who's published exclusively by Avon/HarperCollins. To learn more about Lisa, her books, and her quirky interests (as revealed in her blog), you are cordially invited to visit her website, www.LisaBerne.com, and to sign up for her VIP Reader newsletter, too, so that you'll never miss a new release or giveaway!