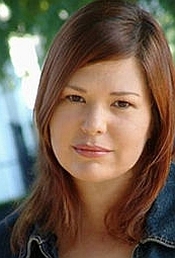 I was getting a pedicure the other day. The salon I go to is set up so that the walkway down the middle of the pedicure chairs is very narrow and is peppered with the rolling stools of the pedicurists. I was carefully picking my way to the bathroom at the back of the salon, when one of the pedicurists stood up and her stool rolled right into my path. And I leapt over it. Okay, I stepped over it. But, in that moment, I could almost hear the swelling soundtrack playing behind me as I became the hero of my own story. I looked around the salon. Didja see that?! Anyone?? (crickets) I continued on to the bathroom wondering where my round of applause was?
On days like today, I have to come to terms with the fact that while I may like to think I'd survive the zombie apocalypse or win the Hunger Games or be stoic and steely like Sydney Bristow as I kick ass and take names, my best case scenario would be Shaun from Shaun of the Dead. But most likely I'd be Peeta or even more likely one of the nameless, faceless office workers who cower behind a desk as Sydney strides through in her black leather outfit.
What is it about my own gooey center that revolts me? Why is my humanity so inconvenient that I'd hate me if I were a fictional character? Stop whining, I'd yell at the screen! Get over it, I'd mutter as my character had the audacity to take more than two seconds to mourn the loss of her family and home. Finish him, I'd scream unable to tolerate any hesitation.
I was at a conference recently and someone in the audience asked what some of the unwritten rules in today's publishing market were. One of the panelists – without hesitation – said, "No crying." I wanted to clutch my pearls and gasp that she was being so heartless, but there I was demanding the same of my fictional heroes. No crying. Be strong. Be the version of me that could survive in that fictional world. Let me live vicariously through you so I don't have to feel so vulnerable and transparent all the time. Let me have the clarity that comes from being fictional.
Of course we're most intolerant of those characters that remind us of what we fear are the weaknesses in ourselves. Why is that woman letting her husband walk all over her?! Those friends are terrible, who would put up with that?! They should just quit that job and open up that business they're always talking about! We're as hard on ourselves as we are on our fictional heroes.
Real life is messy and change is hard, but there is room for both Katniss and Peeta to be celebrated.
Because just as John Banville said that he was the only person who couldn't experience his own novel, so too, are we unable to experience ourselves as the heroes of our own stories. Broken people make the best heroes, but so do kind ones. And tender ones. Often times it's our own messy humanity that is the greatest superpower of all.
Sometimes the bravest thing one can do is cry.
About GIRL BEFORE A MIRROR
The author of CONVERSATIONS WITH THE FAT GIRL—optioned
for
HBO—returns with the hilarious and heartfelt story of a
woman who must learn how to be the heroine of her own
life…a journey that will teach her priceless lessons about
love, friendship, family, work, and her own heart.
An account executive in a Mad Men world, Anna Wyatt is at
a crossroads. Recently divorced, she's done a lot of
emotional housecleaning, including a self-imposed dating
sabbatical. But now that she's turned forty, she's
struggling to figure out what her life needs.
Brainstorming to win over an important new client, she
discovers a self-help book—Be the Heroine, Find Your
Hero—
that offers her unexpected insights and leads her to a
most unlikely place: a romance writers' conference. If she
can sign the Romance Cover Model of the Year Pageant
winner for her campaign—and meet the author who has
inspired her to take control of her life—she'll win the
account.
For Anna, taking control means taking chances, including
getting to know Sasha, her pretty young colleague on the
project, and indulging in a steamy elevator ride with
Lincoln Mallory, a dashing financial consultant she meets
in the hotel. When the conference ends, Anna and Lincoln
must decide if their intense connection is strong enough
to survive outside the romantic fantasy they've created.
Yet Lincoln is only one of Anna's dilemmas. Now that her
campaign is off the ground, others in the office want to
steal her success, and her alcoholic brother, Ferdie, is
spiraling out of control.
To have the life she wants—to be happy without guilt, to
be accepted for herself, to love and to be loved, to just
be—she has to put herself first, accept her imperfections,
embrace her passions, and finally be the heroine of her
own story.
About Liza Palmer
Liza Palmer is the internationally bestselling author of CONVERSATIONS WITH THE FAT GIRL, SEEING ME NAKED, and several other titles. Palmer currently lives in Los Angeles and is hard at work on her next novel as well as several film and television projects.