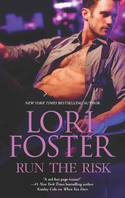 Lori Foster dropped by to talk about her new series Love Undercover and the first book: RUN THE RISK. The new series will feature heroes who are "undercover" to solve a mystery and on the way find true love.
Tell us some background and how you came up with the idea for your new series Love Undercover.
It's pretty weird how the process works for me. I almost always see a scene first, and in this case, the scene was a hunky male neighbor putting the moves on a female neighbor because she had a secret that he needed to know. When I started writing, I was unsure what the secret might be, why the heroine was keeping the secret, and why the hero needed it. See, very weird!
I've always been drawn to those stories where the male protagonist gets himself into deep trouble – under the best of intentions – and then has to find a way to regain the heroine's trust. Good examples are LOVING EVANGELINE, by Linda Howard, or SCANDAL, by Amanda Quick. Most of the wonderful books by Kresley Cole, too.
I love it when the characters are honorable, but are forced to do dishonorable deeds.
Tell us your favorite books with heroes doing something "dishonorable" and one commenter will win a copy of RUN THE RISK
To comment on Lori Foster's blog please click here.