What is a whispering dress? Venture inside the bridal boutique of my heroine, Fran Delaney, and you'll find out. Fran finds vintage wedding dresses, gets to know their histories, then matches them to modern-day brides, helping them to transform their lives. In that sense, her dresses 'whisper' their secrets and wisdoms to whoever wears them next.
I was inspired to write The Second Chance Boutique while working for the Victoria & Albert Museum, researching their extraordinary collection of historic wedding dresses. It wasn't just the dresses that fascinated me, but the personal stories behind them. From demure to ultimate glamour, from the courtesan's sack-back gown to the ever-changing Victorian silhouette, the thirties to the sixties to the nineties, these dresses were as varied in character as the women who wore them – and it struck me that the spirit of these women seemed very much present, embodied in the fabric and stitches.
The idea of these dresses stayed with me until, not long after my own wedding, I decided I simply had to write a romance based around them. So here are some of the ones that inspired me:
The Scandalous One
This dramatic Norman Hartnell gown was worn by Margaret Whigham (later the Duchess of Argyll) in her marriage to stockbroker Charles Sweeny, at the Brompton Oratory in 1933. Norman Hartnell made a name for himself as the dressmaker of choice among London's youthful society debutantes, known for dressing the ladies of the Royal Family, including Queen Elizabeth II (watch Netflix' 'The Crown' for a glorious reenactment of her dress fittings!). Margaret Whigham loved publicity. Her daily life was chronicled in numerous gossip columns and she knew how to work the press (readers of 'The Second Chance Boutique' will see this echoed in fame-hungry reality-television bride, Karina T). For such a grand occasion Margaret required a show-stopping dress and Hartnell's svelte design hit the mark. Silk satin and tulle, it features transparent applique stars positioned in relatively risqué places. The most impressive feature, however, is the integral train, nearly thirteen feet long and six feet wide, hand-stitched by thirty seamstresses over six weeks. Two thousand onlookers came to see Margaret's nuptials and coverage dominated the next day's front pages. The crowd was so large, traffic was brought to a halt.
The Romantic One
I'm fascinated by fashion styles of the early 1900s and I think there's something incredibly romantic about this 1914 beaded dress designed by Aida Woolf. Woolf's shop was in Oxford Street, London, above a teashop. She worked her way up from being a dressmaker's assistant to owning her own couture house in the exclusive West End. Fran Delaney would approve!
Delicate layers of ivory satin, lace, and tulle give this dress a soft, ethereal quality.
With its tunic, satin sash, and short sleeves, it vividly shows the influence of eveningwear on wedding dress styles at the start of the First World War. Not long after, the availability of such lavish, romantic dresses took a pause, while many brides chose to marry in smart day wear or even uniform, reflecting the challenges of the times. So this dress, to me, feels like a bit of a last hurrah!
The One with a Twist
I say it's a twist, but the concept of a white wedding dress is a relatively recent phenomenon, made popular by Queen Victoria in 1840. One of the biggest surprises of the Victoria & Albert collection it that it is filled with dresses of color. Nonetheless, in western culture, white has been the conventional choice for many decades. So this 1938 striking red silk gauze ensemble intrigues me. Its wearer, Monica Maurice, worked as an electrical engineer with the Wolf Safety Lamp Company. As well as getting married in 1938, she became the first–and, until 1978, the only–female member of the Association of Mining Electrical Engineers. She travelled to Germany regularly in the 1930s and ran the Wolf Safety Lamp Company from 1951 to 1979, alongside raising three children. A vibrant, independent bride, on the cusp of changing marital roles, her choice of a brilliant-red, calf-length shirt dress with blue belt and buttons was both in-keeping with the emerging spirit of freedom, and a quirky demonstration of her own taste and character.
The Sweet One
When I saw this Victorian cotton block-print wedding dress in the Victoria & Albert collection I fell in love with its charm and honesty. It was worn by Sarah Maria Wright in 1841, for her marriage to a farm labourer in Lincolnshire. It is likely – as was common in those days – that Sarah would have re-worn it many times as her Sunday best. In fact, the bodice has been neatly altered at the back, most likely to accommodate the early stages of a pregnancy. The exact details of its 'whispers' cannot be known, for it was made and worn so long ago, but I like to think that Sarah and her husband lived a long and happy life, taking pleasure in the simple things, rolling in the sun-baked wheat fields of the English countryside.
The Personal One
Okay, I'm cheating a bit. This is my wedding dress, but I actually came up with the idea for The Second Chance Boutique while on my honeymoon in Venice, so it seems only fitting that it gets included in my top 5. I had three young children, including a one-year-old, when I was planning my wedding, so not a lot of attention to spare, but lots and lots of heart. I had one afternoon to find the dress and I had it in my head that I wanted something a bit fairy-tale, mixed with Bollywood, mixed with sass. That's an odd combination, by anyone's standards, so it took my complete surprise when I tried on this two-piece in David's Bridal just for fun and had . . . The Moment!
(And yes, I spent much of my big day gleefully going swishy-swishy with that big tulle skirt!)
—
COMMENT TO WIN: Tell us in the comments about your favorite dress (or any favorite article of clothing) and you'll be entered to win a copy of THE SECOND CHANCE BOUTIQUE! US and Canada only – good luck!
—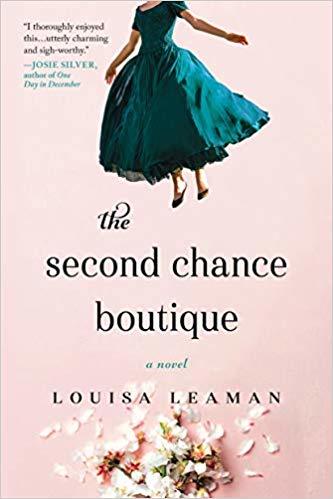 The right dress can transform your life….
Francesca Delaney has a knack for matching a bride-to-be with the perfect gown. Her shop, The Whispering Dress, is no ordinary bridal boutique. Every gown is vintage, and the dresses seem to share their stories with Francesca, pointing to which woman needs them next.
Fran credits her success to two rules: never covet a dress and never sell a dress that led to a doomed marriage. But then she finds a beautiful 1950s couture floor-length gown, and her talent veers into obsession. The owner, however, would quite like the dark past of the dress to remain hidden forever…
Women's Fiction [Sourcebooks Landmark, On Sale: May 5, 2020, Trade Size, ISBN: 9781728213682 / ]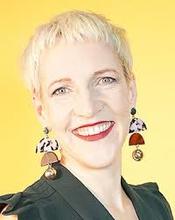 Louisa Leaman has a degree in art history and currently writes for the V&A (Victoria and Albert Museum), researching and writing about the museum's archived wedding dresses. It's the stories behind the exquisite dresses in their collection that sparked the idea for the novel. She lives in Epping Forest near London. When she isn't busy writing or rearing three lively children, she paints portraits, goes running, and spends far too long browsing in vintage clothing shops.