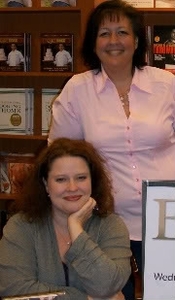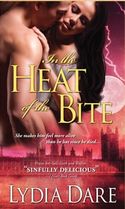 More than once we've had a character who walked on to the page – the brother of the hero, a neighbor, an old friend – only to steal the scene and make readers want to know more about them. And they're not alone. We want to know more about them too.
In fact, the drive to know them better usually results in us writing an entire book to figure them out.  THE WOLF NEXT DOOR with hero Lord William Westfield and his neighbor Prisca Hawthorne is one example. THE TAMING OF THE WOLF with heroine Caitrin Macleod and previous book villain Dashiel Thorpe, the Earl of Brimsworth, is another.
Matthew Halkett, the Earl of Blodswell – the vampyre hero of our current release IN THE HEAT OF THE BITE made his debut in an earlier book and played a fairly important role in It Happened One Bite. While Rhiannon Sinclair – the magical heroine has been around since our second book Tall, Dark and Wolfish and has patiently waited her turn through book after book to finally get a happy ever after of her own.
But not all secondary characters are potential heroes or heroines. Some are too old, some are too young, and some… Well, some just could never fit in that box. Case in point, or character in point rather, is Callista from IN THE HEAT OF THE BITE.
Callista is old, very old. In fact, we're not even sure how old she is, as she's a fairly private vampyre who doesn't have much use for humans other than as a food source. However, we have it on fairly good authority she was around when Julius Caesar first invaded Brittania.  How much further back she goes is still a mystery.
Callista is captivating in a very complex way. She is smart and beautiful, yet she has lost every ounce of humanity she ever possessed and she is more than a little arrogant. But there are flashes of genuine emotion you can see in her when she is truly concerned about Matthew – our beleaguered hero – a man she saved from death on a battlefield outside the holy land during the 3rd crusade. And though some might view her as a villain, that's too easy a label to give her.  She is in a word… complicated.
And as much fun as it might be to explore her more in depth in a book, she just doesn't have heroine qualities. She's seen too much. She's too jaded. She's traveled too far down her vampyric path to ever be redeemed. But for a secondary character, she is nothing less than a scene stealer.
Who are some of your favorite secondary characters? And do you think they could be a hero/heroine of their own story somewhere down the line? Or are they best, in the background, stirring up trouble or offering sage advice?
IN THE HEAT OF THE BITE BY LYDIA DARE—IN STORES IN JULY 2011
Chivalry is far from undead…
Matthew Halkett, Earl of Blodswell, is one of the few men in the ton who can claim to be a knight in shining armor— because that's precisely what he was before being turned into a vampyre. When he spies a damsel in distress in the midst of a storm in Hyde Park, his natural instinct is to rush to her aid…
But not every woman needs to be rescued…
Weather-controlling witch Rhiannon Sinclair isn't caught in a storm—she's the cause of it. She's mortified to have been caught making trouble by the imposing earl, but she doesn't need any man—never has, and is sure she never will…
But when Rhiannon encounters Matthew again, her powers go awry and his supernatural abilities run amok. Between the two of them, the ton is thrown into an uproar. There's never been a more tempestuous scandal…
The Gentlemen Vampires
ABOUT THE AUTHOR
Lydia Dare is the writing team of Tammy Falkner and Jodie Pearson. Both Tammy and Jodie are active members of the Heart of Carolina Romance Writers and live near Raleigh, North Carolina. They are the authors of IT HAPPENED ONE BITE, IN THE HEAT OF THE BITE,  NEVER BEEN BIT (September 2011), and the Westfield Brothers Series, four books about gentleman werewolves. A brand new Regency werewolf series will be published in 2012! For more information, please visit http://www.lydiadare.com/.
To comment on Lydia Dare's blog please click here.