I sometimes think that it would be healthier if my characters and I had slightly different ideas about what made up an ideal weekend. Now my characters are somewhat younger than I am, so maybe I'll try winding back the clock and seeing what happens with the heroes and heroines of my first two Delta Force novels.
Perhaps I should preface this:
I've never served in Delta Force.
The team that kicks ass in my latest Delta Force novel, HEART STRIKE… well, that's their gig.
Team Leader Kyle "Mister Kyle" Reeves
He's the steady hand at the very core of the team. But his idea of an ideal weekend is to curl up with his wife, preferably somewhere that no one is trying to kill them. Maybe go for a ride in the country. A sleeping bag beneath the stars by a quiet campfire is right in the sweet spot for him.
My wife and I have lived most of our lives rural (often in communities well under a thousand people). The woods is something that draws us both. Almost twenty years together and I still think that a weekend curled up with my lady is one well spent.
Carla "Wild Woman" Anderson
Carla hasn't learned how to slow down yet. Her idea of a casual weekend probably includes a ten mile hike up into the Colorado Rockies.
I hiked a lot as a kid. The Whites and Presidentials of New Hampshire, Adirondacks in New York. As I grew up I ranged into the Rockies in Colorado and the Cascades and Olympics of Washington. I just always moved a bit slower than Carla.
Richie "Q" Goldman
Richie is the ultimate geek, who also happens to be a warrior. He's always watching the news for the latest developments. You need something jury-rigged, fussed with, or completely rethought, he's your man. His idea of a great weekend is time to study everything…or going out on a sailboat. That's his one true love of the outdoors.
Geeks unite! In his geekiness, Richie is probably the closest character I've written to an autobiographical character. I'm always fixing things, I spent years working as an efficiency expert (which still makes my wife a little crazy every time it spills into the home). When I was younger I owned, rebuilt, and learned how to solo sail a fifty-foot ketch (two-masted sailboat). I took her out in forty-knot storms and quiet sunny weekends. I miss that boat every single time the winds blow fresh.
Melissa "The Cat" Moore
An expert in nothing, but a generalist in everything. She knows how to create the impression that something is real when it isn't. Her sports are extreme mountains, bicycles, and flying small planes.
I was a jack-of-all-trades. It didn't matter which industry I was in, I could figure out how to manage their projects. I did a few winter mountain hikes but never went to the extremes Melissa did. However, for over twenty years I never walked or drove if I could ride my bicycle. I did charity rides for 300 miles across Washington State. I covered a seven hundred miles in New Zealand, and eleven thousand on a solo around the world bicycle tour. I haven't ridden much since that tour, short commuting runs and so on, but I still have that bike hanging up in storage along with all of my touring gear. And if I ever pick up a weekend sport again? It will be to renew my old pilot's license and see where the next flight takes me.
Duane "The Rock" Jenkins
Well…his is the story for the next novel, Delta Force #3, coming in 2017.
GIVEAWAY
Win a copy of HEART STRIKE, just tell us below what your favorite weekend would be!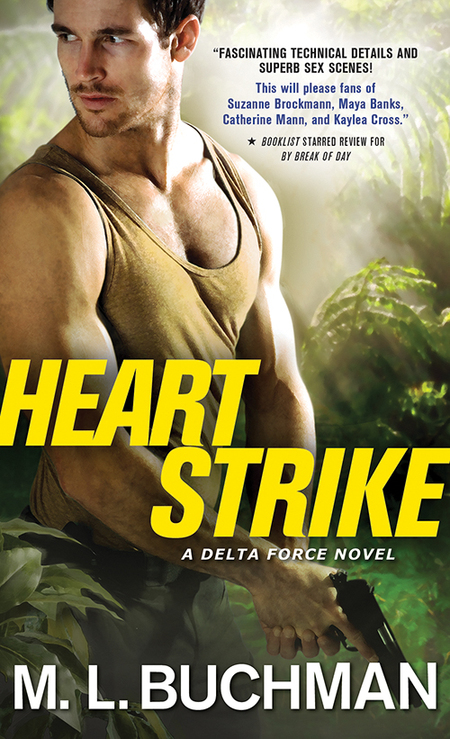 DELTA FORCE: The deadliest elite counter-terrorism unit on the planet
• A precision strike force
• The most out-of-the-box thinkers in any military
• Will die to get the mission done
SERGEANT RICHIE "Q" GOLDMAN: The smartest soldier on any team
SERGEANT MELISSA "THE CAT" MOORE: Newest on the team, determined to be the best
Rescued from an icy mountaintop by a Delta operative, Melissa Moore has never met a challenge she can't conquer. Not only she will make Delta Force, she will be the best female warrior in The Unit, and woe to anyone who says otherwise. Technical wizard Richie Goldman is Bond's "Q" turned warrior. A genius about everything except women, he takes point on the team's most dangerous mission yet. When the Delta Force team goes undercover in the depths of the Colombian jungle, surviving attacks from every side requires that Richie and Melissa strike right at the heart of the matter…and come out with their own hearts intact.
Romance Military | Romance Suspense [Sourcebooks Casablanca, On Sale: August 2, 2016, Paperback / e-Book, ISBN: 9781492619253 / eISBN: 9781492619260]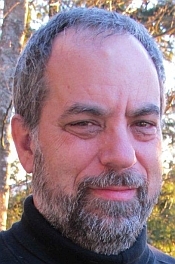 L. Buchman has over 35 novels and an ever-expanding flock of short stories in print. His military romantic suspense books have been named Barnes & Noble and NPR "Top 5 of the year," Booklist "Top 10 of the Year," and RT "Top 10 Romantic Suspense of the Year." In addition to romantic suspense, he also writes contemporaries, thrillers, and fantasy and science fiction.
In among his career as a corporate project manager he has: rebuilt and single-handed a fifty-foot sailboat, both flown and jumped out of airplanes, designed and built two houses, and bicycled solo around the world.
He is now a full-time writer, living on the Oregon Coast with his beloved wife. He is constantly amazed at what you can do with a degree in Geophysics. You may keep up with his writing at www.mlbuchman.com.