The Feedbag Cafe was empty when Matt took a corner seat early that morning and perused the bill of fare.
Breakfast was served at the hotel where he was staying, but the out-of-town guests had no personal knowledge of Neal Blackwell. Matt counted on the café to serve up a generous heap of local gossip along with his cackleberries and bacon.
What he hadn't counted on was coming face-to-face with Blackwell's widow. No sooner had his eggs and bacon arrived than he spotted her storming into the restaurant. She paused for the briefest of moments at the doorway. Even from a distance, he could see the fire in her eyes. Whoever had earned her ire this time deserved his sympathy, that was for sure. At least she wasn't packing iron.
Picking up his fork, he was just about to dive into his breakfast when her gaze zeroed in on him. As a Ranger, he'd been the target of angry men and blazing guns, but he'd never been as tempted to hide as he was at that moment.
Unfortunately, there was no time to follow through with his cowardly wish. For before he could move, she dashed toward him like a runaway train and stood next to his table, glaring. A bull tossed by a cowcatcher couldn't have looked more incensed.
"How dare you?" she thundered, turning the heads of the other diners.
He reared back in his chair. "I'm sorry?"
As if suddenly aware she was making a scene, she leaned forward and lowered her voice for his ears only. "You have no right spreading falsehoods about my husband!"
Now he really was confused. "Falsehoods?" He'd been accused of many things, but never had he been accused of lying. "I don't know where you got such a notion but—"
Blue sparks shot from her eyes, and she straightened. "A man named Wagner told me what you said about stolen money being buried on my property!"
Not having the foggiest idea who Wagner was, Matt was at a loss for words. "And you believed this man?"
She regarded him with narrowed eyes before dropping her gaze to his still-untouched plate. For an instant, a look of deprivation dulled her eyes. It was the same hungry look his father had shown all those years ago upon returning from that awful war.
As if to stop herself from staring at his plate, she lifted her gaze to his. "What reason would he have for lying?"
The cafe's proprietor, Mrs. Buffalo, stopped at their table. An apron was tied around her thick middle, and only a few strands of white hair showed beneath her ruffled cap. "Is there a problem, Ellie-May?"
Motioning to his plate with his fork, Matt answered for her. "No problem," he said. Right now, there seemed to be a more pressing issue at stake. "At least none that a plate for the lady wouldn't solve."
With a curious glance at the still-seething widow, Mrs. Buffalo nodded. "I'll see to it right away."
Not giving Mrs. Blackwell a chance to object, he pointed to the empty chair. "Have a seat," he said. "You look like you could use some vittles. My treat."
She lifted her chin. "I'm not hungry," she said, the deprived look in her eyes belying her words.
Ignoring her protests, he reached for the saltshaker. "So where did you meet this…man, Wagner?"
"On my property," she said, and her eyes blazed anew with accusatory lights. "Digging for the money you said was buried there!"
Matt furrowed his brow. Wagner. The name didn't ring a bell, but then he'd talked to a number of people around town. Still, the only time he recalled mentioning buried money was during his conversation with the captain at the train station. Had someone overheard? Perhaps the man he'd seen lurking nearby?
He sprinkled a generous amount of salt on his eggs. "If something I said gave the wrong impression, I apologize," he said, hoping to smooth her feathers.
His apology didn't take the wind out of the lady's sails, but she looked less inclined to throttle him. She did, however, draw herself up to her full five-foot height to subject him to a long, level look.
"Neal was no thief," she said.
She spoke with such conviction and heartfelt emotion that Matt found himself hoping she was right. "It's my job to consider all possibilities," he said.
She narrowed her eyes. "Why Neal?" she asked. "He's been gone for a year. Why are you suddenly interested in him?"
He took a moment to consider his answer. "We have reason to believe that the man who robbed that stage purchased a train ticket in Haywire." He purposely failed to mention that only two men had bought tickets on the day in question and one had already been cleared of any wrongdoing. "Anyone at the train station that day is of interest."
She studied him for a moment as if to measure his sincerity. "My husband was a good man."
"So I've heard."
"An honest man."
He drew in his breath. "Your husband has a lot of admirers," he said. Her expression softened at his words, and he was once again reminded what a pretty woman she was. Especially when she wasn't spitting fire.
He picked up his knife and fork and sliced off a piece of crisp bacon.
"He has a lot of admirers for good reason," she said. "And you have no right dragging his name through the mud."
His hands froze. "If that's what you think I'm doing, I apologize."
Mrs. Buffalo delivered a second plate to the table and left. Matt stabbed the air with his fork. "Eat your breakfast before it gets cold."
"I told you—"
"I know, I know. You're not hungry. But it would be a shame to let good food go to waste." He doubted she would let that happen. A hardworking woman like her. It was what he counted on.
Still she hesitated. She was no doubt torn between eating with the enemy and walking away from the best meal she'd probably had in a month of Sundays.
In the end, practicality won, and she yanked out the chair and sat. "Just because I'm eating with you don't mean I agree with what you're doing."
"Understood."
Eyeing him like a cat might eye a mouse, she picked up a fork. "My Neal didn't rob no stage."
Without waiting for him to agree or disagree, she dived into the food on her plate as if there were no tomorrow.
(C) Margaret Brownley, Sourcebooks Casablanca, 2020. Reprinted with permission from the publisher.
***
The Haywire Brides #3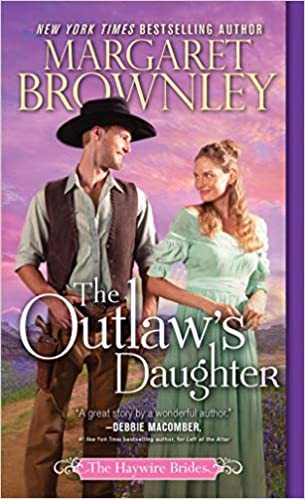 He may be a Texas Ranger
But he only has eyes for the outlaw's beautiful daughter…
Texas Ranger Matt Taggert is on the trail of a wanted man. He has good reason to believe that Ellie-May's late husband was involved in a stagecoach robbery, and he's here to see justice done. But when he arrives in town, he discovers the thief has become a local hero…and his beautiful young widow isn't too happy to see some lawman out to tarnish her family's newly spotless reputation.
Ellie-May's shaken by her encounter with the Ranger. Having grown up an outlaw's daughter, she'll do anything to keep her children safe—and if that means hardening her heart against the handsome lawman's smiles, then so be it. Because she knows Matt isn't about to give up his search. He's out to redeem himself and find proof that Ellie-May's husband wasn't the saint everyone claims…even if it means losing the love neither expected to discover along the way.
Haywire Brides Series:
Cowboy Charm School (Book 1)
The Cowboy Meets His Match (Book 2)
The Outlaw's Daughter (Book 3)
What People Are Saying About Margaret Brownley:
"Delightful, humorous…packed with engaging characters, loads of action, several mysteries—all enough sizzle to satisfy her fans." —RT Book Reviews for A Match Made in Texas
"A sweet, touching love story." —Kirkus Reviews for Left at the Altar
"Lively and warm. A welcome addition to a sparse yet popular subgenre." —Booklist for Left at the Altar
Romance Western | Romance Historical [Sourcebooks Casablanca, On Sale: May 26, 2020, Mass Market Paperback / e-Book, ISBN: 9781492658405 / eISBN: 9781492658405]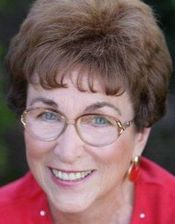 Thrills, mystery, suspense, romance: Margaret penned it all. Nothing wrong with this, except Margaret happened to be writing for the church newsletter. After making the church picnic read like a Grisham novel, her former pastor took her aside and said, "Maybe God's calling you to write fiction." It turns out God was and Margaret did. She now has more than 20 novels to her credit. In addition, she's written many Christian articles and a non-fiction book. Still, it took a lot of prodding from God before Margaret tried her hand at writing inspirational fiction which led to her Rocky Creek series. "I love writing about characters at different stages of faith," she says of the new direction her writing career has taken, "and I'm here to stay." Happily married to her real-life hero, Margaret and her husband live in Southern California.