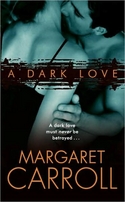 When we were single, my friends and I had endless conversations about what we wanted in a mate. Melissa (these names are all made up) wanted a man who was in touch with his feelings (last I heard she was still living solo in her Upper East Side studio). Mary wanted to meet someone from a Good Family (read: wads and wads of dough). She did, and resides these days in a leafy Connecticut suburb. Peter wanted a woman who was thin, and shared his love of physical fitness (he suffered two fractured ribs once in a Kickboxing class, at the foot of a woman he had a crush on).
I just wanted to marry someone who wouldn't embarrass me in front of waiters.
Sounds trivial, right? Not really. I kissed a few toads before I met my Prince Charming, and discovered along the way that–more than anything else–I wanted to spend my life with a man who had heart, compassion and good manners. I found all that and more, eventually, but that's another story.
To read more about what characters have taught Margaret and for a chance to win please click here.