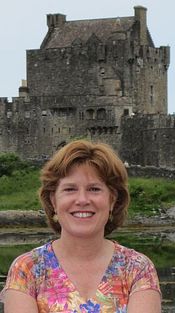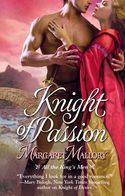 What do readers like best about my medieval series, ALL THE KING'S MEN? Without a doubt, it's the heroes! The joy of writing in the medieval period is that it lends itself so well to stories about honorable alpha men who have a heady air of danger about them.
My heroes are warriors, fearless knights who live by an internal code of honor. I like to make it interesting by throwing these honorable men into situations in which duty and loyalty collide. Will my hero betray his father or his king? Will he break his oath or his beloved's heart?
I'm fair; I force my heroines into equally difficult dilemmas.
Speaking of heroines, I give my knights worthy heroines..who cause them no end of trouble. These are women who…if they feel they must…are willing to wield a sword, spy for a prince, or follow an enemy into a secret passageway.
In Knight of Passion, the last book in this trilogy, I give Sir James (Jamie) Rayburn a heroine who refuses to let him do the right thing by her. When Linnet gave him her virginity, my honorable knight assumed marriage would immediately follow. Linnet is a young woman set on the path to vengeance, not marriage. When the two meet again five years later–on London Bridge, in the midst of a riot–Jamie is a much wiser and harder man. Though he is no less attracted to Linnet, this time he is guarding his heart.
A few readers have written to tell me they "LOVED" Jamie so much that they wanted to "strangle," "throttle," or even "murder" poor Linnet at several points. Ladies, please! I'm flattered my hero evokes such strong emotion, but Jamie can take care of himself–and Linnet has good reasons for what she does. Besides, I'd have no story if Linnet fell on her knees at the start, crying, "Whatever you want, however you want it, you gorgeous man!"
Fortunately, readers seem to forgive Linnet by the end for trying this handsome knight's patience. I do love to hear from readers.
I hope your summer is filled with Knights of Desire, Pleasure & Passion! 😉
KNIGHT OF DESIRE is a Best First Book finalist in the 2010 Readers' Crown and Golden Quill; KNIGHT OF PLEASURE is a best historical finalist in the 2010 RITA®, Booksellers' Best Award, and The Maggie. Margaret's latest release, KNIGHT OF PASSION, received "4 ½ Stars, Top Pick!" from RT Book Reviews.
To comment for a chance to win on Margaret's blog please click here.