1–What's the name of your latest release? 
The Eighth Girl: A Novel
2–What is it about? 
The Eighth Girl is about a young woman named Alexa Wu who is living with DID (Dissociative Identity Disorder) previously known as multiple personality disorder. Only three people know about her condition–her stepmother, Anna; her psychiatrist, Daniel and her best friend, Ella. When Ella starts work in a high-end gentleman's club and catches the attention of its shark-like owner, Alexa finds herself the unwitting keeper of a nightmarish secret. With lives at stake, she follows Ella into London's cruel underbelly on a daring rescue mission. Threatened and vulnerable, Alexa will discover (with the help of Daniel) whether her multiple personalities are her greatest asset, or her most dangerous obstacle.
3–What words best describes your main character(s)? 
Alexa is a complicated heroine. While having survived trauma, she finds beauty in nature and small acts of human kindness which she records with her camera. She is also someone who others underestimate, and an advocate for the greater good. At the heart of Alexa is a longing for connection, a need to be understood.
Daniel, who has also survived trauma at the hands of his alcoholic father is a floored character who struggles to hold personal and professional boundaries. Whilst his intentions are generally good, his un-reconstructed personality gets him into hot water!
4–What makes your story relatable? 
I think most people at some point in their life–whether because of a change of circumstances, loss, conflict, feelings of isolation or a lack of guidance in early years–have felt confused about who they are. While The Eighth Girl is an examination of the fracturing weights young women are forced to carry it also asks why we make the choices that we do, and what is needed in terms of character when in search of the greater good. It's also a book that champions someone who is living with mental illness, rather than leaning on tired, stigmatised tropes.
5–Who are the people your main characters turn to when they need help?
Initially, Alexa finds it incredibly difficult to trust anyone outside herself and instead turns to her personalities for help. She eventually learns, however, to lean into her psychiatrist, Daniel, and her best friend, Ella.  
Daniel on the other hand, has turned to the bottle in the past and is a recovering addict. This eventually changes and he very slowly discovers he can trust his girlfriend Monica and his work colleague, Mohsin.
6–What do you love about the setting of your book?
I love that some of the book is set in a psychiatrist's office, with two people, talking, and figuring it all out. The intimacies that are grown out of this space echoes my work as a psychotherapist where patients try to understand themselves afresh. It's a tremendous privilege.
7–Are you a plotter (follow an outline) or a pantster (write by the seat of your pants)?
I'm definitely a wide-legged 'pantster.' Also, I love the name!
8–What is an ideal writing day for you? 
6am           –      Wake up, lie in bed, think about writing
7am           –      Stretch, think about writing
8am           –      Make coffee, boil eggs, think about writing, eat eggs 
9am           –      Write, write, stretch (I write mainly in my office at home: a box of a room crammed with books, a record player and stacks of jazz vinyl!)
1pm           –      Lunch, usually sushi or noodles (tons of chilli) 
3pm           –      Write, and read (more coffee)
6pm           –      A long walk or run (whatever the weather)
7.30pm      –      Write, put on cashmere socks, walk around, music, write
11pm         –      Fall into bed, and pray the day's words will land! 
9–Do you listen to music while you write, need total silence, or do you have the TV on?
I need silence to write, although I like to put music on during my 'mini breaks.'
10– How do you approach research?
With rigour. I spend a lot of time researching topics, people and places that will feature in my writing. I also like to listen to podcasts, read, observe, visit locations and meet people and talk so my thinking doesn't become too narrow. I absolutely love researching a new book! Last week, I visited a graveyard, a West End theatre dressing room, a houseboat, The British Library and also met with an actress to discuss 'The Casting Couch.' 
11–What is your publishing journey story? 
Currently baby steps. The Eighth Girl is my first novel so I'm definitely learning about the whole publishing process from the seat of my 'wide-legged pantsters!'
12–Do you have critique partners/writing groups you want to give a shout-out to? 
The Faber Academy Alumni
Crime Writers of Colour @CrimeWoC
Electric Lit @ElectricLit Books by women of colour
13–What're the most frustrating things about being an author? 
Not enough hours in the day. Need more, please!
14–What's your favorite scent?
Chanel Coco Mademoiselle, also my mother's favourite perfume 
15–What movie will you watch no matter what if it's on TV?
In The Mood For Love. Every time!
16–Do you like breakfast, lunch, or dinner best?
All of the above, but dinner with friends is best!
17–What's one thing you wish you knew more about?
Time travel
18–What's the silliest thing you've recently done?
Mm. Probably swimming in The Women's Pond on Hampstead Heath in sub-zero temperatures!
19–What can readers expect from you next? 
I'm currently working on my next novel that orbits the life of an actress and asks questions about mother-daughter relationships and how early intimacies shape our physical and sexual self. It also has a good dose of lingering shock as well as psychology and suspense!
20–How can readers reach you?
Twitter: @meifung1oo
Instagram: author_maxinemeifungchung
or
maxinemeifungchung.com
Thank you!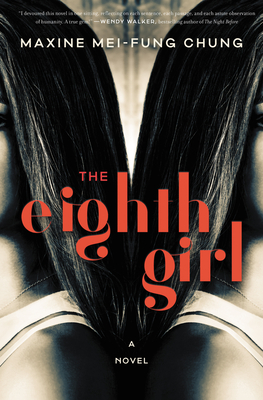 One woman, multiple personas.
But which one is telling the truth?
Beautiful. Damaged. Destructive. Meet Alexa Wú, a brilliant yet darkly self-aware young woman whose chaotic life is manipulated and controlled by a series of alternate personalities. Only three people know about their existence: her shrink Daniel; her stepmother Anna; and her enigmatic best friend Ella. The perfect trio of trust.
When Ella gets a job at a high-end gentleman's club, she catches the attention of its shark-like owner and is gradually drawn into his inner circle. As Alexa's world becomes intimately entangled with Ella's, she soon finds herself the unwitting keeper of a nightmarish secret. With no one to turn to and lives at stake, she follows Ella into London's cruel underbelly on a daring rescue mission. Threatened and vulnerable, Alexa will discover whether her multiple personalities are her greatest asset, or her most dangerous obstacle.
Electrifying and breathlessly compulsive, The Eighth Girl is an omnivorous examination of life with mental illness and the acute trauma of life in a misogynist world. With bingeable prose and a clinician's expertise, Chung's psychological debut deftly navigates the swirling confluence of identity, innocence, and the impossible fracturing weights that young women are forced to carry, causing us to question: Does the truth lead to self-discovery, or self-destruction?
Thriller Psychological [William Morrow, On Sale: March 17, 2020, Hardcover / e-Book, ISBN: 9780062931122 / eISBN: 9780062931146]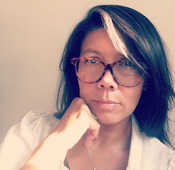 Maxine Mei-Fung Chung is a psychoanalytic psychotherapist, clinical supervisor, and training psychotherapist.
She lectures on trauma, gender and sexuality, clinical dissociation, and attachment theory at the Bowlby Centre and was awarded the Jafar Kareem Bursary for her work supporting people from ethnic minorities experiencing isolation and mental health problems.
Originally trained in the arts, she previously worked as a creative director for ten years at Condé Nast, The Sunday Times, and The Times (London).
Maxine completed the Faber Academy advanced novel-writing course and currently works in private practice, where she has a particular interest in the creative feminine, advocating for women and girls finding a voice. She lives in London with her son.