Ever wonder about authors who can take you from the young adult to beginning of adulthood? Today, our Sherri Morris talked to Brigid Kemmerer about her latest novel, THICKER THAN WATER..
"THICKER THAN WATER is Brigid Kemmerer's first book released since her Elemental series. Told in both Thomas and Charlotte's point of views, their story begins at a slower pace but gradually escalates. Brigid Kemmerer is a new author for me so I don't have any of her previous work to compare to. However, it has been awhile since a book has been able to suck me so far into it I just couldn't stop reading. THICKER THAN WATER did that for me. Brigid Kemmerer's writing style has a wonderful, captivating flow to it. She includes surprises and plot twists I did not see coming and created characters the reader can easily fall in love with. I cannot wait to get my hands on some of her other books!" from her review.
You started writing in high school. What started you down this path and who influenced you during this time?
I always loved reading when I was a kid, and I actually started writing even earlier than high school. I used to love reading YA urban fantasy, and in the early '90s, there just wasn't much of that. Anytime I found something new, I would practically read it in the car on the way home. I honestly think I started writing books because I wanted more to read in that genre. My mother was a big influence in my life, too. Not because she's a big reader or writer herself, but because there was never any question in her mind that I could accomplish what I set out to do.
All writers are readers. What book(s) has/have influenced you the most?
I love books that make me feel something strongly, because they make me sit up and pay attention and want to be a better writer. Some of my favorites:
It's always interesting to get a peek into how a writer creates the story. What is the hardest part of writing for you? What is the easiest part?
The easiest part is when I'm in the first round of revisions. The whole book is written, and it's time to clean it up and make it perfect. The hardest part is when the weather is nice and my kids are begging me to take them to the park, but I need to park my butt in a chair to write.
THICKER THAN WATER is a wonderful title; it's evocative and speaks to major themes in the novel. How did you come up with the title for your new book? Were there other working titles before this?
My editor actually came up with this one! Another working title was FLESH AND BLOOD, and I FEEL YOU.
What advice would you give to a new young writer?
My mantra is, "Allow yourself to suck." A lot of writers (me included) get caught up in our heads, afraid to put words on the page because we're worried no one will read them, or if someone does read them, they'll think it's bad/stupid/lame/dumb/whatever. But none of that matters in the drafting stage. It's fine if it's crap: no one else has to read it. Just start getting words on paper. There's a delete key for a reason.
If you could do it all over again, would you change any of it? Why?
Nope! Hindsight is 20/20, and we all have second thoughts about any decision, but when I think about things I would have done differently, I realize that would change other things that I wouldn't have done differently, so… I think we'll just keep things as they are. 🙂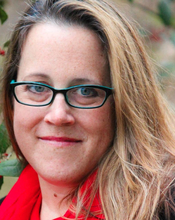 BRIGID KEMMERER is author of the YALSA-nominated Elemental series, which Kirkus Reviews calls "refreshingly human paranormal romance" and School Library Journal describes as "a new take on the supernatural genre." The story of these four gifted teenage boys spans five novels and three e-novellas. Her latest novel, THICKER THAN WATER (Kensington, December 29, 2015), a paranormal mystery with elements of romance, subtly moves from YA to New Adult through the story of a recently orphaned boy, Thomas. Brigid lives in the Baltimore area with her husband and four sons and also works full-time as a financial adviser. Visit her at brigidkemmerer.com.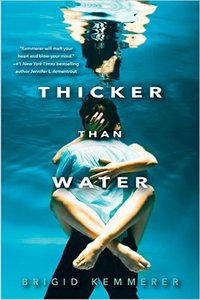 On his own
Thomas Bellweather hasn't been in town long. Just long
enough for his newlywed mother to be murdered, and for his
new stepdad's cop colleagues to decide Thomas is the primary
suspect.
Not that there's any evidence. But before Thomas got to
Garretts Mill there had just been one other murder in twenty
years.
The only person who believes him is Charlotte Rooker, little
sister to three cops and, with her soft hands and sweet
curves, straight-up dangerous to Thomas. Her friend was the
other murder vic. And she'd like a couple answers…
Answers that could get them both killed, and reveal a truth
Thomas would die to keep hidden…