HIDDEN COVE is the latest Solace Island novel by award-winning actress and novelist, Meg Tilly. Be sure to check out the Fresh Fiction Podcast for an exclusive interview with Meg, available TOMORROW! You can find the Fresh Fiction Podcast on Apple Podcasts or the podcatcher of your choice. Now, on with the excerpt!! 
***
Gabe leaned against the boardwalk railing, tipped his head upward, and shut his eyes, enjoying the early-morning sunshine on his face. He could hear the seagulls behind him, wings flapping, and the occasional shrill caw. They were flying into the air with clams in their beaks, dropping them onto the rocks and then swooping down to eat the contents. Sometimes a wily seagull would lurk below and snatch the prize from the broken shell. Made him laugh. Reminded him of his dad.
When they'd spoken this morning, his dad had sounded much improved, eager to pick Gabe's brains about the place. "Take your time, boyo. No need to rush back. Enjoy all that the island has to offer. Beautiful women, hikes, biking, art galleries, artisan cheese makers, bakers, beautiful women . . ." His dad had repeated the last one with a laugh. "It's all those damned yoga studios populating the island, keeps them healthy—and flexible, too. Important for a woman to have flexible hips, makes birthing easier. You're gonna love Solace. We sure did."
Gabe wasn't going to touch that crazy birthing theory with a ten-foot-pole. "You've been here?" His dad seemed so conservative. It was hard to picture him flinging off his suit and tie and rubbing shoulders with the tree-hugging free spirits that appeared to populate the island. "Doesn't seem like your kind of place."
"What do you know about my kind of place? Hell yeah, I've been there. Was on a fishing trip. Met your mother when we came ashore to stock up on supplies."
"Wait a minute. Family folklore is you and Mom met at a pub."
"Which we did. That little pub down by the marina, right there on Solace Island. Toby's. You should check it out. I came through the door, and there was your mom wiping down a table, her face shining bright like a button. She was on the island for the summer on a farm stay. Was picking up extra dough waiting tables in the evenings. Love at first sight. For me, anyway. She took a little convincing. Thought I was a rogue." There was laughter in his voice, as if he was pleased that she'd sussed him out so well. "Came back to Solace for our honeymoon, where, I am proud to inform you, you were conceived–"
"Dad–"
"Yes siree, I planted you in your mother's womb right there in Mansfield's Elsworth Cottage–"
"Seriously. TMI."
His dad cackled happily. "Yep. If you think about it, a love for Solace Island is probably embedded in your DNA. It's a magical place, my son. A game changer. You'll see."
Along with the feeling of vertigo that arose from the unwanted image of his dad and mom having intimate relations, a flicker of irritation flared. The latent teenager inside him wanted to snap that he was perfectly happy with the status quo of his life, thank you very much. Was in no need of a damned game changer. He managed to suppress the temptation. He was working on establishing a more mature relationship with his dad and not giving in to the knee-jerk responses that made him feel like a shit heel afterward.
He steered his father's attention to the weather, asked about the nor'easter that the news channels were having a field day with, made a few appropriate comments, and then hung up. He decided to take advantage of not being buried under a foot and a half of snow and grabbed his jacket, heading out.
It was a glorious day, forty-two degrees Fahrenheit with a crisp breeze blowing off the ocean. He breathed in. Could almost taste the salt from the sea. He imagined the soot and pollution from the city leaving his lungs and floating away as he exhaled. The air was different here, crystal clear, it renewed and refreshed.
He heard the sound of footsteps approaching. Sounded like a woman, wearing boots with a slight heel. He contemplated keeping his eyes shut, but the writer in him was curious if what he imagined was correct.
He cracked his eyes open, slanting a quick look at the feet, and was glad that he had. She was wearing boots, but they didn't look like he'd imagined. They were deep blue velvet with clear amber heels, an impractical purchase for the West Coast's rainy climes. Intrigued, he brought his gaze up from her half boots, past her voluminous charcoal-gray dress, which—with the aid of the strong headwind—clung to her voluptuous curves. Unexpected lust slammed through him. His gaze moved up her graceful ballet dancer's neck to a heart-shaped face surrounded by a mass of soft brown curls that shimmered with honey-blond highlights. Her eyes were downcast. The woman was clearly deep in thought, seemingly troubled about something. He wanted her to glance up, but she didn't. Her lush red lips were parted slightly, as if a word or a breath were resting between them, waiting to be released.
And then it hit him. She was the woman who had been standing among the sculptures yesterday. But that wasn't all. There was something familiar, a sense of déjà vu. The wispy fragments of a long-forgotten dream.
He straightened and opened his mouth to speak, but she'd already passed him, leaving a trailing scent of cinnamon sugar, breakfast tea, and a fragrance that was uniquely hers.
He watched her briskly stride along the boardwalk, a travel mug in her hand. Then she veered left and cut through a parking lot. She stood in front of the Art Expressions Gallery, rummaging through her jewel-toned purse, then transferred her mug into her left hand and unlocked the door. She had the top two buttons of her swing jacket undone by the time the door closed behind her.
(C) Meg Tilly, Berkley Publishing, 2019
***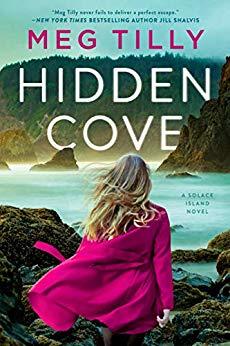 Oscar-nominated actress Meg Tilly strikes again with the third gripping contemporary romantic suspense novel set on the idyllic Solace Island in the Pacific Northwest.
When Solace Island gallery owner Zelia Thompson's close friend Alexus Feinstein of the prestigious art gallery Feinstein & Co. dies of a "drug overdose," Zelia's intuition sounds an alarm. The Alexus she knew didn't do drugs and had everything to live for.
As Zelia begins looking into the circumstances of her friend's death, what she uncovers will put her life in imminent danger. Will Zelia–with the help of the reclusive crime fiction novelist Gabe Conaghan–be able to unravel the mysterious happenings surrounding Alexus's untimely death? Or will she become the bloodthirsty artist's next victim?
Contemporary Women's Fiction | Romance Suspense [Berkley, On Sale: October 1, 2019, Trade Size / e-Book, ISBN: 9780440000563 / eISBN: 9780440000570]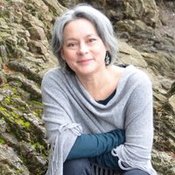 Meg Tilly may be best known for her acclaimed Golden Globe-winning lead performance in the movie Agnes of God. Other screen credits include The Big Chill, Valmont, and more recently, Bomb Girls, and Netflix's movie War Machine, starring Brad Pitt. After publishing six standout young adult and literary women's fiction novels, the award-winning author/actress decided to write the kind of books she loves to read–romance novels. Tilly has three grown children and resides with her husband in the Pacific Northwest.