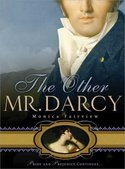 On what must have been an ordinary day in my life, I woke up with a strange idea. I ignored it, got on with my usual routine, and hoped it would go away. But it didn't. So on that perfectly ordinary day, I made a fateful decision: I was going to write about Caroline Bingley. Yes, Caroline Bingley, the woman in Pride and Prejudice that everyone loves to hate.
Surely not? I really had someone rather different in my mind for my next novel. I'd finished An Improper Suitor, a regency romance, and I'd had such a wonderful time writing it that I was all geared up to continue with one of the characters. But Caroline had wormed herself into my mind, and she refused to go away.
The thing is, I was probably one of the few people on the planet that didn't really dislike her. Which is probably why she'd come to me to plead her case.
To read more about the conversation between Ms. Fairview and Ms. Bingley please click here.