The screaming started at three in the morning. Tabitha had never heard a human being howl in that way before. It was like the screeching of an animal caught in a trap and it was answered by shouts, distant, echoing. Tabitha couldn't tell whether they were cries of comfort or anger or mockery. The screams subsided into sobs but even these were amplified by the metal, the doors, the stairs and floors. Tabitha felt they were echoing inside her head.
She sensed a movement from the bunk above her. The other woman must be awake.
"Someone's in trouble."
There was silence. Tabitha wondered if the woman was ignoring her or really was asleep, but then a voice came out of the darkness. She was speaking slowly, as if she were talking to herself. Her voice was low and gravelly, a smoker's morning voice.
"Everyone's in trouble," she said. "That's why they're here. That's why they're crying, when they think about their children or what they did. Or what they did to their children. When there's real trouble, you don't hear any screams. You just hear the screws running along the corridors. When it's really bad you hear a helicopter landing out on the field. That's happened three times, four times, since I've been here."
"What's that for?" asked Tabitha.
"What do you think?"
Tabitha tried not to think about what a helicopter landing in the middle of the night meant. She tried not to think at all. But she failed. As she lay staring up at the bottom of the bunk above her, as she heard the sobs and the shouts and then another burst of crying from someone else, she had a sudden feeling of absolute clarity piercing the murk: this was real.
Up to now, it had all been so strange, so completely outside her experience, that it had felt like a lopsided fairy tale about someone else going to prison, someone she was reading about or watching in a film, even when she herself was experiencing it. When she was sitting in the tiny, windowless compartment in the van that brought her from the court; when she took her clothes off and squatted and was stared at and examined and heard a woman laugh about her small breasts and hairy armpits; when she stood in the shower afterward. She had been issued sheets and an itchy blue blanket and a thin towel and escorted through door after door. The doors really were made of heavy metal. They really did clang shut. The wardens really did carry huge bunches of keys attached on chains to their belts. The prison was so prison-like.
Yesterday afternoon, as she was escorted through the central hall, lined with cells on both sides and on the floor above, she felt stared at by women standing in groups. She wanted to say: "This isn't real. I'm not one of you. I don't belong here."
Excerpted from the book HOUSE OF CORRECTION by Nicci French. Copyright © 2020 by Nicci French. From William Morrow, an imprint of HarperCollins Publishers. Reprinted by permission.
***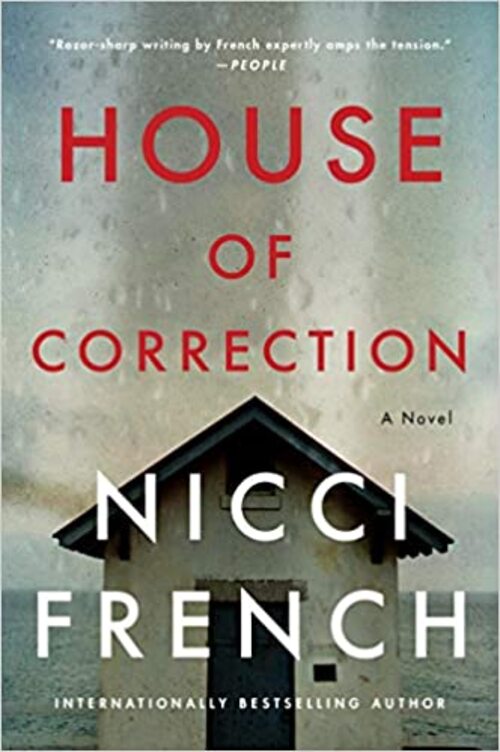 "This house of correction is booby-trapped with twists, the floors paved with trapdoors, quicksand churning in the garden. Enter if you dare." –A.J. Finn, #1 New York Times bestselling author of The Woman in the Window
In this heart-pounding standalone thriller from bestselling author Nicci French, a woman accused of murder attempts to solve her own case from the confines of prison–but as she unravels the truth, everything is called into question, including her own certainty that she is innocent.
Tabitha is not a murderer.
When a body is discovered in Okeham, England, Tabitha is shocked to find herself being placed in handcuffs. It must be a mistake. She'd only recently moved back to her childhood hometown, not even getting a chance to reacquaint herself with the neighbors. How could she possibly be a murder suspect?
She knows she's not.
As Tabitha is shepherded through the system, her entire life is picked apart and scrutinized–her history of depression and medications, her decision to move back to a town she supposedly hated . . . and of course, her past relationship with the victim, her former teacher. But most unsettling, Tabitha's own memories of that day are a complete blur.
She thinks she's not.
From the isolation of the correctional facility, Tabitha dissects every piece of evidence, every testimony she can get her hands on, matching them against her own recollections. But as dark, long-buried memories from her childhood come to light, Tabatha begins to question if she knows what kind of person she is after all. The world is convinced she's a killer. Tabatha needs to prove them all wrong.
But what if she's only lying to herself? 
Thriller Psychological | Mystery Police Procedural [William Morrow Paperbacks, On Sale: October 27, 2020, Paperback / e-Book, ISBN: 9780063021358 / eISBN: 9780063021365]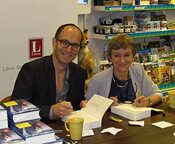 Nicci French is the pseudonym for the internationally bestselling husband-and-wife writing team of journalists Nicci Gerrard and Sean French. They are the authors of bestselling novels. They live in Suffolk, England.