We all have those items we can't do without during the work day. In some cases, we're attached to them more than we care to admit. I know it would have been torture to complete my latest book without them. Small comforts can make the difference. I'm up for sharing so I'll confess to the top 5 on my list.
Vanilla or pumpkin flavored protein shake in my coffee. I enjoy my caffeine fix. I don't always get around to making breakfast, but I will grab a protein shake to support my workouts. This way, I take care of both and get the morning rolling.
A spin bike in my office. My workouts keep me sane, but on my non-gym days or when my schedule is full (okay, when I'm too lazy to dress in decent workout clothes), I hop on the bike. It's also great stress relief in between pages of hard edits.
My iMac and iPad in proximity. Music, movies, games, video chats, checking email and social media, and yes, writing, all must happen at some point during the day. I'm usually using both devices at the same time. I have been known to experience withdrawal-like symptoms if they're not in easy reach.
Bean bag chair. Other than the floor or the bike, this is the only extra chair in my office. It's also a great place to take a nap during long stretches of writing or scream into when I'm frustrated. Come on. We've all been there!
Jumbo, plastic green crayon. It serves multiple purposes. Sword fighting, entertaining cat toy, knocking things out from under the desk, forehead or butt smacking instrument. Seriously? You DON'T have one?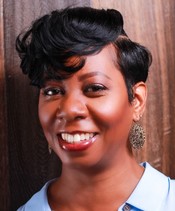 Nina Crespo lives in Florida where she indulges in her favorite passions — the beach, kick boxing, a good glass of wine, date night with her own real-life hero and dancing.
Her lifelong addiction to romance began in her teens while on a "borrowing spree" in her older sister's bedroom where she discovered her first romance novel and became lost in the world of happily ever after.
Curiosity about people and places, including what's beyond the stars, fuels her writer's imagination. This wellspring of inspiration allows Nina to create sensual contemporary and paranormal stories, which she hopes will feed your own addiction for true love and romance.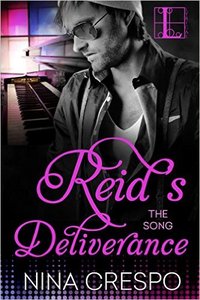 Can their bond withstand the test of time?
Lauren isn't looking for love when she spends a scintillating night with Reid, the sexy keyboardist of Thane's Redemption. While their passion may be off the charts, her trust issues–and Reid's secret life as a time-traveling covert agent–makes any chance for a relationship impossible.
When operatives involved in a mysterious project begin dying, Reid defies orders and travels alone into the future to find the cause. But when things go dangerously awry, it takes all of his strength to get himself back to safety–and directly onto Lauren's doorstep. While neither of them remembers their night of passion, their intense connection leads Lauren to help him. But as Reid's memories reignite, will he be forced to sacrifice everything to finish his mission–including the woman he loves?