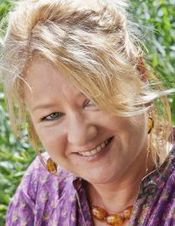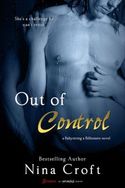 It occurred to me recently that the majority of my stories take place in warm, often exotic locations and nearly always in the heat of the summer. That's certainly true of my latest release, OUT OF CONTROL, where most of the action takes place in the mountains of southern Spain, in a villa overlooking the Mediterranean.
With a little thought, it's not hard to understand why this appeals to me so much. I'm English, and I grew up in a small town in the north of England, in an area known as the Lake District. It's a beautiful place but the sun rarely shines and it rains there—a lot. From an early age, I dreamed of hot places. When I started reading romances in my early teens, I was always drawn to the ones with hot, sultry settings and hot-blooded heroes. I fantasized of one day lying on a sun-kissed Mediterranean beach with a stunningly gorgeous, very-nearly-naked hero of my own. He'd be all golden skin and rippling muscles, and one look from his dark eyes would melt me into a puddle in the sand.
It never happened. I found a lovely English guy instead, but we did travel a lot when I was younger, and I spent a lot of time lying on sun-kissed beaches. And when it came to settling down, I ended up not far from the Mediterranean. In fact, I now live on a farm in those same mountains of southern Spain where OUT OF CONTROL takes place. I love the area, the people, the food, the fiestas…It's a fabulously inspiring place and so it's hardly surprising that when I sit down to write, I'm drawn to the same sort of settings that I love to read about.
Here are a few thoughts as to why setting is so important to me:
Reading for me is total escapism and I love being transported to fabulous, exotic places—preferably hot.
Setting can add atmosphere and depth to a story. It helps writing what you know and have experienced as it can add depth.
Setting can reveal things about a character. Where they actually choose to live or visit can tell us a lot about the type of person they are.
Setting can affect the pace of a story—I always find it much easier to move faster when it's cold. And a city setting is likely to be faster paced than a story which takes place on a hot beach.
Setting can provide the means to keep a couple, who would otherwise have no reason to meet or spend time in close proximity, together. Maybe they're snowed up in a cabin in the mountains, shipwrecked on a tropical island, forced to travel together in the close confines of a car.
Setting can provide conflict. From the extremes of surviving in a hostile setting, to learning to adapt to new surroundings.
In OUT OF CONTROL, Zach, the hero of the story, is in trouble—someone wants him dead. He's holed up in his villa in Spain with a couple of bodyguards to protect him, including Dani, a wounded soldier awaiting a medical to see if she can return to the army.
It's time out of real life for Dani. She's totally out of her comfort zone, but seduced by the warmth and the beauty of the place.
But with the heat of the Spanish sun warming her, she experienced a first, faint lifting of her spirits. The villa nestled in the hills between the Sierra Nevada Mountains and the Mediterranean Sea. The views were spectacular and the grounds enormous, running rampant with glorious pink and orange bougainvillea and hibiscus that scented the warm air with tropical flowers. Taking a deep breath, she let the atmosphere soothe her.
So are you like me and drawn to the same type of setting again and again? Or is setting unimportant to you? Let me know—I'll be gifting two ecopies of LOSING CONTROL, book 1 the Babysitting a Billionaire series, to commenters.
To comment on Nina Croft's blog please click here.