Last year, my fabulous publisher, Entangled Publishing, brought out a new imprint; Scorched (Beyond your Wildest Fantasies!) and I was asked if I would like to write something to submit. I thought long and hard—and finally decided I'd love to write a really hot space opera romance. Which is how my April releases, Ruby Robbins' Sexy Space Odyssey, came about.
Some of my favorite books as a teenager were science fiction: Frank Herbert, Robert Heinlein, Arthur C Clark, Isaac Asimov…. But romance was usually lacking in the stories, and it was rare to find a science fiction book where the focus was on the love story. Not so anymore.
Personally, I love stories that combine genres, but science fiction and romance is probably my favorite mix. At first sight, and to those not familiar with the sub-genre, they may seem like a bit of a mismatch, but dig a little deeper and there are a whole load of reasons why the combination works.
Bad boys in space.
I first fell in love at the age of eleven. His name was Han Solo and he was a space pirate. My tastes haven't changed a lot since then. Plus, growing up, I dreamed of being Doctor Who's assistant (I still do in fact) and of course, he'd fall madly in love with me. Finally, more recently, my devotion to Han has been severely tested by my attraction for Captain Mal Reynolds… among others. So I'm predisposed to love sci-fi romance.
But there's a reason most of my love affairs (imaginary at least) have been with 'space men'. I adore a bad boy hero, and space men, whether human, alien or something else entirely, can be the ultimate bad boys; living on the edge of civilization, boldly going…. Pirates, bounty hunters, cops, gun fighters (albeit with a laser pistol rather than a six shooter.) In sci-fi romance, there's no limit but your imagination to what your hero can do and be, and this is certainly the case with Killian Sharpe, hero of Rescued by the Space Pirate.
Kick ass heroines
I want heroines who match their heroes. And in sci-fi romance, more often than not, they more than match their male counterparts. In fact, the heroine is just as likely to be the pirate or the bounty hunter, and just as likely to rescue the hero as vice-versa. Ruby, my latest heroine, might start off as a shy accounts clerk but she ends up a strong woman more than capable of saving the universe.
Opposites attract
I've always loved romances that focus on people from diverse backgrounds and cultures. I enjoy the clash of different beliefs and discovering how couples overcome those differences to fall in love. Mixing science fiction and romance allows you to push that premise to the limit, bringing together people from not only different backgrounds but also different planets and even different species. The possibilities are endless.
Anywhere
I think one of the reasons people love to read romance is to be carried away to exotic locations, and the opportunities for that in science fiction are unending. Space ships, different galaxies, Earth of the future, even Earth of the past (if you happen to come across a time machine.)
Any time
People often think of science fiction as happening in the far future, but it could take place at any time. Who doesn't want to know what the world will be like ten years from now, or a hundred or a million.… Or maybe we'll take a trip in that time machine and visit a long ago era. We can walk with the dinosaurs or meet a real live pirate.
So, while sci-fi romance can provide a fantastic combination of adventure and passion, for me, both as a reader and a writer, the real appeal is that the possibilities are as endless as the universe itself.
Have you read any sci-fi romance, and if so what do you love the most? If not, why not? Leave a comment for a chance to win a paperback copy of the complete series of Ruby Robbins' Sexy Space Odyssey.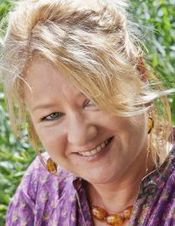 Growing up in the cold, wet, north of England, Nina Croft spent a lot of time dreaming of faraway sunnier places and ponies. When she discovered both, along with a whole load of other things, could be found between the covers of a book, her life changed forever.
Later, she headed south, picked up the perfect husband along the way, and together they volunteered to work in Africa. There they discovered a love of exotic places and a dislike of 9-5 work. Afterward they spent a number of years travelling (whenever possible) intermingled with working (whenever necessary.)
Eventually they stumbled upon a remote area in the mountains of southern Spain and the small almond farm they now call home.
Nina spends her days reading, writing and riding her mare, Gencianna, under the blue Spanish skies—sunshine and ponies. She reckons this is proof that dreams really can come true.
A few days ago, in a galaxy right here…
The earth faces total annihilation and one young woman signs up for a mission to rescue humanity. Only she ends up getting rescued herself, by a gorgeous space pirate. And the sex is out of this world!
Ruby Robbins' Sexy Space Odyssey #1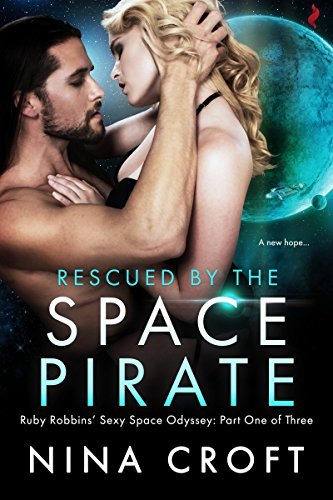 Hopeless romantic, Ruby Robbins spends her days as an accounts clerk, and her nights with her head in the stars, dreaming of space adventures in the arms of an alien…or two. Then one day, she's approached to help her country by going undercover…in space! She jumps at the chance and before she knows it, she finds herself in the cargo hold of an alien slaver ship.
Space pirate, Killian Sharpe owes a lot of money to some very bad people. So when an anonymous employer offers him a tidy sum to extract one Ruby Robbins from a slaver ship, it sounds like easy money. But once he sets eyes on Ruby, he knows he's in over his head. Not only is she breathtakingly beautiful—she refuses to be saved.
Luckily Killian hasn't met a woman yet who could hold out against him for long….
Romance Science Fiction [Entangled, On Sale: April 3, 2017, e-Book, ISBN: 9781633759190 / eISBN: 9781633759190]
Ruby Robbins' Sexy Space Odyssey #2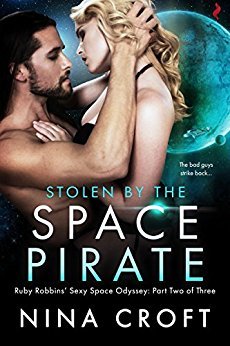 After a brief, but magical interlude with a couple of stunningly gorgeous space pirates, Ruby is back with the slavers, and her mission is on target. Now all she has to do is stay out of trouble, be a good little slave, and let her tracking device lead her allies from Earth straight to the slavers' center of operations. Hopefully, before anything really nasty happens.
Protecting Ruby is becoming a habit for Space Pirate, Killian Sharpe. When he learns the slavers' final destination, he knows there's more at stake than just Ruby's mission to save mankind. Because he's going home. This time, saving Ruby might cost him his life…
Romance Science Fiction [Entangled Scorched, On Sale: April 10, 2017, e-Book, ISBN: 9781633759206 / eISBN: 9781633759206]
Ruby Robbins' Sexy Space Odyssey #3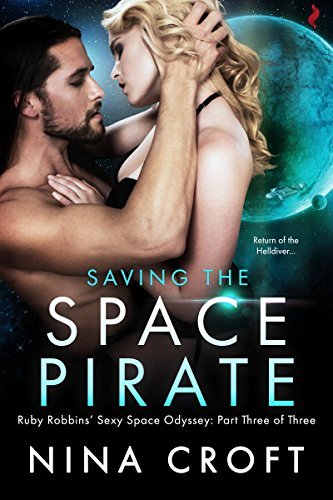 Killian Sharpe, is in over his head. One minute, he's a notorious space pirate with a price on his head. And now, he's suddenly become one of the good guys. How did that happen? He can only think of one reason – sexy, spunky Ruby Robbins.
Ruby is thrilled that her mission is almost over. Not only will she have saved her planet, but she'll finally be able to live happily ever after with the space pirate of her dreams.
But a tragic twist suddenly puts everything into jeopardy. And it's up to Ruby, with Killian at her side, to change to world for good this time. She can only hope they both survive the ordeal…
Romance Science Fiction [Entangled Scorched, On Sale: April 17, 2017, Hardcover / e-Book, ISBN: 9781633759213 / eISBN: 9781633759213]