I've always been a daydreamer. When I was a kid, it usually translated into some epic imaginary play with my brother and cousins. Nowadays, it ends up providing great creativity to my day-job as a pediatric speech language pathologist and in my night-job as a writer.
Daydreaming is a powerful tool of creativity, whether as a carpenter, teacher, game designer, architect…any profession really. In story creating, it's a foundational element to bridge the gap between the 'real' world and the fictional dimension.
In daily life, it's that little bit of glitter on the ordinary.
Though many daydreams may take us to new and exciting places, imaginary or real, some of our daydreams can carry more of a homemade scent. I think that's why I have such fun writing both novels that happen in this time period in my native Blue Ridge Mountains, as well as in historical or fantasy time periods.
Homemade daydreams in fiction are those that happen in the known world. Blue Ridge Mountains for me.
With this type of daydreaming comes a stronger sense of smell, a tangible touch to the world around me, a physical knowing of the way the weather hits my skin and the variable hues of the colors in the horizon. In my contemporary romance, A Twist of Faith, I tried to even bring out the accents of the culture, the cadence of voices and the palpable appeal of rural, family life. Did it require daydreaming? Sure.
Fiction, for me, is real life dusted with magic. So even in my contemporary novels, stories are 'real', but dusted with the magic of fiction.
Of course those amazing genres that include dragons, wizards, zombies, and ghosts – or even those that delve into a very different time period than ours today – automatically include a touch of magic, whether you write it into the story or not. As a writer and a reader, it requires us to mentally create a world, characters, creatures, and sometimes even languages, we've never seen before.
So…what sort of fiction do you enjoy best? Are there some stories in which you feel the 'magic' of fiction has a stronger hold than others? What are some novels where you've been drawn to places for which you've never been and actually 'felt' as if you've realm traveled?
I may not have a magic wand…but I DO have a book 🙂
Giveaway
What daydreams do you turn into magic in your life? Pepper is giving away a copy of A TWIST OF FAITH to one dreamer!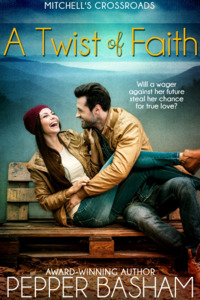 Will a wager against her future steal her chance at true love?
Dr. Adelina Roseland has worked ten years in research as an accent reduction specialist to attain her dream job. But a secret wager to transform Appalachian cattle farmer Reese Mitchell into corporate material challenges Adelina in ways she never expected, threatening her new position.
For one, Adelina didn't plan for the faith and friction
of Reese, or the unexpected influence of his chaotic family.
Now, drawn into a culture she'd tried to forget, Adelina
finds the warmth of family, the hope of faith, and the joy
of love melting away the deep wounds of her past.
But when Reese discovers that he's a pawn in her climb
up the academic ladder, will he forgive Adelina's deceit or
will their miscommunication end in two broken lives?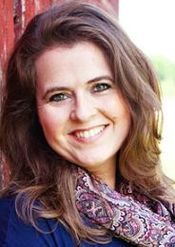 Pepper Basham is an award-winning author who writes romance peppered with grace and humor. She currently resides in the lovely mountains of Asheville, NC where she is the mom of 5 great kids, speech-pathologist to about fifty more, lover of chocolate, jazz, and Jesus. Her debut historical novel, The Thorn Bearer, released in May 2015 and has garnered awards such as Reader's Favorites Award, finalist in the Grace Awards, and shortlisted for the Inspy Awards. Her second historical novel, The Thorn Keeper, released in Feb 2016 and her first contemporary romance, A Twist of Faith, released in April 2016 with a 4 star review from Romantic Times. You can get to know Pepper on her website, on Facebook, or over at her group blog, The Writer's Alley.