From Rouge: A Novel of Beauty and Rivalry. Copyright © 2019 by Richard Kirshenbaum and reprinted with permission from St. Martin's Press.
Chapter 2
A NEW FRONTIER
Sydney, Australia, 1922
The heat was unbearable, constant, itchy, and apparently determined to do battle with her skin. It was ironic how brutal the journey had been given that the point of it was to flee a brutal adversary at home. Her mother's favorite phrase came to mind as she grasped the railing of the ship: "Wherever you go, there you are." Were her dear mother here right now, she would also be telling Josiah to protect her skin by putting on her hat. Instead, in a flash of rebellion, she stared head-on into the sun as though the sun itself were her enemy and she would win the face-off so long as she did not betray fear.
Oy vey ist mir. She could not keep this lament far from her mind as she thought of the distance between her loving mother and herself. The distance increased with every second, along with the ache in her heart. She could practically smell her mother's distinct scent: sweet, earthy, like the kasha and sweet white onions simmering on the stove. The warm, instant relief of being in her soft arms and her lilting voice. She did not need to close her eyes to see the outlines of her home: a medieval town surrounded by water on all but one side, stacked with red brick that fortified it from intervention and escape. Josiah had been held here during her childhood, safe, if confined. Home was not perfect by any means, but the comfort of the familiar is a strong incentive for any incumbent, and she struggled to remember why she had left in the first place.
Of course, she knew why.
They had heard the terrifying stories, and her mother and father were not willing to live with this risk. Tales of the pogroms, of drunken soldiers arriving at night, soldiers looting homes, tearing through hidden drawers; watches and jewels, belongings and books. Soldiers terrorizing fathers and sons, beating them, and, in the worst accounts, locking their daughters into the bedrooms and forcing them to do unspeakable things, the soldiers' laughter and moaning audible through the door—and the daughters' screams. Her mother and father had heard these accounts from reliable sources, first from women gossiping at the market, a crowd gathered by the butcher, obstructing the line for milk. And then from their beloved rabbi, who had heard it from the men themselves.
And while these atrocities had taken place in Lwów, not too near, not too far, from home, the threat was too much to bear. It began to pervade daily life. A sense of palpable anxiety as the drunken Polish peasants leered and the sense of unease grew like a boiling pot until it accompanied her at all times—while she was walking into town, writing a letter to her aunt, even bathing at night. There was always an invisible guest trailing noiselessly behind. So it was decided, after many family meals and meetings, that she and those sisters old enough to relocate would move to a place free of threat. Australia, a distant continent, seemed as good a choice as any. It may as well have been a disparate planet, so intrinsically different was it to everything she knew from her native Poland.
Others had left before her, of course, and her uncle Solomon and aunt Masha had written back with good news about the pioneer life. Still, it was hard to imagine Australia as the next obvious stop. This enormous, distant island, covered with hills and grass and sheep. And the vast, unfathomable ocean, an incomprehensible force, a planet unto itself. Josiah had been swimming only a handful of times in her life—in a country lake near her home. Nonetheless, the plan was made: her uncle and aunt would house and employ her. She would work at the counter of her uncle and aunt's five-and-ten-cent store, live in their home, and help out with the brood of nieces and nephews in the evenings until she could afford a place of her own. She would learn the English she had dreamed of studying one day, starting with the handful of words she had read in the papers stacked in her father's office. A new life awaited on this bright, hot planet, a better life to be made and found. She believed her mother. She wanted this life. But at the moment, she could not see this bright future because the sunlight was making her blind.
An unusual beauty, petite but imposing, Josiah had a powerful presence. Pale skin and black hair, large oval onyx eyes, and a strong, elegant, and beak-like nose gave her a regal, if withering, look. Her eyes were her greatest weapon, perceiving others' motives even while obscuring the impression she made. This appearance had proven both an asset and a weakness, inviting sisters and friends to confide in her while putting off boys her age, who were somehow convinced of her critique. But intuition and intelligence prevailed, earning her the adoration of sisters, friends, and, in recent years, a handful of older boys. Unfortunately, at the moment her intuition was telling her one thing: Go back.
But it was too late for this. She had been brought here on a wave, the first wave of Polish immigrants, the first of what would soon be a tidal force. A wave of women seeking safety, families seeking freedom to express their beliefs, people seeking resources, a new life, people fleeing a profound and terrifying threat. The rewards were enticing enough to intrigue. But the threat made this urgent. The threat was what pushed people out of their homes, made the rewards even worth considering. The threat was what compelled a twenty-two-year-old girl to leave behind all she knew and loved to venture into the unknown alone on this strange massive and rusted ship. This threat was what brought her to this foreign place, two oceans and three continents away from home, in cramped bunks shared with two other girls, the salt air barely masking the scent of so much proximate sweat.
Daunted, Josiah glanced across the deck at a large cloudy hill. The hill was lush and white. And then it was green, peppered with white dots. Why the sudden transformation? Soon enough, she understood: the dots were not clouds, but sheep.
"What have I done?" she muttered.
Another passenger answered, a girl her age, Sonjya, whom she had taken meals with during the trip. "If all else fails, we can knit," she said.
Josiah smiled, comforted by the camaraderie. But just as quickly, a swell of yelling and footsteps rolled toward her, and she felt herself being pushed to the front of the ship. She gripped her meager case and the cream straw hat with the blue-and-white ribbon—it seemed so cosmopolitan at the time—and, squinting into the sun, allowed the swell to push her forward toward the dock.
Copyright © 2019 by Richard Kirshenbaum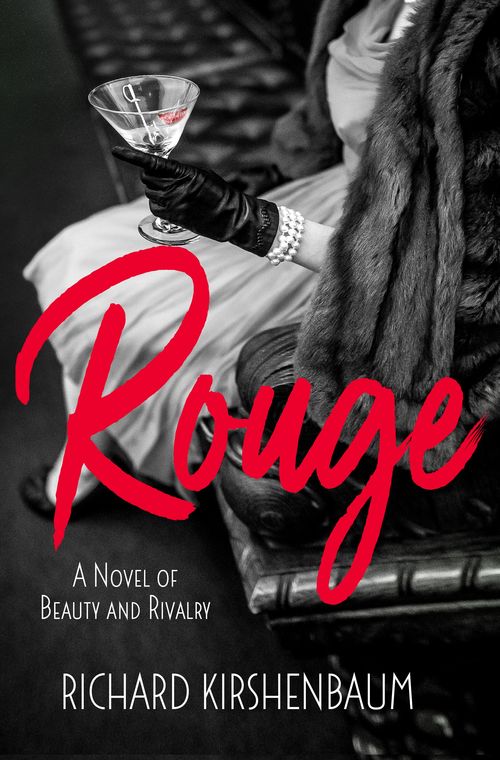 Like Swans of Fifth Avenue and Truman Capote's Answered Prayers,
Richard Kirshenbaum's Rouge gives readers a rare front-row seat into the world of high society and business through the rivalry of two beauty industry icons (think Helena Rubenstein and Elizabeth Arden), by the master marketer and chronicler of the over-moneyed.
Rouge is a sexy, glamorous journey into the rivalry of the pioneers of
powder, mascara, and rouge.
This fast-paced novel examines the lives, loves, and sacrifices of the
visionaries who invented the modern cosmetics industry: Josiah
Herzenstein, born in a Polish Jewish Shtlel, the entrepreneur who
transforms herself into a global style icon and the richest woman in the world, Josephine Herz; Constance Gardiner, her rival, the ultimate society woman who invents the door-to-door business and its female workforce but whose deepest secret threatens everything; CeeCee Lopez, the bi-racial beauty and founder of the first African American woman's hair relaxer business, who overcomes prejudice and heartbreak to become her community's first female millionaire. The cast of characters is rounded out by Mickey Heron, a dashing, sexy ladies' man whose cosmetics business is founded in a Hollywood brothel. All are bound in a struggle to be number one, doing anything to get there…including murder.
Historical | Fiction [St. Martin's Press, On Sale: June 25, 2019, Hardcover / e-Book, ISBN: 9781250150950 / ]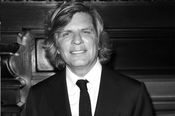 RICHARD KIRSHENBAUM is the author of Rouge: A Novel of Beauty and Rivalry (St. Martin's Press). He is CEO of NSG/SWAT, a high-profile boutique branding agency. He has lectured at Harvard Business School, appeared on 20/20, was named to Crain's New York Business's "40 under 40" list, and has been inducted into the Advertising Hall of Fame. He is the author of Under the Radar, Closing the Deal, Madboy, and Isn't That Rich? and the New York Observer's "Isn't That Rich?" column. He lives in New York City with his wife and three children.