Before I penned this post, I never thought about my top five romance novels, because my favorites change fairly often. I have my one-click authors, the authors I don't even think about downloading a sample because their body of work has never or rarely disappointed me. Some are simply books that encouraged me to write my own stories. After writing down my top books (let's just say for right now), I realized a common denominator are opposites attract, unrequited love and hero/heroine transformation. IT'S BEEN YOU, Book #2 of the Crush on You series has a little bit of everything of the things I love. I hope you like my list.
Kristen Ashley – SWEET DREAMS
Kristen Ashley is a one-click author. I LOVE her voice. Her heroes are uber Alpha, and the women are a range from super sweet to hot and spicy. I was first introduced to her via the Rock Chicks Series (Rock on!) and moved on to the Colorado Mountain Series. Sweet Dreams is about a woman who leaves after her husband cheats on her with her best friends. She picks up and moves on to a small town in Colorado and goes from Corporate America to a job as a waitress in a biker bar. Tatum Jackson, who is initially rude to Lauren because of his initial bias based on her "suburbia" looks. They are complete opposites, much like Tiana and Nathan, my hero and heroine in It's Been You, and of course, once they get over the "hate" things explode… in a good way! Also, what makes this one of her best books (in my humble opinion) is the confidence the heroine gains. She transforms and finds happiness in a simpler life.
Brenda Jackson – THE MIDNIGHT HOUR
New York Time's and USA Today Bestselling authors are just a few of Brenda Jackson's accolades, and she has published over 100 novels. I've probably read most of them. However, my favorite book is The Midnight Hour, a romantic thriller about an ex-Marine turned CIA agent Sir Drake Warren who lost his fiancée during a military mission. Her death shapes him, and five years later he is bitter, a bit reckless and hell-bent on revenge. However, he eventually finds out that his fiancée Sandy Carroll (now Agent Victoria Green) hadn't died in the mission. This book is a part of a larger Madaris series, and I've enjoyed every book.
Francis Ray – DREAMING OF YOU
If you love a good unrequited love story, Francis Ray's Dreaming of You will not disappoint. The heroine, Faith McBride has loved the hero, Brandon Grayson since she was a shy kid in high school. Years later, she is determined to win his love when she finds out his successful matchmaking mother has Brandon in her crosshairs. In the process of trying to "win her man." she transforms and gains confidence in herself.
Nora Roberts – TEARS OF THE MOON
This story is yet another unrequited love story, my favorite. Nora is a rock star and is one of the most successful romance authors to date. She is a master at storytelling, and when I read her books, particularly like Tears of the Moon, set in Ireland, you cannot tell me I can't navigate myself around the villages of Ireland like a native. I've read countless Nora Roberts novels, but what makes this story at the top of the heap is the weaving of magic, lost love, a very practical and tomboy heroine and a musically-talented dreamer hero.
Charlaine Harris – DEAD UNTIL DARK
Let me just take a moment to fangirl here a bit. I know the Sookie Stackhouse Series is typically categorized as a mystery, and yes, I agree, but I love the beginnings of Vampire Bill and Sookie, and I'm a super fan of vampires and werewolves. The setting, the dialogue. *Sigh* Bon Temps felt real. I dodged a lot of calls, had a bunch of sleepless nights…I was a literal bookworm for this series.
If you haven't read some of these books – take a chance! They're fun, thrilling, sexy, and well-written!
If you have read them, I'd love to know what you think. Drop me a line on Twitter or Facebook.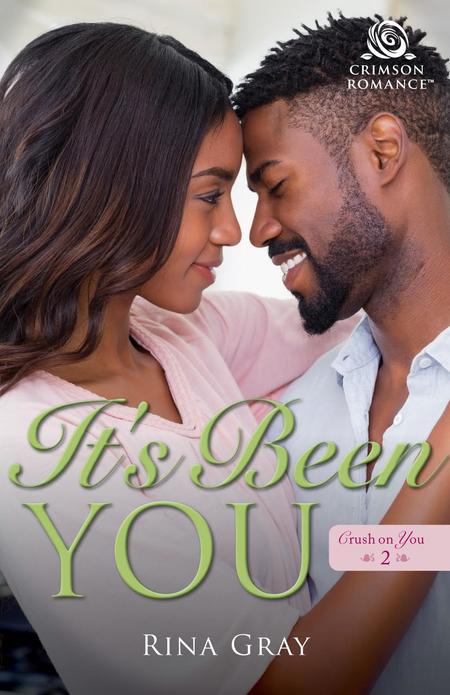 Rina Gray returns with IT'S BEEN YOU, an all new Crush on You novel from Crimson Publishing. When the opportunity to land a lucrative deal and promotion results in a friendly competition that then erupts into an all-out battle of desire, Tiana Holliday and Nathaniel Lawson will straddle the line between love and war in this steamy must read Fall title releasing November 7, 2016!
Marketing manager Tiana Holliday just landed her dream job at an award-winning agency in New York City. There's just one problem: cocky playboy Nathaniel Lawson, her old grad school nemesis, is her new officemate.
As the firm's rising star, Nathan never had to compete for prime clients until all-work and no-play Tiana strutted into his workspace. When an opportunity arises to manage a lucrative sports car account and nab a big promotion, he challenges her to a wager: Loser does the winner's bidding for one month. But their friendly little competition suddenly threatens to erupt into an all-out battle of desire.
As they straddle the line between love and war, they just might discover that challenging each other outside the boardroom is even more satisfying than advertised.
Romance Contemporary [Crimson Romance, On Sale: November 7, 2016, e-Book, ISBN: 9781507202180 / eISBN: 9781507202180]
Other Books in the Crush On You series
Sports journalist Melanie Foster has achieved most of her goals: Bomb.com job—check. Tomboy-to-smoking-hottie makeover—check. Convince her best friend, Damien Richards, to slide a ring on her finger and father her two-point-five kids—not so much. When she activates Operation: I'm Gonna Make You Love Me, she never imagines her BFF already has plans to stroll down the wedding aisle with another woman.
Damien is in the middle of crisis mode. The non-profit for young athletes at which he volunteers is in financial trouble. He'll pull out all the stops to rescue the organization that saved his life after his career-ending injury—even if it means sacrificing his personal happiness.
But when he finally wakes up to love and the very non-friendly feelings he's long held for Mel, it might just be too late. Damien must convince her that he's worth the risk and turn the tables to show her he's the one ready to be a fool for love.
Book 1 Available at: Amazon | Barnes and Noble | Kobo | iTunes | Goodreads
Rina Gray
Rina Gray is one of the newest African American romance writers on the rise. She is also a digital marketing professional who discovered her love of writing in 2012. Writing has always been Rina's passion, though initially, she tried to deny it. In college she served as the copy editor for the entertainment magazine and newspaper. During her tenure, she had the opportunity to interview various talented entertainers including Chris Rock and the cast from Reno-911.
Rina has always been an avid reader, sneaking to read her mother's books she had no business reading i.e. Stephen King's The Stand, It, and Anne Rice's various vampire series. As a pre-teen, she received a load of romance novels from a family friend and from that point on, she devoured any book related to romance or horror. When she's not writing, she can be found with her head stuck in a book, kickboxing, or dominating game night with friends and family. Rina resides in Atlanta with her husband.