Rios Tex-Mex
Originally uploaded by freshfiction
Glad you asked…even if you didn't, you get to hear. HA! the power of the blog erupts! Anyway, this week we had two signings I attended, one I missed, one conference planning session and a whole bunch of work work work on FreshFiction.com. Oh, yeah, and I read a couple of books worth mentioning.
The signings…Tuesday was great! We had dinner with the book club at the fabulous little "hole in the wall" Tio Rio Tex restaurant in North Dallas. Tio Rio is one of my favorite in town Tex restaurants because it is small, the food is great and there is a tree growing through one of the walls. Now, for most you would say, "a tree! How quaint!" with a sniff on the "quaint." But trust me, in our part of Texas, a tree that size deserves respect and admiration. And the food, well, great fish dishes and my advise is to take whatever the special is, because it will be sublime! Our book club and gang usually meets up at either "Tio Rio" or "Natalies" when we're attending a book signing at the Borders Preston & Royal in Dallas, so they know us by sight and name! Now that you have the setting, it's time for the guests!
Carol Cassella Signs
Originally uploaded by freshfiction
Our author guest was the delightful Carol Cassella (she'll be blogging here later this month, so keep an eye out! She's so much fun!). She was on her "tour" taking in a city per day all over the country. She had one of her daughters with her on the Texas segment of the tour but she didn't join us for dinner. We also had as a guest, Charlene from Keller. One of Carol's old high school classmates. I hope I got the name right and hope even more she'll join us in our "western" teas (as in the Fort Worth side). Carol was scheduled to sign OXYGEN at Borders after our dinner and a whole slew of her old classmates held a reunion at the store as well!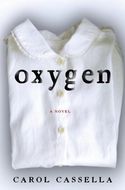 OXYGEN is a suspense novel about a woman forced to make choices about her career, her family and her love life in the midst of a malpractice case in a Seattle hospital. Our group had a bit of discussion as to whether it was a suspense or just fiction because the death took place early and the sense of thrill tension wasn't always there. The descriptions, story and stand out characters in OXYGEN made it a hit with our group. And a book that makes you talk and argue is always a good book to read! Carol talked to us about being an anesthesiologist and mother of two sets of twins. In their teens no less! A BRAVE strong woman! Then we all went over to the book store for a standing only crowd. They added chairs until there were none left! A great turnout! They even sold out of OXYGEN!!! Good thing we had our copies!
Ridley meets the bear
Originally uploaded by freshfiction
The next signing was with the funny, although he does write thrillers, Ridley Pearson. I was introduced to Ridley via Dave Barry and the Peter Pan prequels. What can I say? I sometimes go at things backwards! Anyway, I met him at a Book Expo a couple of years ago when they were "pushing" the Peter Pan books. I've always enjoyed Barry's columns so I was curious as to the YA novels. And Ridley was so funny, I picked up a couple of his books to try. KILLER VIEW is the second Walt Fleming book and is a "thrill" of a read! Set in Sun Valley, Ridley told us about his research for the Walt books including an encounter with a black bear! Oh yeah! DO NOT LOOK A BEAR IN THE EYE! Great advice!
As for the conference, well, we're having a readers conference in October in Richardson. It will be a weekend of GREAT, FABULOUS, you-better-not-miss-it-FUN!!! Filled with chat sessions about books — the stuff readers love to talk endlessly about, lunch and dinner with some FABULOUS AUTHORS including Sherrilyn Kenyon, Dianna Love, Candace Havens, and Lauren Willig, a book swap, and a tea on Sunday with over 30 authors. For $135 you can't beat the fun! Check out the website at Readers-n-ritas.org. Did I mention the "margaritas"? I hope you'll join us!
Until next week when I'll be on the road in Oklahoma at the first "Fangs, Fur & Fey Con within a Con." I can't wait!
Sara Reyes
DFW Tea Readers Group
Readers 'n 'ritas …celebrate passionate literary obsessions