Seven years ago, I was just starting out on my writer's journey. I'd written a couple of historical novels which I was enthusiastically peddling to agents and was keen to keep writing. Part of that was due to the fact that my job situation wasn't the greatest, and I'd just survived a tussle with US Immigration. I was living in a small town in south-central Arizona, and wanted to escape the stress. So, when a fellow writer challenged me to take part in NaNoWriMo—the annual writing fest where you hammer out 50,000 words in the month of November—I couldn't resist.
But, what to write? I stared out of my office window at the railway tracks, the desert and the Pinal Mountains, and came up with an idea. The story fell together fairly quickly. I'd set it in a small town in south-central Arizona, in the near future, when the tanking economy had left the place half-deserted and dying. It didn't seem too unfeasible. The town I worked in was surrounded by big, new housing developments, partly-finished and forlornly dotted with 'for sale' signs. Banks had been repossessing deserted homes and I hadn't signed off on any new housing permits for ages. It was easy enough to look a few years down the road and paint a bleak picture.
The story took on a life of its own. If I wasn't writing, I was thinking about it. I love that total immersion, when the story grabs me by the throat and doesn't let go. It was weird to drive down the street where Ellie 'lived' and see it how I imagined it—the cacti in the front yards replaced by vegetable gardens. And seeing Main Street as it would be in my novel, half-deserted with tumbleweeds bouncing along the cracked asphalt.
I kept writing, reporting my progress each night on the NaNoWriMo website. I was doing great, on track to hit my target. Then, about a week in, my dear cat, Maggie, who had been ill, took a bad turn. I took her to the vets, they kept her in. I missed my ridiculously fluffy girl. Missed her tiny meow and her grumpy face. Then, the news I didn't want to hear. She was too ill to save and had to be put down. We'd been together for twelve years and, suddenly, she was gone. NaNoWriMo didn't seem that important anymore. I grieved, hugged our two remaining cats and wondered whether I could keep writing.
I did. Burying myself in EMPTY PLACES proved to be cathartic. Ellie's troubles were far worse than mine and I couldn't leave her stuck on a lunatic's mountain compound, dressed in clothes straight out of Little House on the Prairie, and listening to long, droning sermons in a cavernous church. So, readers, I dived back in and finished the story…in twenty-eight days.
Life moved on. I let that first draft languish on my laptop for a long time. I forgot about it. Then, last year, I stumbled across it, opened it and thought…yeah, I can do something with this. So, it's out in the world now, a little memory of a not-so-great time in my life.
If you'd like to find out more about EMPTY PLACES, head to totallybound.com!
S A Laybourn lives in Wiltshire and loves it. She's partial to gin and tonic, loves to cook and watches cookery programmes when she's not working, writing or reading. She writes m/m erotic romance as S A Meade.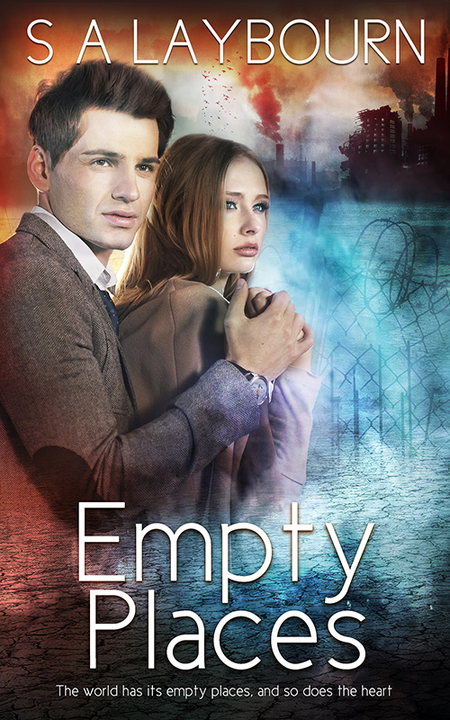 The world has its empty places, and so does the heart.
Ellie Freeman, a low-level federal employee, is stuck in a dead-end desert town that no longer feels like home. What makes things worse are the threatening phone calls she's been getting. When Duncan Harris, a British journalist, stops by to interview her for a series he's writing, Ellie feels something close to hope that there's still good to be salvaged from her life. But before that hope can be fulfilled, Ellie is kidnapped.
When Duncan finds out what has happened to Ellie, he throws his journalist's neutrality out of the window and heads off to find her. What he discovers is a cult led by a deluded but charismatic leader. Somehow, he has to get Ellie out of his clutches and he'll do whatever it takes. When the cult leader raises the stakes, the mission becomes very personal indeed.
Reader Advisory: This book contains scenes of violence and kidnapping.
Romance Suspense [Totally Bound Publishing, On Sale: October 4, 2016, e-Book, ISBN: 9781786510778 / eISBN: 9781786510778]