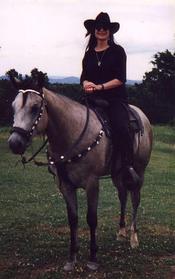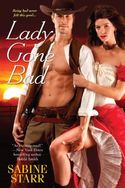 Good guys chasing bad guys. Bad guys chasing good guys. They're all armed with pistols, rifles and knives while sporting devil-may-care attitudes. Throw in the ladies doing their own chasing and saving lives while wearing (attractive) skirts and matching (lethal) accessories. Mix all this with lawless Delaware Bend, Texas, and even more lawless Indian Territory in the 1880s and you've got suspense, mystery and heightened emotions. Romance ups the ante.
LADY GONE BAD
| | |
| --- | --- |
| LADY GONE BAD | In LADY GONE BAD, a saloon singer called Lady consorts with outlaws to get a lead on her parents' murderers. Rafe, Deputy U.S. Marshal, arrives in town to arrest her. Instead, his name ends up on a Wanted Poster. Together, they escape into Indian Territory to clear their names and hunt down murderous desperados. |
ANGEL GONE BAD
| | |
| --- | --- |
| ANGEL GONE BAD | In ANGEL GONE BAD, Angel is a dime novelist determined to save a friend kidnapped by outlaws. She enlists the help of Rune, an Anti-Horse Thief Detective (http://digital.library.okstate.edu/encyclopedia/entries/A/AN012.html), hot on the trail of a notorious bandit. They brave the wilds of Indian Territory and an outlaw gang's hideout for justice. |
BRIDE GONE BAD
| | |
| --- | --- |
| BRIDE GONE BAD | In BRIDE GONE BAD, Tempest is after her no-count groom. He left her at their wedding reception and stole her grandma's life savings. She doesn't want him back, but she's vowed to get the money. She hooks up with Lucky, a gun-slinging archeologist, who is determined to stop an outlaw gang's theft of Mound Builder antiquities in Indian Territory. |
BELLE GONE BAD
| | |
| --- | --- |
| BELLE GONE BAD | In BELLE GONE BAD, Belle is a bounty hunter with a plan. She's after the bushwhackers who killed her father and fiancé. Mercy, a sculptor of sensuous nudes, enlists her help to track a kidnapped friend. They join forces to hunt down dangerous outlaws in Indian Territory. |
Would you like to live in the Old West? If yes or no, share why. Please comment to win a LADY GONE BAD eBook from Kensington Books.