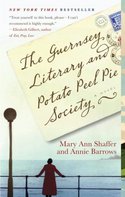 Last week while I was in Chicago I read The Guernsey Literary and Potato Peel Pie Society. I'll admit that I bought this book because of the hype and the fact it was written in letter format intrigued me. I will also admit to not fully being aware of the setting of the book.
I feel fairly confident that you would have had to be something of an ostrich with your head buried in the sand in the last year if you've not at least heard of this book. I feel like I belong to a vast variety of yahoo groups, and freely admit to not being great at blog hopping. Therefore the comments I can recall hearing about this book were all fantastic and led me to believe this was a book to be read sooner rather than later.
With that in mind my trusty Kindle provided me with the book, and I was set to lose myself in the correspondence. While I can't say that The Guernsey Literary and Potato Peel Pie Society book was bad I also have to say that I didn't get the hype that led up to this book.
Read the rest … click here