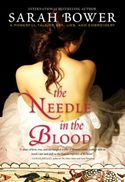 Thanks for inviting me on to your blog to talk about my new novel, THE NEEDLE IN THE BLOOD. The novel is a love story set against the backdrop of the Bayeux Tapestry which – for readers who aren't familiar with it – is a strip of embroidered linen over 230 feet long which tells the story of the Norman invasion of Britain in 1066. Its survival for nearly a thousand years is little short of miraculous (and it has had some hair-raising adventures during the various wars that have been fought in Northern France over the centuries, not least at the hands of the Nazis!), and what it tells us about military and social life in the eleventh century is invaluable.
Despite all this, in England, we take it very much for granted. 1066 is the one historical date everybody knows, and the Tapestry's images are almost the wallpaper to our history. They crop up everywhere, from mugs to mouse mats, and have been lampooned in all kinds of ways from political cartoons to one image I found recently of Batman stitched into the narrative! (You can see this on THE NEEDLE IN THE BLOOD's Facebook page.)
What made me begin to see it differently, to really look at it for the first time, was this image:
Here we see a woman and child fleeing a burning house, and this is possibly the earliest image in Western art of what war does to civilians. It shows that the Tapestry's narrative is more nuanced than it first seems, that it isn't just Norman propaganda but a story about real people.
Once I began my research, the historical figure who emerged most strongly for me was Odo, the Bishop of Bayeux and half brother of William the Conqueror, who is widely supposed to have been the Tapestry's patron, though this isn't known for sure.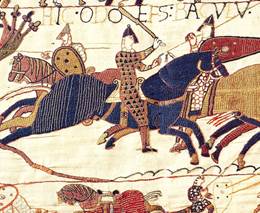 The chronicler Orderic Vitalis says of Odo that 'in this man…vices were mingled with virtues, but he was more given to worldly affairs than to spiritual contemplation'. Although very little has been written about Odo in modern scholarship, this contradictory, almost split, personality comes out in all the literature, and in the evidence of his life. As Bishop of Bayeux, Odo was esteemed for endowing a new cathedral, a school and library, and new housing for his clerical staff. A Mass was said in Bayeux Cathedral every year on the anniversary of his death (6th January 1097) right up until the French Revolution.
In England, by contrast, where he served as Regent for William and was made Earl of Kent, as well as holding some 400 other manors in the south of England (Odo was one of several Normans to appear in The Times all-time rich list, compiled in 2007, with a fortune worth, in today's money, £55.5 billion), he had a reputation for avarice, brutality and, according to Orderic, 'frivolity' (as possibly borne out by the sort of harlequin suit he appears to be wearing over his armour in the picture!). I found myself intrigued by this apparent change of personality after the Conquest and what might have brought it about. We tend to focus on the trauma suffered by those who are the victims of invasion, but what about the invaders themselves? The risks William took, political, economic and physical, in invading England were astronomical. There was, quite literally for many of his followers, no going back.
The social order established by the Normans was an extraordinary achievement. Its material monuments, the castles and cathedrals, still define our landscape. The Normans introduced trial by jury, rabbits and peas, among other things which have persisted to the present day. We know how dearly this process cost the Anglo Saxons, but what price did the Normans themselves pay? It seemed to me that the brutalisation of Odo could be used as a metaphor for exploring that question, and that, somewhere in the Bayeux Tapestry, commissioned by him but made in England by English embroiderers, I might find answers.
What, or who, I found was the mysterious Aelfgyva.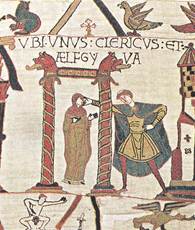 I don't want to spoil the story for you, so will say no more, but if you look at this image, and all the other little pictures around it, hopefully you will want to read more about Odo, the priest, and his mistress.
Want to win your own copy of THE NEEDLE IN THE BLOOD? Leave a comment below about what you think about the tapestry or hidden messages in art.
If you want to leave a comment on Sarah Bower guest blog post click here.