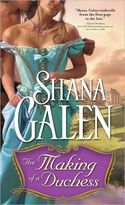 Have you ever pretended you were someone you're not? Have you ever masqueraded as someone famous or gone along when you were mistaken for someone else?
I haven't, but I've always loved stories where the heroines were in disguise. Think of Shakespeare's THE MERCHANT OF VENICE, TWELFTH NIGHT, or AS YOU LIKE IT. Those are some of my favorites. And the best part? When the ruse is discovered, of course!
And maybe reading Shakespeare all those years ago in high school and college was part of the inspiration for Sarah in my next novel, THE MAKING OF A DUCHESS. Sarah is an orphan and a governess for one of the top men in England's Foreign Office. She's a quiet, unobtrusive sort of woman who minds her own business until one day her employer tells her he needs her to become a spy. And the man he needs her to spy upon? Julien Harcourt, duc de Valére.
Sarah doesn't know anything about Julien, which is a good thing. If she knew how wealthy he was, how powerful, how intimidating, or how handsome, she would never have accepted the assignment. She's pretty reluctant to accept anyway, but her employer makes her an offer she really can't refuse.
I think one of the reasons I like disguise stories is because I enjoy putting characters in challenging circumstances. I don't know about you, but it seems I'm always in situations where I have no idea what's going on. It's like everyone but me got the memo, and I have to muddle along until I figure out the unwritten rules. I have an 8-month old daughter and dealing with play dates (really? for a 8-month old?) and infant educational activities has taught me that there's a whole side of the world I knew nothing about. There are rules and protocols and all sorts of expectations. And where do you buy the book explaining all of this?
So even though I'm not adventurous enough to pretend to be someone I'm not, I can relate to Sarah's plight. She's not only forced to become a spy, she's forced to play an aristocrat as well. The results, as you might imagine, are funny, poignant, and unexpected.
I hope you'll pick up THE MAKING OF A DUCHESS. Check out an excerpt on my website.
And I'd also love to know if any of you have pretended to be someone you're not. If not, do you have any favorite books with that theme? I'll be checking in later to read your answers.
THE MAKING OF A DUCHESS by SHANA GALEN–IN STORES JUNE 2010
A very dangerous attraction…
Julien Harcourt, duc de Valère, is more than willing to marry the lovely young lady his mother has chosen. Little does he know, she's been sent to prove him a spy and a traitor…
And an even more dangerous secret…
Sarah Smith's mission is to find out whether the Duc's trips to the Continent are as innocent as he claims, but the way he looks at her is far from innocent…
Their risky game of cat and mouse propels them from the ballrooms of London to the prisons of Paris, and into a fragile love that may not survive their deceptions…
About the Author
Shana Galen is the author of five Regency historicals, including the Rita-nominated Blackthorne's Bride. Her books have been sold in Brazil, Russia, and the Netherlands and featured in the Rhapsody and Doubleday Book Clubs. A former English teacher in Houston's inner city, Shana now writes full time. She is a happily married wife and mother of one daughter and two spoiled cats. She loves to hear from readers: visit her website.
To comment for a chance to win please click here.