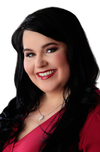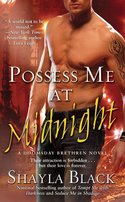 Writing is never easy, but I've often said that writing romance is one of the more difficult challenges. Romances aren't just about emotion. Yes, at the core, it's a love story, but c'mon…
Romance authors also write about things that other authors get a whole book to explore: Who done it, someone's relationship with God, kick-butt heroines, first crushes, and things that go bump in the night, just to name a few. The themes of a romance can center around betrayal, survival, hate, fear, growth, and redemption. There's no limit to the ideas romances can incorporate. As an author, I wanted to push myself with my current Doomsday Brethren paranormal romance series.
The first book, TEMPT ME WITH DARKNESS, incorporated elements like teamwork, belonging, and wondering if blood really is thicker than water. SEDUCE ME IN SHADOW, book 2 , revolved around finding yourself, coming home, tabloid journalism, and recovering from tragedy, just to name a few. Book 3, which releases on Tuesday, is POSSESS ME AT MIDNIGHT. This book teems with class warfare, family loyalty, love triangles, forbidden passion, political strife, and triumph. Future installments will feature sibling rivalry, reunion, marital difficulties, second chances at love, and believing in one's self-just for starters. While my characters, by and large, aren't human, the problems they face are, and this connects even the most fantastical romance with their readers. We've all dealt with issues and all had to learn something new to move onto better things.
To read more of Shayla's blog and to comment for a chance to win a great prize package please click here.