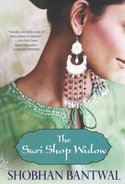 When I took up creative writing–romantic fiction no less–I faced some tough challenges. I wanted to write about my own Indian Hindu culture with all its colors, tastes, scents, and textures, with the firm belief that it was interesting to non-Indian readers.
However, most people don't associate romance with India, where arranged marriage, dowry, male dominance, repressed women, and loyalty to family overrules individual needs and aspirations. To add to that, I decided to become a novelist at the ripe age of 50, so my writing career began as a"menopausal epiphany."
Want to know more about the shy heroes and heroines of India? Click here.