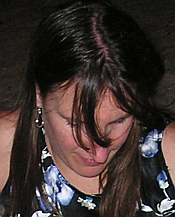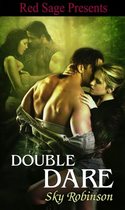 Sky's talking about sexy loggers and is giving away a copy of DOUBLE DARE, her steamy novella available from Red Sage.
I have a thing for loggers. To me they're kind of like another version of the modern day cowboy, working hard every day from before the sun comes up until dark. All that physical labor guarantees a sexy body rippled with muscles, solid and strong. They are men who know how to work hard and love even harder.
My infatuation with the profession started when I worked for a summer for the Forest Service and we would run into loggers, out in the middle of nowhere. They were always so nice to talk to, and did I mention sexy? So I had to write a story about them. And why stop at one logger when you can write about two sexy logging brothers?
Ready for a little hot passion in the woods? Read a sexy excerpt from DOUBLE DARE. I "double dare" you to!
Hmmm, ready to win your own copy of DOUBLE DARE? I'll make it easy on you, just use your imagination.
To win a copy of DOUBLE DARE leave your comment with the profession you find sexy and why.

Sky Robinson Bio: After leaving teaching to stay home with her children Sky found that diapers, and peek-a-boo, and Elmo just couldn't provide enough mental stimulation so she started writing and found an outlet she couldn't quit. Now cleaning, being a personal taxi cab, and homework help fill her days, but her evenings are filled with conjuring up sexy adventures and writing them to share with her readers. Sky lives in the Midwest with her two little monsters, one pet fish and a huge garden to keep her busy.
To comment on Sky Robinson's blog please click here.