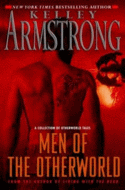 Bantam Spectra hosts a smack down on Twitter between characters as diverse as Captain Kirk (Star Trek) versus Captain Mal (Firefly) and more. So borrowing a leaf from his playbook, I want to have some fun over the next few weeks in a smack down of our own. I will post the contestants and my thoughts, you get to vote and post your own. Commentators are automatically entered in a drawing for a special prize. Also, don't miss tomorrow's Snips and Clips where the Daily Dose Holiday Giveaway will be announced!
Saturday Smackdown: Shape Shifters in the Ring
For our inaugural Saturday Smack Down we're looking at shape shifters, specifically werewolves because there are many other types of shifters out there. First two contestants: Clayton Danvers (Kelley Armstrong's Women of the Other World) and Charles Cornick (Patricia Briggs' Alpha and Omega series).