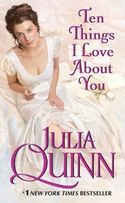 Each summer we have books that are definitely *MUST READS* and one of the first books most romance readers agree is ANYTHING by Julia Quinn. So let's start off our summer season by focusing on the latest from Julia — just in time to kick off our Pack your Beach Tote extravaganza! Plus we're helping to bring Julia's fans a little closer. On May 26th we'll be bringing coverage of Avon's launch of the live/virtual book signing, powered by VivoLive. Julia Quinn will be reading, answering questions, and signing copies for anyone who attends her event at Powell's Books: in-person (Powell's Books at Cedar Hills Crossing, 3415 SW Cedar Hills Blvd., Beaverton, Oregon 97005) or buy online here at FreshFiction.com.
"We often remark, within the romance community, that our readers are notoriously 'shy,'" quips Avon publicity director Pam Jaffee. "They may not flock to live author appearances, but will raid the stores the next day for the signed copies…and they love to interact with their favorite authors online. So," she continues, "we think this type of virtual/live event will engage and appeal to romance fans."
Be sure to come by Julia's Virtual Signing on Wednesday, May 26th, 2010. 7:00pm PST (10:00pm EDT / 9:00pm CDT / 8:00pm MDT). If you want your book signed, order TODAY and she'll sign it for you!
We hope you'll check out TEN THINGS I LOVE ABOUT YOU (on sale 5/25 from Avon, an imprint of HarperCollins) which McClatchy-Tribune calls "A must read that will keep you smiling, and perhaps sniffling at times…Julia Quinn is perhaps the cleverest writer on the romance shelves.".
So, to introduce you to TEN THINGS I LOVE ABOUT YOU we've got a list of ten things we love about Julia Quinn and her latest romance:
10. Quinn's writing is clever, sensual, and refreshingly humorous
9. She's been called "a contemporary Jane Austen"
8. I caught myself laughing out loud multiple times
7. Her hero has a totally endearing "secret" profession, not to mention a sleeping aliment.
6. The heroine's grandmother gives her permission to "ruin" herself.
5. I felt completely swept into the world of London society
4. Quinn has crafted a slimy villain who literally made my skin crawl
3. Much of the story centers on the heroine's "ample" hip size
2. Any book with the phrase "his grandmother always said that (tea) was the next best thing to vodka" goes on the keeper shelf.
1. I was genuinely disappointed to see this uplifting story end!
TEN THINGS I LOVE ABOUT YOU
Annabel Winslow is a country girl at heart. She's staying with her grandparents in London for The Season with the intention of finding a husband wealthy enough to save her family from poverty. Annabel dislikes the idea of marrying a man she does not love, but her sense of duty runs deep. She's smart, expressive, and her figure is constantly compared to that of a "fertility goddess."
Sebastian Grey is in limbo. He's next in line to become the Earl of Newbury unless the current Earl, a despicable, portly man in his 60's, can find a bride who will bear him a son. Society is not quite sure what to make of Sebastian—on one hand he's handsome, charming, and may be extremely rich one day. On the other hand, he may wind up poor as a pauper. To complicate matters, the Earl of Newbury despised Sebastian's father, and consequently hates Sebastian as well. When Annabel (quite inconveniently) becomes the object of both of their affections, a series of whirlwind events ensues. She knows that marriage to an Earl may be the only thing that will save her family from ruin, but the thought of submitting to Newbury disgusts her. And Sebastian's tempting touch certainly doesn't help. It soon becomes clear that Annabel must choose between her family's livelihood, and her one true love…