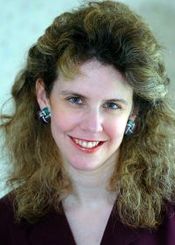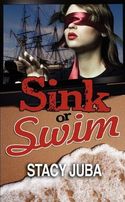 Since I wrote a mystery novel about a reality show, many people assume that I am a diehard reality show fan. I watch them now and then, but my favorite shows are actually sitcoms. Once in awhile, my husband and I catch a rerun of Wife Swap and find it amusing. There was one episode featuring a mom entrepreneur who was obsessed with preaching about health, vision boards and positive thinking. My husband said, "Wow, she's you on steroids," and I was particularly intrigued by that episode. We have also watched Undercover Boss a couple of times.
Despite finding the occasional reality show interesting, I don't watch them regularly, basically because we don't have enough room on our TiVo. So why did I write SINK OR SWIM, which features a personal trainer who appears on a reality show?
Frankly, I find our culture's fascinating with reality shows an interesting phenomenon and the idea for the book popped into my mind. I wanted to explore what could happen when a normal person becomes thrust into the limelight, and why someone might try out for a reality show in the first place. In the book, ambitious personal trainer Cassidy Novak has always been short on money, but she has lofty goals. She dreams of establishing her own chain of fitness centers and decides winning the hot new reality show SINK OR SWIM would be the easiest route to a lot of cash.
Unfortunately, she not only loses the show, but she also attracts a stalker who has gone into withdrawal now that Cassidy no longer graces his TV screen every week. On a more subconscious level, Cassidy also wanted to appear on television so that perhaps her deadbeat, out-of-the-picture, Dad might see her and come back into her life.
Basically, the reality show was the catalyst that set the story in motion., however, most of the book takes place after the show ends, when Cassidy has returned to her hometown. While I'm not a regular reality show viewer, I do like game shows. My husband and I have tried out for The Price is Right and Jeopardy, and he has also tried out twice for Who Wants To Be A Millionaire. I drew upon our experience with game show applications and tryout procedures to help make my fictional reality game show, SINK OR SWIM, authentic.
Whether readers are reality show fans or not, I hope they will enjoy SINK OR SWIM. I also think it would be really neat if some producer out there made a "real" reality show out of Sink or Swim. I just hope their contestants don't get killed off…
Stacy Juba is the author of the mystery novels TWENTY-FIVE YEARS AGO TODAY and SINK OR SWIM (Mainly Murder Press), as well as the patriotic children's picture book THE FLAG KEEPER. Her young adult paranormal thriller DARK BEFORE DAWN will be released by Mainly Murder Press in January 2012. She is a former journalist with more than a dozen writing awards to her credit.
Sink or Swim :
How do you change the channel when reality TV turns to murder?
Personal trainer Cassidy Novak has gained fame for starring on a hit reality show. Not only does she lose and have to walk the plank, but upon returning home, Cassidy discovers she is being stalked. As her former competitors get killed off, Cassidy refuses to play by the stalker's bizarre rules. She's also being shadowed by photographer Zach Gallagher, who has been assigned to capture her personal moments for the local newspaper. She wants to trust Zach, but fears he may not be as nice as he seems. When the stalker forces a showdown, Cassidy must walk the plank again – this time for her life.
To comment on Stacy Juba's blog please click here.